A new online directory featuring businesses keen to stay open for all customers—vaccinated or not—has launched today in Australia.
Volunteers behind the "Open For All" initiative say hundreds of businesses have signed up over a two-week period, noting a significant uptake from customer-facing industries, including health and fitness, hair and beauty, trades, and B2B business providers.
"Vaccine passports are a legal, ethical and logistical nightmare for business owners, so it's not surprising so many are taking a stand," a volunteer team member from Open For All said in a press release to The Epoch Times.
"For our economic recovery, it is important to include all Australians in the reopening of our country," she said. "The Australian Human Rights Commission has also warned vaccine passports may have significant implications for privacy and autonomy, equity and discrimination."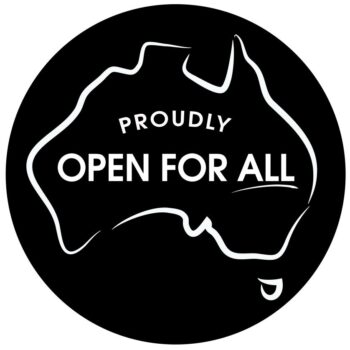 Customers will be able to access the directory on Open For All's website; participating businesses will also receive a "Proudly Open For All" badge to display on their shopfronts and website.
"We've seen the UK government scrap its vaccine passport plans following widespread opposition," Open For All said. "We have a window of opportunity to achieve the same here if enough businesses, consumers, and politicians take a stand."
Open For All say that the campaign is free.
It was launched soon after the New South Wales (NSW) government became the first Australian jurisdiction to set a roadmap—including vaccination targets—for the state to move away from its reliance on lockdowns to contain outbreaks of COVID-19.
Over the past year, NSW Premier Gladys Berejiklian had been the most reluctant of all Australian state and territory leaders to use tough health restrictions to deal with COVID-19 readily. However, a July outbreak of the Delta variant in Greater Sydney changed this position. The Victorian government has also shifted its official position from containment to learning to live with the virus.
Both states have introduced roadmaps outlining a gradual opening of the state, including "freedoms" for fully vaccinated individuals once 70 and 80 percent of the population was vaccinated. This would see businesses such as hair salons, gyms, restaurants, and places of worship be opened.
The NSW government will roll out a digital vaccination certificate, or passport, via the Service NSW app; however, procedures around enforcement and fines have yet to be finalised.
Customer Service Minister Victor Dominello did say the onus would be on the individual to obey public health orders and not businesses.
"If people want to do the wrong thing, if they get found out, as I said, it could be jail time there," he told the ABC on Sept. 27. "Businesses, particularly small businesses, should not be de facto police officers. If there is an escalation, please call authorities."
Meanwhile, Sam Kennard, CEO of Kennards Storage, one of Australia's largest storage businesses, said his company would list on Open For All.
"There are a large percentage of people who will be pro-vaccine but prefer to resist vaccine passports. There will also be some people who prefer not to vaccinate. Being part of Open for All is push-back against the attempts of government control," he told The Epoch Times.
"Vaccine passports will put the population on a slippery slope of ever-increasing government oversight, intrusion, and surveillance of our lives. Why not facial recognition check-ins? Geo-tracking? And eventually social credit scores?" he added.
"It is easy to imagine that such a platform would see controls being incrementally added and liberty gradually lost. All wrapped in the spin that it's for our own best interests in terms of health advice and safety, of course."