TORONTO—A northern Ontario town that has offered two rounds of generous incentives in an innovative bid to attract newcomers will soon launch a third round—this time putting on offer prime waterfront land.
Smooth Rock Falls, about an hour from Timmins, saw its population dwindle and revenues fall drastically after the closure in 2006 of the local pulp and paper mill, the town's main employer. To entice newcomers to move there and help rebuild the community, the municipal government developed a plan offering what it describes as "unparalleled community and financial incentives."
As part of the campaign, 15 parcels of fully serviced land went on sale in September at up to 90 percent off the market value. This meant that lots in town and overlooking the nine-hole golf course were available for as little as $500.
The offer made headlines and generated interest from across Canada and overseas. Within a week the 15 lots were bought by Toronto developer Roman Bodnarchuk, who plans to erect family homes on them.
In its second round in October, the municipality offered a mix of residential and commercial lots—17 in all—with the same incentives, which included generous tax breaks for new homeowners and businesses, loan guarantees for residential and non-residential construction projects, and the waiving of up to $2,500 on residential building permits, among others.
According to chief administrative officer Luc Denault, next up is the waterfront; Smooth Rock Falls sits on the shores of the Mattagami River.
"We own approximately 23 acres of waterfront which we are planning to release through a request for proposal in the near future," he said in an interview.
"It's a large waterway and it's very wide because of the hydro generating station, so that offers an opportunity for waterfront development in various ways. … There's an opportunity to develop on both sides."
Town officials would like to see a multi-use building on the waterfront as well as an improved marina, among other options, Denault said, adding that a study will be done on how best to develop the 23 acres.
After the Tembec mill closed and the town began declining, officials in Smooth Rock Falls came up with a 20-year strategic plan that would draw newcomers through a targeted campaign. This included offering generous land incentives, creating a revamped website, and branding itself "Near North, Near Perfect."
The approach is working, says Denault.
"As a result of the marketing campaign, since Sept. 26 we have received considerable interest internationally. … We are receiving serious interest from investors and we have been meeting with several, which we believe with time will lead to opportunities for people to have jobs, buy homes, build homes."
He said the town is in a good position to fund its plan because new revenues have been found to replace those lost after the mill closed.
"What we can say today is that we have replaced those revenues. In 2013 we declared a debt-free position and since then we have tripled our reserves. We sit on a very nice bank account."
The town of 1,300 residents has a regional hospital, library, arena, pool, bilingual schools, churches, a golf course, and two restaurants, one of which is Chinese. A new supermarket opened earlier this month, and the Moose Motel, which had been shuttered for years, reopened recently after it was taken over by Nayneshkumar Patel, a father of three from Timmins.
"I see here a lot of opportunity," Patel told The Canadian Press. "Anyone coming here, they're doing well."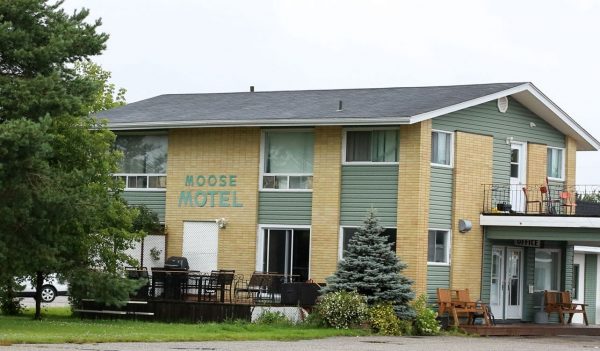 Denault said upgrades are being done on the arena and other infrastructure to prepare for a growing population. Developing industrial parks is also part of the plan.
"We own various tracts of land that are positioned to develop industrial parks," he said.
"We're looking for new entrepreneurs. … What we need is anchor tenants—people who want to come to Smooth Rock Falls and open a business. Then the town is prepared to develop and provide either leased or owned parcels of land which will have infrastructure like water and sewer. You just need to put your building on there."
Denault said that while town council is taking "calculated risks" to fulfil its long-term vision for revitalizing Smooth Rock Falls, the early indicators are positive.
"We're blazing new trails and we're creating new tools," he said. "We're seeing that families want to come to a safe community. … There's opportunity here for people to reach their dreams."