Ontario is introducing a new tiered system that will determine when and to what extent COVID-19 restrictions are placed on parts of the province.
The government says the colour-coded system will be used to respond to the pandemic on a regional level.
Areas with the lowest levels of virus case counts, positivity rates and community transmission will be placed in a green category, with the most permissive rules.
The system then moves upward through yellow, orange and red categories, with increasingly strict measures, and has a grey "lockdown" level where maximum measures would be implemented.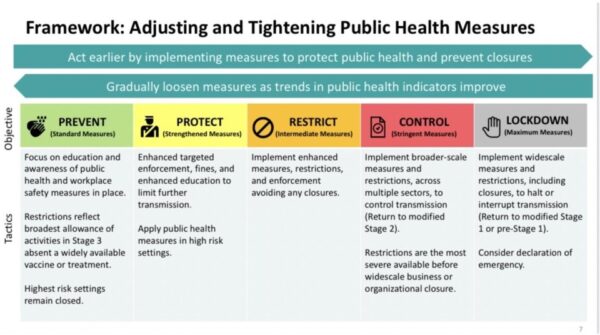 The system goes into effect this weekend, when restrictions previously placed on the hot spots of Toronto, Peel Region and Ottawa will ease.
Health officials say those three regions, as well as York Region and the Eastern Ontario Health Unit, are all expected to be placed in the new system's orange category, which puts capacity limits on gyms, indoor restaurant dining and cinemas but allows them to operate.
The province's new COVID-19 response framework is being introduced as it reports a new daily high of 1,050 cases of the virus.
Ontario also reported 14 additional deaths today.
Health Minister Christine Elliott says 408 of the new cases are in Toronto, 212 are in Peel Region, 86 in Halton Region, 76 in York Region and 57 in Durham Region.
The province imposed a 28-day period of tighter restrictions on Toronto, Peel Region and Ottawa on Oct. 10, and did the same for York Region a week later. Those measures shut down indoor restaurant dining, and closed gyms and cinemas, among other things.
Under the system's orange category—which the hot spots are expected to fall into—restaurants and bars can serve a limited number of patrons indoors and must only serve alcohol between 9 a.m. and 9 p.m.
Gyms that were closed in hot spots will be allowed to reopen with a maximum of 50 people per facility and a limit on the duration of stay for patrons.