Japan's environment minister said the country will have to dump large quantities of contaminated water from the Fukushima Daiichi power plant, which was damaged during the March 2011 earthquake, because the facility is running out of room.
During the devastating earthquake and subsequent tsunami, three Fukushima reactors were damaged. However, by 2022, storage space will run out at the facility, the BBC reported.
More than a million tons have been collected by TEPCO, Fukushima's operator, from the plant's cooling pipes used to keep fuel cores from melting, Japan Today reported.
"The only option will be to drain it into the sea and dilute it," the Japanese environment minister, Yoshiaki Harada, said on Sept. 10, according to the publication. "The whole of the government will discuss this, but I would like to offer my simple opinion."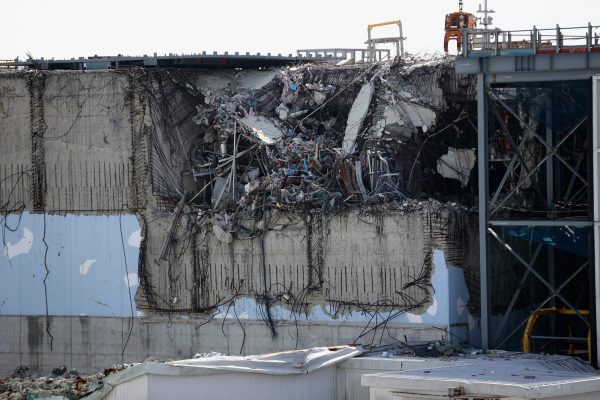 The Japanese government is awaiting a report from a panel before making a decision on how to dump the water.
But Chief Cabinet Secretary Yoshihide Suga described Harada's comments as "his personal opinion," Japan Today reported.
"It is not true that we have decided on the disposal method," Suga also said, AFP reported.
A spokesman for TEPCO said that the power company isn't in a position to dump the water.
The BBC noted that over the past eight years, some 200 tons of radioactive water was pumped out of the damaged reactor buildings. Regarding the water, radioactive isotopes have been removed via a complex filtration process.

Tritium, an isotope, cannot be removed from the water stored in the tanks, the broadcaster also noted.
According to the BBC, fishermen's groups are opposed to the dumping of contaminated water. Meanwhile, the International Atomic Energy Agency stated that Japan has to make an urgent decision about the water.
In March, Japanese public broadcaster NHK said TEPCO "is struggling to control water contaminated with radioactive materials."
"Workers at the plant must keep the molten fuel at the nuclear plant cool. That requires injecting enormous quantities of water. And the volume increases as groundwater seeps into the plant. Huge amounts of contaminated water are being generated," NHK described.
Last year, Japan acknowledged the first death associated with radiation exposure during post-quake cleanup work at the nuclear plant.