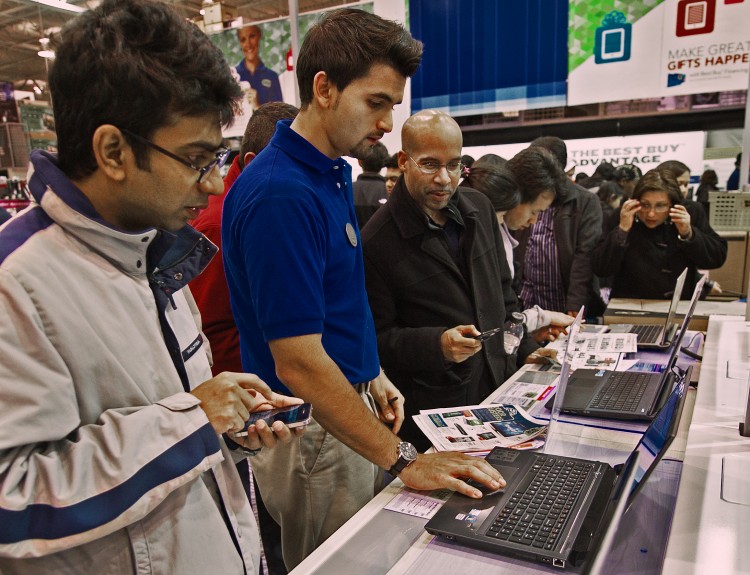 Social media, search engines, and mobile apps are transforming the Black Friday shopping extravaganza; however, dangers and benefits alike come with the new tools. 
According to WebiMax founder and CEO Kenneth Wisnefski in a press release, Black Friday shoppers on Nov. 23 should have record-breaking levels of technological engagement. He predicts that 80 percent of shoppers will use Internet technology in some way.
Part of the fun of the post-Thanksgiving stampede to the malls is the game of competing for scarce and desirable items, but the fun cools down for shoppers who cannot find what they want or who pay more than they have to. There is an app for that—more than one.
"Each year, millions of consumers are utilizing search engines such as Google and popular networks such as Facebook and Twitter to learn more about products and discover reviews, compare prices, and even get real-time updates," said Wisnefski. 
Liking a retailer on Facebook and following its Twitter posts can bring insider tips and discounts.
According to technology reviewer CNET, the TGI Black Friday app "should be your bread and butter." It aggregates ads and coupons and allows the shopper to create lists or search by product, store, or category.
The Amazon Mobile app posts deeply discounted online specials every day and Groupon-like local daily deals, according to CNET, and it also provides a barcode scanner to check and compare prices.
The Shopkick app rewards the user, according to CNET. Scanning items, entering a store, or checking in earn "kickbucks," which are instantly redeemable as gift cards on the user's phone. It also offers discounts based on the store you are in, including Macy's, Target, Best Buy, and others.
Zappos, famous for its good service, has gone far beyond shoes and has a very functional mobile app.
The Black Friday Survival Guide app for iOS displays current deals and allows the user to save them in a list while strategizing the day. Deals at individual stores are listed as "doorbusters," meaning things people must buy in the store, or as "online deals."
Unfortunately, bad guys will also be engaged with the technology, lurking online like bears on the banks of a salmon stream, according to Dr. Karen McDowell of the University of Virginia (UVa). McDowell is an information security analyst in UVa's Information Security, Policy, and Records Office, and she issued an article about how technically engaged shoppers should protect themselves.
"Cybercriminals will use social media, like Facebook and Twitter, to push fake alerts, holiday deal apps, special discounts, raffles, and ads," stated McDowell in a press release. "Don't click. If you're interested, check out the offer at an official, reputable website instead of clicking on the offer on the social media site."
Keep security software on all devices, and keep operating systems as well as security software up-to-date, stated McDowell. Look for the padlock in the browser address window, indicating a website is secure, or for URL addresses that begin with "https" or "shttp."
Use credit cards because the card companies protect the purchaser, according to McDowell.
Read reviews about websites you have not used before. Only download apps from official app stores, and be sure to read the user reviews and the permissions an app requires. Do not download apps that ask for unneeded permissions.
After taking those precautions, enjoy the hunt!
The Epoch Times publishes in 35 countries and in 19 languages. Subscribe to our e-newsletter.