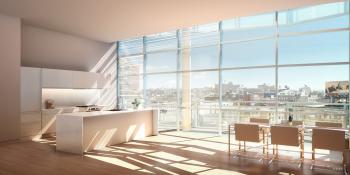 NEW YORK—You know your building hits the spot if the architect decides to move in. Enrique Norton, architect for One York, is now a resident after designing this luxury condo with developer Stan Perelman.
"We were able to really develop a nice friendship and he is now living in the building—which is testament to the building," Perelman said. "I think he designed a beautiful building."
For lovers of light and space, One York is a true masterpiece. One York is Norten's first residential effort in Manhattan and in finalizing the design he made 150 little models of the building.
"It was a constant process," Perelman said. "I kept pushing the architect—'add more floors, let's figure out a way to still make the apartments work and we can add two more floors.'"

The complex construction that retained the brick facades of two existing buildings, while building up through the inside, results in modernity without looking ostentatious. The integration of glass fins through the brick keeps the building firmly in step with the area—on the cusps of Soho and Tribeca. West Village is across the street and Chinatown down the road.
"You're at the intersection of all these different streets coming together, 6th Avenue, Canal, Varick, Church, St. Johns Lane, Laight Street. Because of that, there is nothing built around us and you'll always have these wide-open vistas and this beautiful light."
The top seven floors are all floor-to-ceiling glass with views pushing out over, well, everything. Living in a glasshouse means both the solar and blackout screens will be essential for both privacy and sunlight control. The general flow is open and airy, giving a tranquil feeling to an otherwise hectic area.
One York has 32 apartments, eight less than planned after buyers wanted whole floors to themselves. Ten are still for sale.
"It's a boutique building," said Perelman. "You're not moving in with 300 apartments on 40 stories."
The penthouse, encompassing the top two floors and a private pool on the roof, will be finished in summer and is going for a cool $34 million, that's $5,484 per square foot for the 6,200 square feet. Here, you can have a bath looking out over Canal Street, with one-touch lighting and privacy control. Or enjoy the media room where you can drop a 10-foot screen down, or watch a 60-inch plasma screen, using a remote control that also adjusts lighting, audio, and window shades. This is the room that gets the men, Perelman said.
Other residences range from $2.3 million for a two bedroom, 1500 square foot residence on the 5th floor to $4,950,000 for a three-bedroomed apartment on the 8th floor.
Current residents are a global mix from Europe, Latin America, and New York. They include artists and parents with small children, and Perelman describes them all as "really cool."
Apart from the obvious qualities of light, views, and sense of openness the apartments have, it is the finishing touches that Perelman says sets the building apart.
"Everything is super thought-out. We did a lot of research. We worked with our architect, we found the best of the best materials and then we went on road trips. I flew to Austria to the factory where they make the hardwood floors to go over the coloring of the wood."
He also flew to Venice to pick up the Valcucine Vitrum glass for the kitchens. Sounds glamorous, but the trips are not Perelman's favorite part of the process. "I actually enjoy designing it—sitting with the architect and saying, 'Let's make the living room a little bit larger,' or 'Let's add more closets, people love closets.'"
He said Norten aligned everything to provide a seamless flow that is unnoticeable in its excellence. "When alignments don't work, or lighting isn't done well, you notice it. When it's done well, you just say 'Wow that looks beautiful.'
"No one will ever build a building like this again. No one will ever get a location like this again. You'll always have these views—no one is ever going to build on parks or up streets."
Watch out for the pairing of Perelman and Norten, we will probably see them appear on the Manhattan skyline again.
One York: www.oneyorkny.com