One Thousand Protesters Arrested on 'Legal System Promotion Day' in China
December 8, 2005 12:00 am Last Updated: December 8, 2005 12:00 am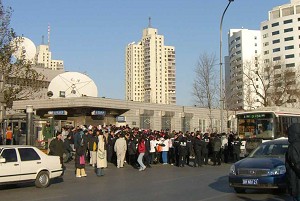 Starting at 8 a.m. on December 4, police started the mass arrest of protesters appealing in front of the China Central Television (CCTV) station who were gathered there on "Legal System Promotion Day". Over one thousand protesters were arrested and detained in Majialou detention center. Some protestors from Liaoning Province were directly escorted to the Liaoning Province office in Beijing and were not allowed to return home on that day.
December 4 is proclaimed "Legal System Promotion Day" by the Chinese government. This year, over four thousand protesters gathered in front of the CCTV station to appeal for the "rule of law". Immediately after the protest started, police rushed to the area and surrounded the protesters. Over one thousand people were arrested, denied food, and interrogated. The police made continuous attempts to identify the chief organizer. Following the mass arrests, many people accepted interviews or wrote articles to expose this act of Chinese police.
It seemed that this year the police had prepared ahead of time, unlike last year where they were late to react to a similar protest. The Epoch Times reporter noticed that at 8 a.m., dozens of police officers in uniforms and plain clothes had already gathered in front of the CCTV building. Over ten police vehicles were parked in the vicinity, and many police vehicles were driving back and forth. In the meantime, two teams of military police totaling around thirty to forty officers were lined up and entering the CCTV building.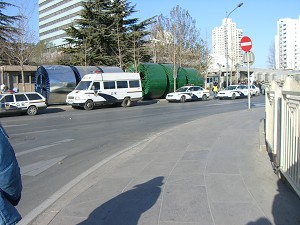 The police often used excessive force while carrying out the unjustified arrests. They punched and kicked people who refused to get in the police vehicles and forcefully threw them into a large sized bus.
Shouts from the protestors could clearly be heard. A witness said, "Look, the police are beating people. Take a picture of it, and post it on the internet."
Mr. Han, who has been making appeals for a long time, posted a protest song with his own lyrics in a nearby washroom. While he was singing it aloud, he was taken away by two plain-clothed police with his hands pulled behind his back and his head pressed down. Dozens of plain-clothed police were patrolling nearby.
According to incomplete statistics, over one thousand people were arrested by the police on that day and were dispatched in over 10 vehicles.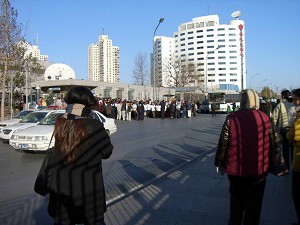 Tension around the CCTV station was high. Shouts of "Down with Corruption" could be heard from time to time from among the arrested people and from inside the police vehicles. There was no sign of "rule of law" at this particular spot. The total number of protestors this year was noticeably more than last year. It was estimated to be at least four to five thousand.
Protestors sent to Majialou detention center were taken back by their hometown offices in Beijing to be dealt with there. Some protestors who were released the same night protested again at the world human rights organization the next day.