Natalia Fileva, one of Russia's wealthiest women and co-owner of the country's largest private airline company, has died in a plane crash in Germany, the airline confirmed on March 31.
Fileva, 55, who was co-owner of private airline S7, Russia's second largest airline after Aeroflot, was named by her company as one of the three victims of the six-seater plane crash.
The Epic-Lt, a single-engine jet designed for private flights, had been traveling from Cannes in France, but crashed and burned in a field while landing at a small airport in Egelsbach, a town in southwestern Germany—around six miles south of Frankfurt.
Немецкие СМИ показали видео с места крушения самолета, на котором летела совладелец S7 Наталия Филеваhttps://t.co/kRP5xcxJpQ pic.twitter.com/mLqOtba3lV

— РБК (@ru_rbc) March 31, 2019
The private jet vanished from radars at 3:22 p.m. local time, according to data from Flightradar24, a flight tracker.
A single-engined turboprop Epic LT aircraft has crashed near Egelsbach Airport in Germany.

According to media, 3 occupants, 1 pilot and 2 passengers died in the crash. One of the passengers was Natalia Fileva, co-owner of Russian S7 Airlines.https://t.co/UfV37Tfvnp pic.twitter.com/BeG7Scu2GE

— Flightradar24 (@flightradar24) March 31, 2019
"On March 31, 2019, S7 Airlines shareholder Natalia Fileva was killed at the age of 55 during the descent in a private Epic-LT plane to Frankfurt airport," S7, also known as Siberia Airlines, said in a statement on March 31.
"The cause of the tragedy is not yet known," the company added.
Debris from the wreckage was scattered up to 65 feet, according to the Aviation Safety Network, RBC reported.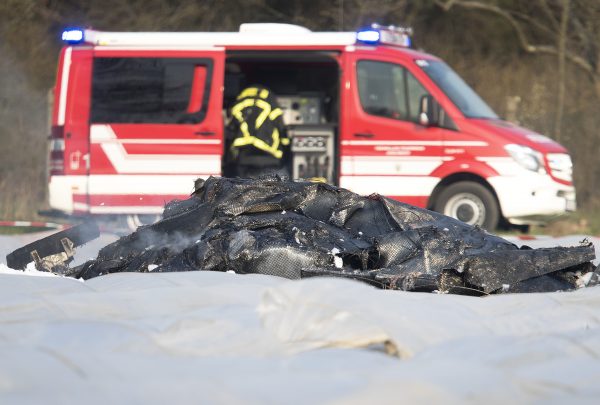 Fileva's father was also reported to have died in the crash, along with the pilot, according to RIA Novosti. All three are believed to be Russian citizens, and the only people on board the aircraft, it reported.
Findings from official identification of the victims is expected to be released in the coming week, police said.
"After impact, the aircraft was completely burnt out," police said, according to The Guardian.
German air traffic controllers said there were no reports of any problems on board during the flight, Svoboda reported.
In a conversation with news agency TASS, a spokesperson for the German flight safety service, DFS Aviation Services, suggested the pilot could have lost control of the aircraft while landing, Gazeta.ru reported.
Co-owner of S7 Group Natalia Fileva dies in plane crash in Germany — companyhttps://t.co/pybGM9BCZa
© AP Photo/Michael Probst pic.twitter.com/dW4knEVIHd

— TASS (@tassagency_en) March 31, 2019
The pilot was not following instructions on the aircraft's radar control system at the time of the accident, the German official added.
The cause of the crash is being looked into by German aviation investigators.
"An investigation into the incident will be conducted by an international commission in the prescribed manner with the participation of the Russian aviation authorities," S7 said in a statement.
Meanwhile, two others were killed and three were seriously injured when a police vehicle making its way to the crash site collided with another vehicle near the airport, news agency DPA reported, according to the BBC.
"S7 Group team extends sincere and heartfelt condolences to Mrs. Fileva's family and loved ones," the company said in a statement.
"The memory of her as an inspiring and sympathetic leader and a wonderful person will forever stay in the hearts of all S7 Group employees. It is an irreparable loss."
Fileva, wife of S7 chairman Vladislav Filev, was Russia's fourth richest woman, with a fortune estimated at $600 million, according to a report by business publication Forbes in 2018.
She is survived by three children and an adopted child, and underwent training at the Moscow State Technical University of Civil Aviation in 1998, according to Gazeta.ru.
S7, which began its operations in the early 1990s as Siberia Airlines, has a fleet of 96 aircraft that fly to 181 cities and towns in 26 countries, according to its website.
Following Fileva's death, the company is reportedly postponing consideration of its space strategy, S7 Space, a source told RIA Novosti.
Additional reporting by Reuters and the Associated Press.