One Nation Senator Malcolm Roberts has said that Independent Senator Jacquie Lambie is "being dishonest" by saying her safety was threatened by the publication of her mobile phone number, given she had already published it on her Facebook page.
"We don't condone publishing phone numbers that are private," Roberts told sitting MPs in the Senate via video link before going on to "correct the record."
Roberts said that a Tasmanian voter got Lambie's phone number from her Facebook page where there was an invitation to contact her.
He then said the voter sent a screenshot of a text message exchange between the voter and Lambie to Tasmanian One Nation candidate Steve Mav who posted it to his Facebook page, with Lambie's number visible.
"Steve has removed the phone number from his post," Roberts said. "The text message stating that Senator Lambie opposes vaccine mandates remains."
The alleged text message from Lambie to a voter reads: "I don't support the mandate it should be left for people to decide if they want the jab, dictating to people is not the answer."
Roberts pointed out on Twitter, where he provided screenshots, that Lambie's message to the voter in her state stood in opposition to her speech in Parliament on Monday, where she lambasted a Bill proposed by One Nation to end vaccine mandates.
"The fact is, voters want to know why Lambie has done a complete 180," Roberts wrote. "She originally opposed mandates yet yesterday went on a tirade against One Nation. Maybe complaining about a phone number is simply a distraction from far more important issues."
Roberts suggested Lambie had political motives and is seeking to misrepresent the circumstances because his party is making inroads in Tasmania,
"Senator Lambie is running scared and playing the victim and misrepresenting the circumstances. This phone number, this account was issued by Senator Lambie publicly," he said.
Meanwhile, Lambie, along with the Liberal Nationals and Labor parties, have called for an apology from One Nation for sharing the text message.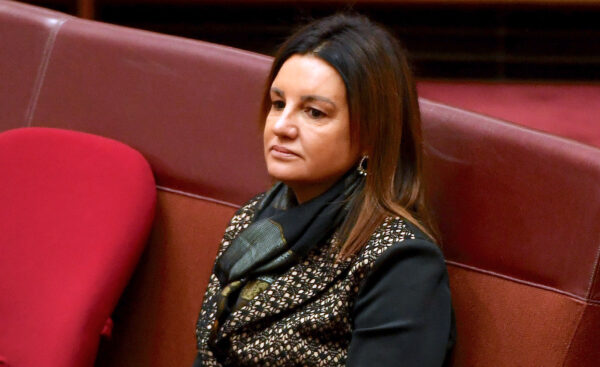 Lambie on Tuesday said she will have to change her number to keep her family and friends safe given the ease with which people can find personal information from a phone number.
"I have received many nasty, abusive and threatening phone calls and messages," she told parliament, The Age reported.
"You have the (federal police) briefing politicians about our safety, you have gallows on the steps of Victoria's parliament and senators in this very chamber should not be facilitating any abuse."
Lambie said she gives her mobile number to veterans with poor mental health and they would now be affected.
"Those veterans know they can call me at any time of the day or night if they need someone to listen to them," she said.
"It is completely unacceptable to leak other senators' personal contact details to the public just because you do not like what they are saying.
"One Nation have crossed a line here that should never be crossed."
The Age reported that Labor Senator Penny Wong urged Robert to apologise, saying, "If you start a fire it can quickly overwhelm us."
While the government's finance minister, Senator Simon Birmingham, said it was unacceptable for anyone to leak private contact details.