If polls and legacy media outlets are to be believed, President Donald Trump's approval rating has cratered—as compared with previous presidents in their first respective weeks in office.
But there's one poll—one frequently cited by Trump and his administration's officials, including press secretary Sean Spicer—that stands out: Rasmussen Reports.
In the past week, daily Rasmussen polls showed Trump's approval rating above 50 percent—even hitting a 55 percent approval rating, with a 45 percent disapproval rating.
One might argue that the conservative-leaning Rasmussen is an outlier among a sea of polls that paint Trump in a negative light.
It underscores a seething disagreement and confusion in the polls and among pundits as to how popular—or unpopular—Trump actually is.
For his and his administration's part, Trump has frequently pointed to ratings, crowd sizes, and polls. Last week, the president admonished the media once again when he mused in front of a rally in Florida: "Do you think that one media group will show the crowd?" (CNN, Fox, and others panned the camera around to show the crowd size).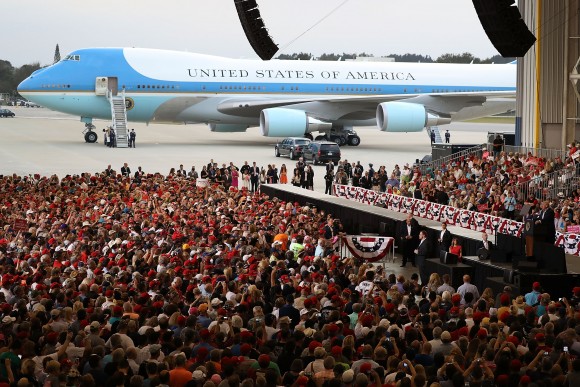 On the low end of the spectrum, Pew Research, CBS News, and Gallup showed Trump's approval rating was as low as 39 percent.
Trump has been criticized as having selection bias for citing polls or reports that are favorable to him—but the mainstream media and its throngs of reporters can show an equally prejudiced view and aren't immune to cherry-picking.
Let's take a scattershot view of a few headlines: "National Poll Shows Trump Popularity 'Sinking Like a Rock,'" "Trump Is not Doing Well in the Polls," "Gallup Poll: Trump Approval Rating at New Low." Search for "Trump polls" on Google, and you'll see mostly legacy media outlets with headlines focusing on how low his poll numbers are, with right-leaning websites like Breitbart and the Daily Caller often citing Rasmussen, Reuters, or their own polls.
It's also worth noting that despite negative popularity polls, it seems that some Americans support some of Trump's policies by an overwhelming margin. This week, a Harvard-Harris Poll published by The Hill found that 80 percent of voters oppose sanctuary cities—a policy that Trump has sought to dismantle with a recent executive order.
In a more famous example, before the election, scores of polls showed that Hillary Clinton would handily defeat Trump.  A week away from the election, The New York Times predicted Clinton had an 85 percent chance of winning. Even Trump himself, at a December rally, acknowledged that he'd believed the polls on election night. "I always used to believe in those things. I don't believe them anymore," he said.
FiveThirtyEight's Nate Silver found that the most negative recent polls used the "live caller" method, meaning that the pollster had to actually speak with a real person, whereas automated or online polls offer more anonymity, perhaps allowing people to express their true views on Trump. Rasmussen, Zogby, and Morning Consult are online and/or automated, which may help explain why they show Trump with higher approval ratings.
An under-reported survey from the Massachusetts Institute of Technology (MIT) shows that journalists and Trump supporters live in their own online echo chambers.
"All of this paints a bleak picture of online political discourse," John West, a data journalist at the MIT Media Lab, wrote in an article on Vice News in December.
"It is one balkanized by ideology and issue-interest, with little potential for information flow between the online cocoons—or between the loud and important cluster of exclusive Trump followers and the institutionalized media users that are supposed to be political discourse's immune system."
To an extent, this is reflected on popular sub-Reddit "The_Donald," where denunciations against mainstream media polls are a daily occurrence. The users there don't believe the polls. In fact, every media report that cites a poll showing a negative perception of Trump is denounced by them as "fake news," while they point to the disparity between the Election Day results and the polls leading up to it.
Regardless of which end of the political spectrum you belong to, hedging your bets on Trump's approval or disapproval rating looks tantamount to a futile endeavor—akin to believing the hype right before Election Day, and we all know how that turned out.
Views expressed in this article are the opinions of the author and do not necessarily reflect the views of The Epoch Times.