On the Tee….Tom Doak
Cherry Hills and the BMW Championship: The FedEx Playoffs
September 6, 2014 8:50 am Last Updated: September 7, 2014 1:13 pm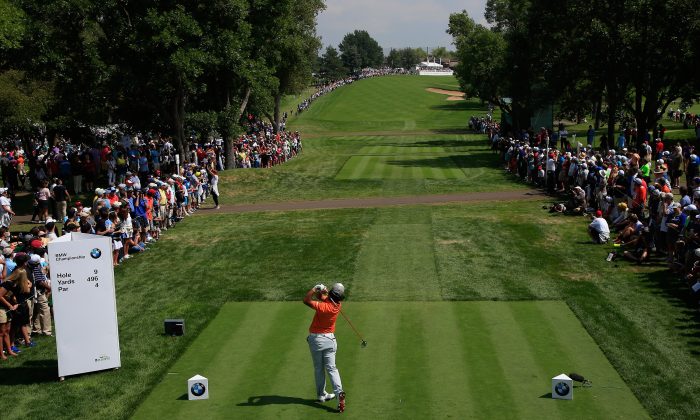 Tom Doak is one of the most noted and gifted golf course architects practicing today. The 53-year-old resides in Traverse City, MI and in 1989 his company—Renaissance Golf Design—opened. Since then Doak has made a considerable mark in the field with such noteworthy designs as Pacific Dunes in Oregon, Cape Kidnappers in New Zealand, Barnbougle Dunes in Tasmania, Ballyneal in Colorado, Rock Creek in Montana, Renaissance in Scotland, and a co-design with Jack Nicklaus at Sebonack on Long Island, to name just a few successes.
The third leg of the Fed-Ex playoffs are being played at Cherry Hills CC—just outside of Denver—with this week's BMW Championship. Doak's company was hired to restore and upgrade one of America's premier layouts. Doak is candid on what makes for quality design and doesn't hesitate to say what's on his mind. "I've been called a lot more names than most golf course architects: iconoclastic, cerebral, a traditionalist, and a radical. I love to be considered a radical, but it's ironic that we're also trusted consultants to some of the most conservative golf clubs in America. Most of all, I've been labeled as controversial. But so too were my heroes in the business—Alister Mackenzie and Pete Dye."
WARD: Your company was hired in 2008 to work on Cherry Hills—what was the primary reason the club reached out to you ?
     
DOAK: The club was pursuing a bunker renovation project in preparation for the 2012 U.S. Amateur Championship, and there was much discussion to what extent the project should be a restoration vs. making changes with future tournaments in mind. They wanted our services to rebuild the bunkers, but they also needed someone to mediate the design decisions.
Cherry Hills is a William Flynn course, he designed the 3-time US Men's Open site Shinnecock Hills and the Cascades Mountain course in Virginia as well as several noteworthy courses in and around the greater Philadelphia area, to name just a few. What elements distinguish a Flynn course?
     
I won't claim to be an expert on Flynn's designs. It seems to me he focused on his par-3 holes and par-5 holes; many of his Philadelphia courses have five short holes, and they are all terrific.  The interesting thing about Cherry Hills is that built in the early 1920's, it was heavily influenced by the recent opening of Pine Valley. It's hard to imagine now, but the creek bed was a wide sandy wash back then, and holes like the 7th and 14th at Cherry Hills are modeled on the 12th and 13th at Pine Valley.
What are the major challenges in doing a classic period course like Cherry Hills—can it be difficult not to overwhelm the current fingerprints of the design with one's own?
     
When we are doing restoration work, and the club has good information to work with, it's easy to stay in character. We build our features with small-scale ground movements, which makes it easy for us to do work that blends in with older features.
 
How demanding is it to create a worthy challenge for the world's premier players when playing at mile altitude?
 
Honestly, it's almost impossible to challenge the pros' length at sea level, much less at altitude. Cherry Hills is 7500 yards from the back tees, but with the altitude it will play the equivalent of 6800 yards, which is very short by Tour standards. They've had a wet year, so the rough may make up for some of that, but you have to shift focus and try to challenge their short games, because you can't really challenge the long game at that length.
 
Given the aforementioned altitude, can the usage of the driver be maintained for most players so that they cannot automatically club-down for superior control and positioning?
There are actually a lot of holes where I think they'll be hitting driver … the truth is that those guys aren't any more accurate with an iron off the tee than with the big bomber. There may be some holes where they try to drive the greens and wind up in trouble … for example, the opening hole where Palmer famously drove the green on Sunday of the Open, but only after he'd made a hash of it in other rounds. The short par-4 3rd is reachable, too, but if you go over the back you could find the creek, and if you're short you could leave yourself a 40-yard bunker shot to a tiny, crowned green. It won't be a steady parade of 3's there.
Cherry Hills has a major yardage differential between the outward and inward nines. Was your work geared towards strengthening the opening sequence of holes?
  
Not really. Those holes are what they are; they can yield birdies and eagles, but also a big number if you hit a wild tee shot.  Actually, that's one of the interesting features of the course; the short holes at the beginning makes it hard for anyone to play it safe; they feel like they have to attack, or lose strokes to the field.
 
In your book, "The Confidential Guide to Golf Courses," you said about Cherry Hills, "The par-5 17th, with the moat around its green, which cost Ben Hogan the 1960 Open, is one of the worst holes I've ever seen." What has since happened and your comments now?
Cross bunkers have been added back to the fairway—the pros will try to carry them, which was not the original intent—and all the willow trees around the green have been cut down, so the water is more in play and in view. The one thing I dislike is that the moat in front of the green is invisible from the fairway, because the fairway is so flat; but the pros know it's there.
You also said in the same book about the course, "If this course (Cherry Hills) were in Philadelphia, it wouldn't be famous." Given you originally graded the course at a Doak level 7 (out of a 10 max) has that number gone up since then, and if so, why?
     
That quote is based on my belief that there are a half-dozen Flynn courses in Philadelphia of equal merit … places like Rolling Green and Manufacturers and Philadelphia Country Club that are sorely underrated. Anyway, 7 out of 10 on the Doak scale is very good, still a contender for the top 100 courses in the U.S. I will have to rate the course again in two years, when Cherry Hills is up for a rating in the new revision of The Confidential Guide.
 
When people watch this week's telecast, what holes should they pay particular attention?
The 14th and 16th are two terrific par-4's along the creek; those are my favorite holes on the course. The renovated 9th, where we added sixty yards, is a strong two-shotter as well. The hole I'll be most curious to watch is the 5th: we restored a central fairway bunker that, in conjunction with a small creek, makes it a dangerous driving hole … I'll want to see the ShotLink map of how they play that one.
 
Your apprenticeship in golf architecture came through Pete Dye. What elements from that relationship do you follow and not follow when designing courses now?
Everything about my construction-oriented approach to design is based on how I learned to build courses from Mr. Dye. But, most of my clients are more interested in beautiful and fun golf courses than torture tracks, so my focus is different. Still, Pete was a master of visual and psychological tricks that made his courses uncomfortable for good players, and I love to sneak those features into my own designs.  My courses are wide and playable, but aren't pushovers.
M. James Ward, a member of Golf Writer's Association of America (GWAA) and past member of Met Golf Writer's Association (MGWA), has reported on golf's grandest events since 1980 in a variety of forums.