On the Ball: Time to Give Kidd His Due
April 21, 2014 6:18 am Last Updated: April 24, 2016 6:37 am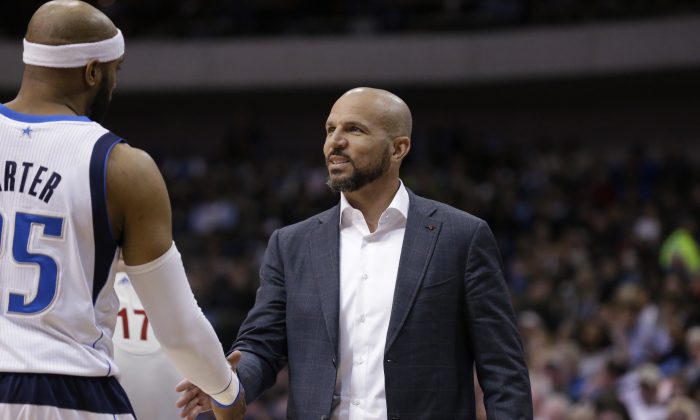 It was 13 years ago this summer when the Nets traded Stephon Marbury to the Suns for Jason Kidd and reversed the fortunes of the once-moribund franchise for a good five years. Actually, the Suns reversed their fortunes as well—resulting in the ouster of Phoenix coach Scott Skiles.
Not every trade is a win-win.
At that time, I had been in New Jersey for a few years and had started to latch onto the Nets as my new favorite team. I remember hearing about the Kidd-for-Marbury swap on my way to work and actually being concerned about it.
After all, the 28-year-old Kidd was four years older than Marbury, and even though the Nets had been dreadful with him at the point, we had no idea how misleading his All-Star stats were—apparently neither did poor Skiles.
I remember by the end of the day, my dad asking me what I thought of the trade and I had actually already changed my opinion—if the Nets were already bad, why not switch things up?
(As an aside here, I normally don't like it when people switch team allegiances out of geographical convenience. However, I justified my own switch from the Lakers to the Nets because the Lakers were an inherited allegiance from my dad, who's now a Nets fan now too. … At least that's the best I could come up with. It's actually a little easier now that the Lakers have decided to flush their fortunes down the toilet by having D'Antoni run the team.)
In any case, after watching Kidd come in and instantly transform the Nets from worst in the East to title contenders (even though the East was pretty weak back then), in retrospect, it was laughable that I even doubted it would work.
Kidd, in my mind, is second only to Magic Johnson (just ahead of John Stockton and Steve Nash) in the argument for greatest point guard of all time.
That doesn't necessarily mean that he'll be a great coach.
Fast-forward 12 years to last year's offseason and my dad had the same question about Kidd, who had had legal problems over the summer, becoming the new Nets coach. I had pretty much made up my mind at that time. Here was our exchange:
Dad: So what do you think of the Nets hiring Kidd?
Me: Oh excellent! After all, most Hall-of-Fame careers start off with a DUI suspension.
Even following his suspension, the Nets were falling well below expectations that had been heightened with the acquisitions of Paul Pierce and Kevin Garnett. After losing to the Spurs on New Year's Eve, Brooklyn was just 10–21 heading into 2014.
With center Brook Lopez being lost for the season in December, Kidd made his move and went small, moving Garnett to center, Pierce to power forward, and boldly moving Deron Williams off the ball. With Shaun Livingston at the point and Joe Johnson at small forward, the Nets had their best five in the starting lineup and the changes were drastic.
The Nets won 10 of their next 11 games and finished 34–17 in the new year—the second-best mark in the East during that stretch. This was even after losing four of their final five in what looked like an obvious positioning effort to avoid the hard-nosed Bulls and get the Raptors in round one—another decision I didn't agree with.
But now that the Nets have won Game 1 and taken back the home court advantage, even though the series is far from over, maybe it's time I give Kidd his due as coach and admit he knows what he's doing after all. I'm sure my dad will be asking.