On the Ball: Silver Officially Steps out of Stern's Shadow
April 30, 2014 6:16 am Last Updated: April 24, 2016 6:36 am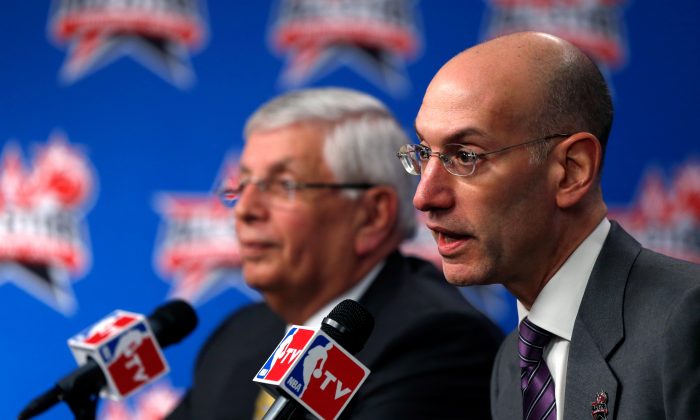 Eleven years ago I was devastated with the news that Roy Williams was leaving my beloved Kansas for North Carolina. Roy was honest, hardworking, and very, very successful. Kansas went to the Final Four four times in his 15 seasons and had it not been for several uncharacteristic performances in the high-pressure tournament (that's actually putting it mildly) he would have had more.
Kansas acted fast in replacing him, landing former graduate assistant Bill Self. We knew a little about Self, especially after his Illinois squad routed Kansas in the 2001 regional semifinals, but that was about it.
Since he came to Kansas after the recruiting season was finished, Self's first test didn't come until late November when the Jayhawks beat national power Michigan State 81–74 at home.
But it wasn't until the 2008 Final Four, (Self's first at Kansas) when his Jayhawks were matched up with Roy's Tar Heels in the national semifinals, that he got his first real opportunity to step out of Roy's shadow—and he pounced on it. Kansas won by 18 points, then beat Memphis two nights later for the title, and suddenly no one cared that Roy was gone.
That all took five years to do.
Adam Silver just did the equivalent in three months.
Silver's swift punishment of Donald Sterling just made everyone forget about former legendary commissioner David Stern and he just took over at the end of January.
There was never a bolder move than what Silver just handed down to the beleaguered owner—lifetime ban, maximum fine, and a recommendation that Sterling no longer own the Clippers. Game, set, match.
It seemed the obvious thing to do, but we had little idea if Adam Silver knew the obvious thing to do until now. Besides, it's always easier to tell someone else how to do their job—he's the one who actually had to carry it out.
The thin-figured Silver was Stern's right-hand man for a number of years, but just because he was around Stern doesn't mean he thinks like him—and Stern was up there with the best of them, as far as forward-thinking commissioners go.
The Columbia Law grad took over the league in 1984 and transformed it into the booming, multibillion-dollar industry it is today.
The NBA added seven teams under his watch, while the sparsely watched NBA finals went from tape-delay (can you imagine that?) to must-see TV almost overnight. It didn't hurt that Michael Jordan soon joined the league or that Magic Johnson and Larry Bird would hook up for three of Stern's first four finals' match-ups, but Stern took full advantage and quickly put the league on par with the NFL and MLB.
His retirement at the end of last January had been long-planned (he had announced it over a year earlier) but still there were doubts that anyone could continue to build what he had so carefully created. Not anymore.