On the Ball: Not Buying a Heat Three-peat
April 17, 2014 6:15 am Last Updated: April 24, 2016 6:37 am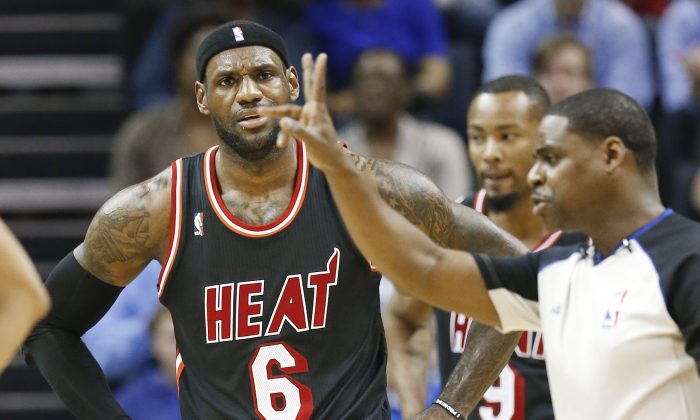 Growing up, I was a Lakers fan. My dad, who grew up in California, rooted hard for them and since there were no teams anywhere near us (middle of Kansas) I latched onto them as well.
(Just as an aside here, my dad also pulled off the should-be-illegal fan allegiance switch by rooting for UCLA in basketball and then USC in football. Illegal these days, but somehow, it was allowed back then. Naturally, I don't tolerate it.)
Anyway, the Lakers were pretty easy to root for in the 1980s. No Kobe Bryant, Magic and Kareem leading Showtime, and the team winning five titles during the decade. It almost makes up for being a Royals fan. Almost.
In any case, I remember them winning the last of those five titles—back on June 21, 1988—against the "Bad Boy" Pistons, who I didn't much care for. They were dirty, hard-nosed, had surprisingly great team chemistry, and after finally topping the Celtics in the East finals, they were hungry.
The Lakers were the defending champions, but heading into that postseason, no team had won back-to-back since the Celtics in '68 and '69.
Sensing his team's window of opportunity was starting to shut after the '87 title (Kareem was 40 at the time) and would need some motivation for one more set of rings, then-Lakers coach Pat Riley boldly guaranteed a repeat championship in '88.
The ploy worked.
That '88 series went the distance and the Lakers, who had homecourt advantage, needed every bit of it in winning nail-biters at the Forum in Games 6 and 7 to come back from a 3–2 deficit and win the their second straight title.
The highlight came after Game 7 when CBS's Brent Musburger asked Riley if he wanted to comment on winning a third straight title. Before he could even answer, Kareem stuffed a towel in his mouth—he was done and so were the Lakers.
The prank drew laughter from my dad, but it signaled the end of their dynasty. They didn't want the pressure of having to do it again.
The next season the Lakers made it back to the finals, but a rash of injuries (Byron Scott and Magic Johnson missed most of the series) sapped any chance they had of holding off the Pistons, who swept them. Suddenly their run was over. Two years later, Kareem, Magic, and Riley were gone. Another decade would pass before the Lakers would be champs again.
That '89 Lakers team has a lot of parallels to this year's Heat squad.
Both were two-time defending champs. Both were heavily influenced by current Heat President Pat Riley. Both had arguably the game's best player—Magic won MVP in '87, '89, and '90 over Jordan, and LeBron with Miami. Both had the star player that was becoming a shell of his former self—42-year-old Kareem for L.A. and Miami's Dwyane Wade, who's played in just 52 games and is averaging below 20 points per game for the first time since his rookie season.
And when the East finals end this June, both will have failed to three-peat.
Despite needing homecourt advantage to beat the Pacers and Spurs in consecutive Game 7s last year in Miami, the Heat relinquished that luxury this season without much of a fight.
Was I the only one whose jaw dropped when Erik Spoelstra rested LeBron and Bosh Monday against the Wizards, thus giving Indiana the East's top seed?
The Pacers set out this season with the knowledge/challenge they can beat the Heat with homecourt advantage and their sole focus has been to get that No. 1 seed. As bad as they flopped in the second half, Miami refused to take advantage. Much like Kareem in '89, they no longer have that resolve.
Who knows what happens after this season then. LeBron will be a free agent, the "Big Three" will be split up, and it'll be another decade before they field another winner—hopefully it'll be headed up by a guy more likeable than Kobe.