On The Ball: March Madness All About Pressure
April 6, 2014 12:48 am Last Updated: April 24, 2016 6:38 am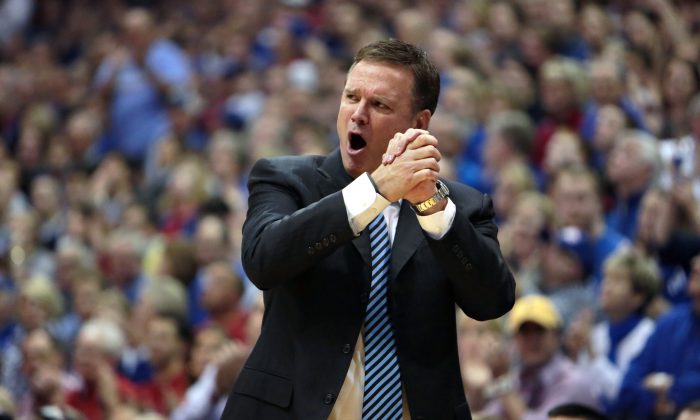 Four weeks ago, a co-worker asked me who's going to win the tournament. I should first point out that, despite picking the Broncos, I had a pretty good reputation with her for making sports predictions (naturally, she didn't see my bracket). So I paused for a second before coming up with Florida.
As a quick aside, I ended up not picking the Gators to even win their region when it came to my office pool. Why not? Basketball reasons? Of course not—KU's in the same region. How could I not let personal feelings get involved with money on the line? FYI, my Final Four was Kansas, Creighton, Duke, and Michigan State … the lesson, as always: never let personal feelings sway your predictions.
Anyway, I wasn't going out on a limb by picking the top team in the country, but college basketball's postseason is a different animal: 68 teams have the same neutral-court chance, every round is win-or-go-home, and so pressure plays a huge role. Case in point: if either Kansas or Syracuse were the top-ranked team, I wouldn't have predicted them winning it, knowing how Bill Self and Jim Boeheim have fared in previous tourneys.
After all, two of Boeheim's best teams ever—the 30–5 2010 team and the 34–3 '12 squad—were unable to find their way to the Final Four, while his 10-loss 2013 version flew under the radar and won its regional.
I don't even know where to begin with Self.
My favorite coach lost to Bucknell and then Bradley in the opening rounds of 2005 and 2006—hang on, it gets worse. After all they were "only" a 3-seed in '05 and a 4-seed in '06.
His 2010 and 2011 squads went a combined 68–6, grabbed back-to-back 1-seeds, and yet somehow lost to "powerhouses" Northern Iowa and then VCU to end the season.
Florida coach Billy Donovan doesn't have those same skeletons in his closet.
This is his fourth appearance in college basketball's biggest stage—the Final Four. And not only has he won a pair of titles in his previous three tries, he did it at a place with very little tradition.
The Gators have made the tournament 19 times in their history. By contrast, tradition-rich Kansas has been to each of the last 25.
Even more impressive is the back-to-back titles in '06 and '07.
It's one thing to win a championship. But to repeat the next season, with all the added pressure, is truly remarkable. To wit: only Hall-of-Fame coaches Mike Krzyzewski and John Wooden (14 titles between them) have done it in the last 50 years.
The Gators have an advantage come Saturday against UConn: revenge. The Huskies, despite a 33-point blowout to Louisville on their resume, are the last team to beat 3–2 Florida.
So to make good on my original prediction, I'm taking the Gators over UConn 78–68 in the first semifinal.
In the latter matchup, I'm picking against a guy who's handled the tournament pressure with ease—John Calipari, a participant in three of the last four Final Fours—over a guy who just made his first, Bo Ryan. Why? The Badgers have an impossible matchup for Kentucky in 7-foot forward Frank Kaminsky: Wisconsin 58, Kentucky 54. Naturally, if I'm wrong, I'll just bury this alongside my KU bracket.