On the Ball: Is Everything Falling in Place for Federer's 18th Major?
September 2, 2014 6:15 am Last Updated: April 24, 2016 6:32 am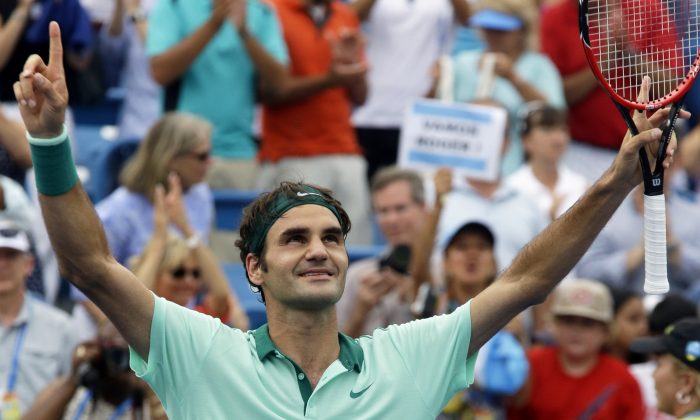 Winning a title in any sport takes, at the very least: talent, hard work, dedication, and sometimes a little luck. Think the 1986 Mets winning it all after Bill Buckner's Game 6 error, or the 2010 Lakers winning Game 7 against a Kendrick Perkins-less Boston squad, or even Tom Brady's Patriots benefiting from the infamous tuck rule (should have been a fumble) on the way to winning Super Bowl XXXVI.
Destined teams and players catch those kinds of breaks.
Did Roger Federer, he of the 17 Grand Slam titles, catch one Sunday?
Federer, uncharacteristically down 5–2 in the opening set in a third-round match against 42-ranked Marcel Granollers (Federer hadn't lost a set yet in the US Open), was forced back into the locker room for a two-hour weather delay—which was bad news for Granollers. Once Federer is down, you don't want anything to stop the match and give him time to regroup.
Look at the 2012 49ers. After the Ravens built a 28–6 third-quarter lead in Super Bowl XLVII, the power went out for 34 minutes. With it went Baltimore's momentum, and the Ravens had to hold off San Francisco's rally for a nail-biting 34–31 win.
Sunday, when Federer and Granollers finally returned to the courts, so did the Federer we all know and love, winning 20 of 25 games thereafter for a 4–6, 6–1, 6–1, 6–1 come-from-behind blowout win.
Perhaps this is Federer's year for another US Open title. It certainly has been a while.
The man who once won five straight championships in Flushing hasn't even been to the finals since 2009, when Juan Martin del Potro shocked him in five sets.
Now at age 33, another title isn't completely out of the question—Pete Sampras won his last tournament here at 31—but he's going to need some help, which he's gotten already.
Besides Mother Nature helping him out Sunday, his nemesis Rafael Nadal, who he hasn't beaten in a Grand Slam event since 2007, withdrew before the tournament even began.
In addition, sixth-seeded Tomas Berdych—who Federer is a career 12–6 against—is the highest-ranked player left on Federer's half of the draw.
Of course, it used to be that Federer didn't need any such scheduling or weather breaks to win a major. Starting with his Wimbledon win in 2005, "The Fed" made the finals of 18 of 19 Grand Slams and won 12 of them—simply an incredible run.
But that run ended with him winning the Australian Open four years ago. Since then, he's reached a major final just three times and won one—Wimbledon in 2012.
But he's been playing much better of late.
Federer entered the US Open fresh off winning the Western & Southern Open—dropping just two sets in five matches—while finishing runner-up at the Rogers Cup to Jo-Wilfried Tsonga. Previous to that, Federer pushed world No. 1 Novak Djokovic to five sets in a thrilling Wimbledon final.
The top-seeded Djokovic is already into the quarterfinals, and a finals matchup with Federer, who he beat in the 2010 and 2011 semis, seems likely.
Maybe Federer can catch just one more break.