On the Ball: Fantasy Football Watch—Study Up on Your Draft
September 3, 2014 6:15 am Last Updated: April 24, 2016 6:32 am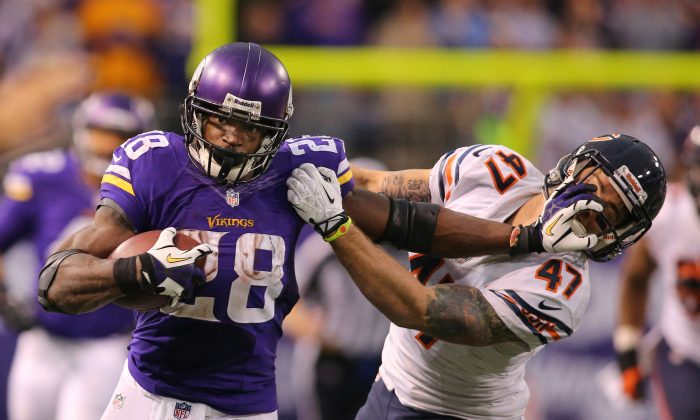 I used to consider myself quite the fantasy football expert. Way back in 2003, I joined a 10-team unlimited keeper league with a bunch of friends from high school—we were the original sports nerds.
Over our seven years of fantasy fun, I finished in the top three every year and won the league twice—and it was all due to my original draft. I still remember it.
I had the fourth overall pick (snake-style—last pick of the first round gets first pick of the second round) and took Deuce McAllister (anyone remember him?) first, before having to "settle" for Peyton Manning in the second round. I wanted run-happy Michael Vick instead, who was taken just two picks ahead.
Of course that was just a year before Manning exploded with a then record-breaking performance of 49 TDs. He'd eventually garner five MVP awards—I was happy with my pick.
In the third round, I grabbed Torry Holt—who had five straight 1,000-yard seasons thereafter. Then in the fourth, I nabbed the always underrated Tiki Barber (who somehow got better as he aged) and then took rookie receiver Andre Johnson in the sixth (everyone had forgotten about the rookies up to that point). Those picks served me well.
I was the always-annoying "buy-and-hold-forever" guy in our league—I didn't really care, either. I had a good draft to start with and was more than content to keep my original core group of players, instead of doing any major trades. I was more than content to just add two rookies every year in our annual rookie/free agent draft. (Keeper rules meant you could keep all but two players every year.)
After our commissioner finally got tired of running the whole thing and keeping track of our rosters year after year through the offseason, the league dissolved—no one else wanted to do it either. So I joined some friends in a new league last season—one without any keepers.
Unfortunately, last year was a season to forget. Long story short, I finished last and my draft was the main culprit.
The Draft Is Most Important
Last year, I had the last pick in the 10-team snake-style draft—much to my horror. This is the toughest position to be in.
Even though you get to follow it up with the first pick of the second round, you're probably taking a bunch of gambles at running back and taking a second-tier QB, because Manning, Drew Brees, and Aaron Rodgers are likely gone. The dilemma is then to either take a second or third-tier back right there or load up on the best at other positions first and then take a bunch of fliers on mid-tier backs later on. I chose the latter, but I didn't capitalize on my picks.
So, with the top-tier running backs and quarterbacks already off the board, I took the top wideout—Calvin Johnson—with my first pick and then took Matt Ryan to start the second round.
Johnson was all right last year (1,492 receiving yards), but his production was well below the year before when he went for an NFL-record 1,964 yards.
Ryan wasn't a bad pick—4,515 yards passing—but 17 picks versus 26 TDs didn't make him worthy of being chosen 11th overall.
It was my next pick that really hurt—RB Trent Richardson.
I remember Richardson in college at Alabama and he was great—1,679 rushing yards in 2011. Of course, I didn't watch him in his first year with the Browns (950 yards, 3.6 per carry), but how bad could he be? As it turns out, pretty bad.
That was a huge mistake—I did zero research on him, took a major gamble, and was soon stuck at a huge disadvantage at running back.
To make matters worse, I kept starting him week after week (I had few other options), thinking he'd randomly break out of his slump—another mistake. And really, how could he not? He was the third pick in the 2012 NFL Draft.
Unfortunately, he never broke out. The guy averaged just 3.0 yards a carry for the season and totaled 563 yards rushing.
(As an aside, the Colts actually made me feel better about this when they inexplicably gave Cleveland a first-round pick for Richardson and then watched him go nowhere. Maybe I too have the goods to be an NFL GM and drive a team into the ground someday.)
Running Backs Are Key
In today's NFL, injuries and the two-back system have made the premium running backs that much more premium. Twenty years ago almost every team used a one-back system, but that's not the case today.
If you don't have Jamaal Charles, Adrian Peterson, LeSean McCoy, Marshawn Lynch, or even Matt Forte, you're going to have to follow the roughly other 27 NFL teams that are going with more of a multi-back system and see who emerges or who gets injured.
Or you can do what I did last year: Finish last (giving me the first pick overall the next season), grab Jamaal Charles, and watch some other poor guy have to pick last—maybe he'll take Richardson.