On the Ball: Fantasy Football Watch—Always Trust Your Instincts
September 11, 2014 6:15 am Last Updated: April 24, 2016 6:32 am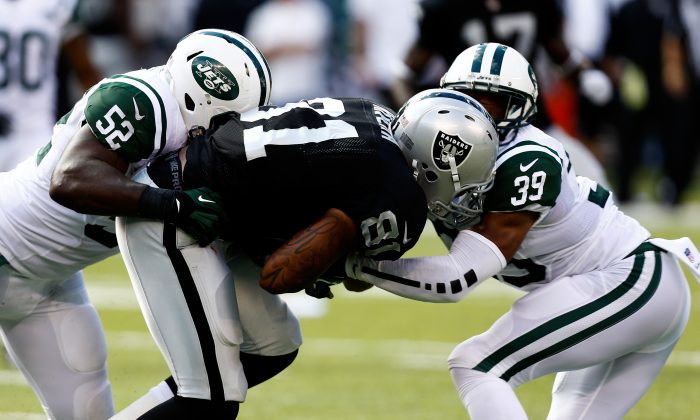 Playing fantasy football can be a humbling event—much like my annual NCAA tournament bracket picks, which usually have me out of office pool contention somewhere during the first weekend against a bunch of people who couldn't find UCLA on a map. Of course, it doesn't help that I pick KU every single year.
Last week I was riding high after our initial fantasy football draft. Because I was so bad the year before (last place finish—I've mentally blocked out what the actually win-loss record was), I got the first pick and took Jamaal Charles—from whom I'm still waiting an apology from after his 19-yard rushing performance in Week 1.
Because it was a snake-style draft order, I then took Julius Thomas at the end of the second round (nine-team league) and A.J. Green to start the third—those picks I liked.
At the end of the fourth, I got Russell Wilson and then took Montee Ball to start the fifth—again, in retrospect, I liked the selections but we play two quarterbacks per week and suddenly I was a little worried about who's going to be left at that position for my next pick.
Naturally, the downside to choosing first overall and then back-to-back the rest of the way is that you then have to wait until everyone chooses twice in between—16 selections in this case—before going again.
By the time my next two picks arrive, I'm starting to think I messed up by not taking a higher quarterback with my second or third pick, so I take Victor Cruz and then have to reach a bit with Carson Palmer—it was him or Alex Smith. I love Cruz (even after Monday night's debacle) but Palmer I'm not so sure about. He's 34 and threw almost as many picks (22) as Eli Manning did last year. But, I was desperate.
By the time of my next two picks (Joe Flacco in Round 8, T.Y Hilton in 9), it's become apparent that quarterback is my obvious weak spot—it's tough to have a perfect draft.
Anyway the draft suddenly speeds up thereafter (30 minutes in, it loses some of its fun). So I finish it up by taking Martellus Bennett (Round 10), Jeremy Maclin (could be a steal in Chip Kelly's offense), the Jets' defense (Ryan certainly knows that side of the ball), Steven Jackson (immediate regret), Knowshon Moreno (not bad value here), and then the Steelers' defense.
Picking Your Lineups; Trust Your Instincts
On the whole, I'm happy with the draft. At least this year I didn't get an auto email from Yahoo! (who hosted the league) giving me the lowest grade overall like I did after last year's debacle. (Now known as the "James Dolan" draft.) Of course, as it turned out, they were right.
This year we're using espn.com and though they don't send out draft grades, my insider recommendation predicted I was going to win the first round matchup (I was thrilled), but only if I switched out the Jets' defense for the Steelers'. So I did.
Turns out, they were wrong.
In retrospect, not taking the Jets' D at home against the Raiders and a rookie quarterback (Derek Carr) versus taking the Steelers' D against the Browns, and a motivated Brian Hoyer, doesn't make sense to me still. Still I made the switch solely because the computer told me so.
Obviously there's no surefire way to predict these things, but if you're going to win (or lose) it's much more satisfying to go with your own picks—no regrets.