On the Ball: College Football Power Rankings – Week 4
September 22, 2014 6:15 am Last Updated: April 24, 2016 6:31 am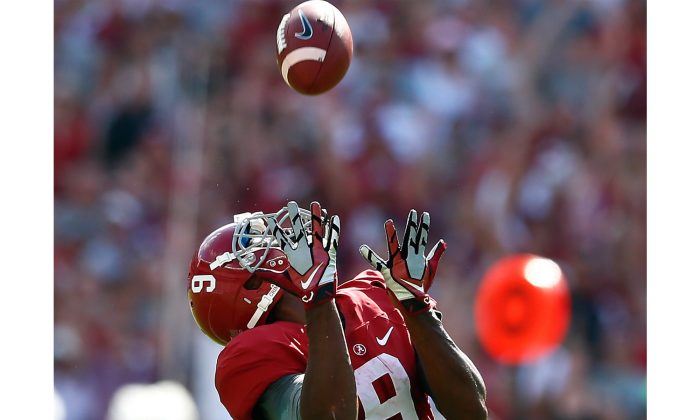 The LSU Tigers, after pitching back-to-back shutouts, gave up 34 points in a surprising home loss to Mississippi State, which dropped them out of the rankings. Meanwhile Florida State, Auburn, and Oregon survived scares to keep up in this week's power rankings.
10. UCLA (3–0): The Bruins have won all three games thus far (Virginia, Memphis, and Texas) by single digits, and the latter without Heisman-contending QB Brett Hundley (elbow injury). Whether he plays or not this week against Arizona State though, coach Jim Mora hasn't said.
This week: at Arizona State. Previous Ranking: 10
9. Michigan State (2–1): The Spartans got back in the win column in a big way against Eastern Michigan (73–14) and solidified themselves as the class of the Big Ten. Unfortunately for them, their conference schedule might not be difficult enough to overcome their loss to Oregon two weeks ago and still make their first playoff.
This week: versus Wyoming. Previous Ranking: NR
8. Baylor (3–0): The Bears, who have the nation's highest-scoring offense at 59.3 points per game, also have one of the easier schedules coming up (Iowa State, Texas, TCU, West Virginia, and Kansas are next) before a Nov. 8 showdown at Oklahoma. That could determine the winner of the Big 12.
This week: at Iowa State. Previous Ranking: 9
7. Notre Dame (3–0): Notre Dame currently allows just 10.3 points per game—third in the country—but unlike Baylor its schedule is loaded with difficult games. The Irish still have games against Florida State, Stanford, Arizona State, and USC before a possible playoff appearance.
This week: versus Syracuse. Previous Ranking: 7
6. Auburn (3–0): The Tigers got the all-important 20–14 win Thursday at Kansas State, but not without some help from the Wildcats. Not only did KSU miss all three field goal attempts, receiver Tyler Lockett bobbled a sure TD catch in the end zone that ended up in the hands of Jonathan Jones for the pick.
This week: versus Louisiana Tech. Previous Ranking: 6
5. Oklahoma (4–0): The Sooners were in some trouble Saturday at West Virginia before Alex Ross's 100-yard kickoff return just before halftime tied the game and shifted the momentum. Oklahoma running back Samaje Perine then scored three times in the second half and ended with a career day—242 yards on 34 carries.
This week: bye week. Previous Ranking: 5
4. Florida State (3–0): Forget that reigning Heisman-winner Jameis Winston was out Saturday. The Seminoles again looked little like the dominant force they were last year in the 23–17 overtime win over Clemson—much like they did in their opening week 37–31 win over Oklahoma State.
This week: at N.C. State Previous Ranking: 2
3. Texas A&M (4–0): Maybe the biggest surprise of the young season is how dominant the Aggies have been. After its 58–6 dismantling of SMU, Texas A&M has now won its last four games (including at South Carolina) by an average score of 55 to 12.
This week: versus Arkansas. Previous Ranking: 4
2. Alabama (4–0): After bringing in the much-maligned Lane Kiffin to run the offense, the Tide finally went off Saturday against Florida. Alabama scored 42 points, rang up 645 yards of total offense (the most the Gators have ever allowed) and held the ball for more than 39 of the game's 60 minutes—this despite committing four turnovers.
This week: bye week. Previous Ranking: 3
1. Oregon (4–0): Oregon's Heisman candidate, Marcus Mariota, was up to the task at Washington State completing 21 of 25 passes for 329 yards and 5 TDs in the 38–31 win. The team needed every bit of it as Washington State's Connor Halliday was 43/63 passing for 436 yards against the Ducks.
This week: bye week. Previous Ranking: 1