On the Ball: Calipari on the Verge of Greatness
April 7, 2014 6:18 am Last Updated: April 24, 2016 6:38 am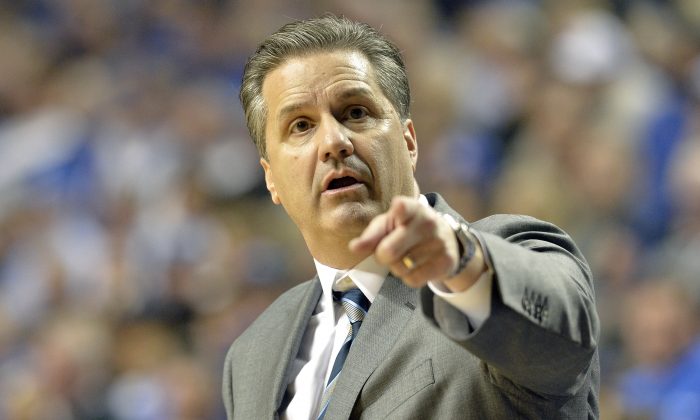 The greatest college hoops game I ever watched was played 22 years ago when defending champion Duke beat then-upstart Kentucky on a Christian Laettner last-second fadeaway, in overtime to advance to the Final Four.
I remember watching it with my brother and both of us were absolutely awestruck (and upset) at what we had just seen.
In addition to the thrilling ending, the game featured numerous lead changes, two future Hall-of-Fame coaches in top form, and the chance to see Duke actually lose a regional game—something I was desperately hoping for back then (all those postseason wins were really making KU look bad; we needed a break).
As a quick aside here, we didn't get that break—our top-seeded Jayhawks made everyone look good by bowing out in the second round at the hands of the always-dangerous Texas-El Paso Miners … it would be a sign of things to come.
In any case, in 1992, Duke was AMID a seven-Final Four, two-national title run over a ridiculously dominant nine-year span from 1986 to 1994 that polarized the entire country—you either loved them or you hated them. Most chose the latter.
Kentucky Takes Up Duke's Former Role
Kentucky, under John Calipari, is now starting to command that kind of love/hate attention.
Not only is Calipari disliked for bringing in so many one-and-done recruits (13, with plenty more to come this year), he's also been piling up too many big wins. This year's Final Four appearance is Calipari's third straight overall appearance on college basketball's biggest stage (though they missed the tourney altogether last year) and fourth in the last seven seasons.
For perspective, Jim Boeheim (second all-time in wins) has been to four total in his entire 38-year career.
Anyone who saw Saturday's epic semifinal witnessed just how hard Kentucky is to beat in the postseason under Calipari—much like Duke under Krzyzewski two decades ago. They also witnessed Greg Anthony temporarily losing his mind while insisting Kentucky center Dakari Johnson's after-the-whistle hit to the face of Frank Kaminsky should have been a no-call—nice try Greg.
Calipari's Wildcats looked a little over-matched in the first half. Wisconsin was poised and precise in their half-court set—they had the upper hand at the break.
But by the second half, Calipari had turned the game into a chess match between him and Wisconsin's Bo Ryan. Advantage Calipari.
Calipari's halftime challenge to his young team was to play fearless, not fearful. He knew it wasn't about the Xs and Os at this point—his preseason No. 1 ranked team is talented enough to beat anyone—provided they're properly motivated.
After a quick Wisconsin 3 to open the half, coach Cal called timeout and got through to his players. The resulting 15–0 run changed the course of the game. Wisconsin would go on to regain the lead, though temporarily, but never looked comfortable on defense again.

National Championship
For surprising UConn to beat the Wildcats Monday night for the title, second-year Huskies coach Kevin Ollie is going to have to be at his best.
Who knows what to expect from Ollie though at this point? He has two of the best guards in the country in Shabazz Napier and Ryan Boatright, but somehow they have a loss to Houston, a 33-point loss to Louisville, and a third-place finish in the not-so-competitive American Athletic Conference on their résumé.
This isn't like the all-freshman lineup team that Kentucky has either. Napier, Boatright, and impressive forward DeAndre Daniels are all upperclassmen.
What's next for them? Unless Napier can top his 25-point performance against the Spartans, the Huskies are going to be the Wildcats' (and Calipari's) next victim and we'll all turn anti-Kentucky—just like we did 20 years ago for Duke. The game should be close though: Kentucky 64, Connecticut 60 is my prediction.