On the Ball: Appreciating Joe Girardi
April 18, 2014 6:16 am Last Updated: April 24, 2016 6:37 am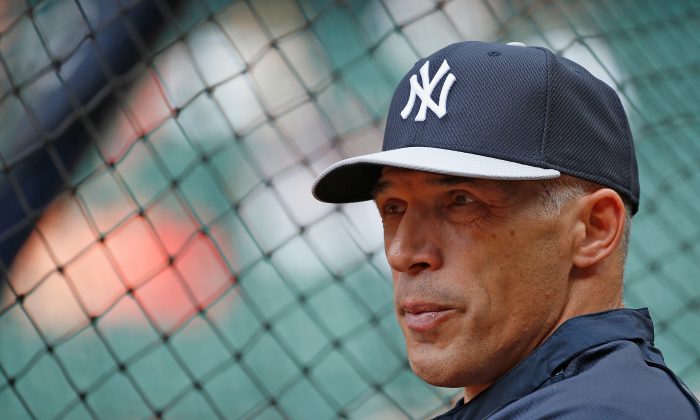 The year was 1997. My brother thought the world of then-Oakland slugger Mark McGwire—we actually both thought he was clean, despite his forearms being the size of Texas. Though we were in college and had stopped collecting baseball cards, he still kept his 100-plus card McGwire collection (nearly equal to my George Brett haul) but had never actually seen him play in person.
Having just moved from Kansas to northern New Jersey that spring, we decided to venture over to Yankee Stadium to see the A's and McGwire play. I bought the tickets, and being the genius I thought I was, I ventured for the cheapest seats—the right field bleachers.
It would be the first and last time I ever did that.
We entered the stadium just hoping to see a good game. By the second inning, we were just hoping to get out of there without being insulted, spit on, threatened, or having beer poured on us.
Actually, we were just hoping to not be noticed.
Apparently wearing Red Sox garb to the right field bleachers was considered an open invitation to a beating. Thankfully since the Royals and A's were no threat (or natural rival) to the Yankees, we flew under the radar and left the stadium relatively unharmed—though I couldn't say the same for the poor guy at the end of our row in the Boston hat.
I had never seen such fanatics in my life—at least not at a baseball game. They had reason to be fanatical though—as much as I hated to say it, they were the defending champs.
As you can probably infer, I didn't really like the Yankees back then.
Why? They were good and they had money—something my beloved Royals were low on. (As an aside, yes the Royals finally looked less like a triple A team last season in winning an unheard of 86 games, but it had been awhile.)
By the late '90s, my once-proud, but now fading, small-market Royals had taken a turn for the worse and it was convenient to blame the big-market Yankees for all of our problems.
They could spend money on free agents. We couldn't.
They could sign their young stars to long-term contracts. We couldn't. (As another aside, in 1997, we really didn't have any young stars—I was pretty sure I could blame the Yankees for that too.)
The Yankees also had a pretty good manager back then—Joe Torre. By 2000, Torre had led the Yanks to a fourth title in five years, and suddenly he achieved Scotty Bowman/Red Auerbach/Phil Jackson status as one of the best professional coaches ever.
I always blamed the front office for signing Giambi in 2002 and jettisoning Tino Martinez, and thus ruining the great team chemistry they once had, as reason for that being Torre's last title. During his later years, the team was no longer the core four with complimentary players like Scott Brosius, Paul O'Neill, and the heady Joe Girardi.
Instead they resembled Team USA's basketball rosters some 10 years ago, before Jerry Colangelo took over—great on paper, just not in reality.
When Girardi took over as manager it was hard to quantify his value, being at the helm of annually one of the most talented rosters in the league.
The team missed the playoffs his first season—something that never happened under Torre—but he rebounded nicely with a title the following year.
It wasn't until last season's rash of injuries that I realized Girardi might even be better than Torre. Why? Jeter and Teixeira missing nearly the whole year, no real replacement for Russell Martin at catcher, and the A-Rod saga going on and still they nearly had as many wins (85) as my Royals, in our dream season.
Anyway, just this week I was talking with a friend of mine (an admitted Yankee fan) wondering how his team was doing in the standings with a 39-year-old starting shortstop, no real first baseman at the moment, and an aging ace starter (C.C. Sabathia) sporting a 6.63 ERA (heading into Thursday night)—they're in first place, of course. Must have a good manager.