On July 1 Hong Kong's Spirit Displayed
July 10, 2013 5:34 am Last Updated: August 8, 2013 1:17 am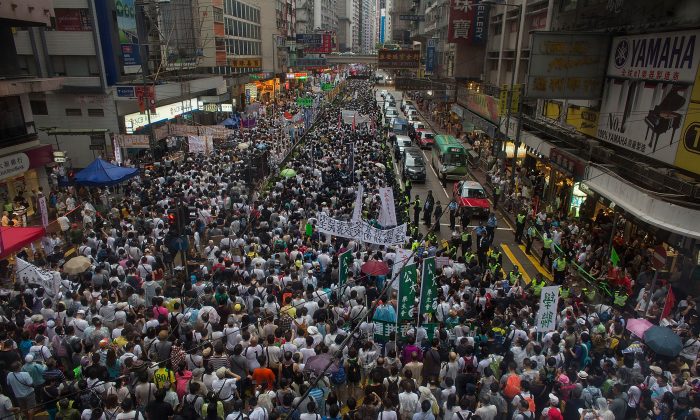 Commentary
HONG KONG—When over 500,000 people rallied ten years ago to oppose proposed anti-subversion laws and to show their support for democracy it symbolized Hong Kong's spirit.
During this year's march on July 1 over 400,000 citizens came out onto the streets despite heavy rain and called upon chief executive Leung Chun-ying to resign.
The rally's organizer—the Civil Human Rights Front (CHRF)—said that 430 000 people joined the rally which captured international media attention such as the BBC and the New York Times. Meanwhile the Chinese Communist Party's Global Times made comments that the march was only attended by tens of thousands of people and that it is "very cheap" for Hong Kong people to express their various aspirations.
CHRF's Jackie Hung remarked on the Global Times comments with: "for them, it may be a cheap aspiration but for us it is an opportunity for democracy."
"We do not want to take to the street every July 1, and we also want a vacation," she said. "But there are so many problems in this society, and we do not have any channels for our complaints to go through, so we must take to the street to express our feelings."
After a decade of ups and downs, Ms. Hung was very glad that the bad weather did not deter people from attending the rally. She was moved to tears by the scenes of people supporting democracy and civil liberties and to her it proved that the spirit of Hong Kong has never faded away, and will not.
"The insistence of Hong Kong people on democracy and their commitment to society is the spirit of Hong Kong," said Ms Hung. "We are not just to make money, but are hoping that the entire social environment could be improved so that our next generation lives in the free air," she said. "We will not be limited to our own personal angles. Instead, we believe everyone's coming-out can change this society."
For the Next Generation

During the July 1 march, the Legislative Council's Wong Yuk-man, applauded Hong Kong people loudly.
"In such a heavy rain and wind, so many people still took to the street. This indicates that Hong Kong people will come out at a critical time," he said.
The banner slogan, he said, that touched him the most was one made by The Epoch Times which read: "For the next generation, the wolf Chun-Ying should step down."
As a person born in the 1950s and receiving a higher education in the 1970s, Wong Yuk-man said people in his generation do everything for the next generation. "We do not want our next generation to receive the Communist Party's enslavement education, so this sentence touches us very much,", said Wong Yuk-man.
The amount of opposition against the pro-Beijing Leung Chun-ying by the people of Hong Kong, said Wong Yuk-man, is evidence that people have had enough. "This indicates that people's discontentment has reached its peak. Hong Kong people's aspirations are for this man to resign," he said.
However, following the rally, Leung remained deaf to the calls for him to resign and claimed that the whole government, including the civil service team, is united.
Wong Yuk-man didn't agree. "He says they are united but in fact they are not united. We are often in contact with the civil service, and now the entire team is demoralized," he said.
Wong Yuk-man believes that Leung should follow the wishes of the people and step down immediately. The future direction of Hong Kong, he said, should be led by a local individual who is democratic and anti-communist. "How could you succeed if you do not fight against the CCP?" he asked.
One of the most touching scenes in this year's July 1 parade was that of civilians helping each other through hardships. Many huddled together under the same umbrella; some shared their umbrellas with others, even if doing so meant getting wet themselves.
Five-year-old Tim attended the July 1 parade for the first time with his father. After hearing his father explain the significance of the parade to him, Tim was excited to see so many people calling for the resignation of Leung Chun-ying. He joined in the chanting and urged his father to do so as well.
22-year-old Xu Dexian, who graduated from a university in Taiwan and now works in the hospitality industry, says that her plans for the July 1 parade began half a month beforehand. She said that she is touched by how everyone was willing to help one another. "At SOGO [a landmark department store in Hong Kong], we held on to the people standing on the fence so they wouldn't fall while taking pictures."
Xu said she was most touched by the procession of Falun Gong practitioners. "They were very organized and orderly; my friend could not help but compliment them," she said. "Many people in Hong Kong have misunderstandings about Falun Gong, but it is actually a very well-received practice overseas. I have lived in Taiwan for many years, and Falun Gong is very much respected there. I think they are remarkable for persevering through all these years."
Peacefully Protesting
Falun Gong practitioners in Hong Kong have participated in every July 1 parade since 2003. Their perseverance and peaceful presentation have earned them admiration from onlookers and the applause of democracy activists on the streets each year.
Falun Gong practitioner Liu Huiqing, who works as a teacher in Hong Kong, said that she was passing out flyers at Causeway Bay on the day of the parade. She was constantly approached by people asking if the Falun Gong procession had passed by yet and saying that they were especially eager to see the Falun Gong practitioners' Tianguo Marching Band.
Liu says that in the past year, increasing numbers of Hong Kong residents have become very supportive of Falun Gong and were disgusted by the Hong Kong Youth Care Association's interference with Falun Gong practitioners' activities. "They all despise the CCP. They said that we were the mainstay of Hong Kong and told us to stay strong."
Falun Gong practitioners' efforts have helped the people of Hong Kong understand the truth of the persecution and the evil misdeeds of the Chinese Community Party.
Liu believes that although the CCP is trying to destroy the core values of Hong Kong people and replace them with communist ideals, the fact that 430 thousand people paraded the streets on July 1 shows that the true Hong Kong spirit is still strong. She believes that the Hong Kong spirit is one of combatting and overcoming hardships.
"Hong Kong has endurance to fight. The people of Hong Kong encounter many obstacles but silently bear it all. They remain loyal to their traditions and pass them on to the next generation. This is a lifestyle of tradition," Liu said.
She said that this Hong Kong spirit is passed on through generations as well. On June 4, 1989, she brought her young children to attend the candlelight vigil. Now her children have grown up and take their own children to events such as the July 1 parade.
"Besides educating our children academically, we also train them to become good citizens and to think independently. We have both the British system of education and the values of traditional China. We expect our children to be orderly and disciplined," Liu said.
Liu said that she sees hope in the people of Hong Kong. "So many people are coming out on this day," she says. "They are all against the totalitarian rule of communist China and hope to restore Hong Kong's core values of freedom and democracy. This is the only hope we have for a good future."
Disclaimer Text:
"Views expressed in this article are the opinions of the author and do not necessarily reflect the views of The Epoch Times."