On Christmas Day in China: Persecution Intensified Against Christians
December 28, 2005 12:00 am Last Updated: December 28, 2005 12:00 am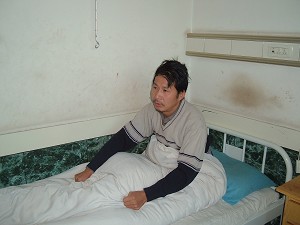 Midland, Texas — ChinaAid (CAA) learned that on Christmas Day, 12 house church leaders were arrested in Xinjiang.
According to eyewitness reports, at 10:30am on December 25 (Beijing Time), 200 police officers and officials from Religious Affairs Bureau with 17 police vehicles raided a house church during its Christmas gathering in a rented commercial facility at downtown Ma Na Si County, Xinjiang Autonomous Region. 210 Christian believers and their leaders were gathered for a Christmas celebration.
According to an eyewitness report, at 11 am, 12 leaders were arrested. Their private property was confiscated with no receipts issued. The items were one rented minivan, one Buick car, one piano, one video camera, 80 bibles, and 230 pieces of new towels. The police also confiscated all the Christmas food before they left. According to one female pastor who was at the meeting, the police officers presented a search warrant and stated the meeting was an "illegal religious gathering."
At 12 o'clock midnight the next day, 7 arrested leaders were released and 5 remained in custody. They are Pastor Guo Xianyao (54), Ms. Lu Jianzhen (47), Ms. Wu Haifang (28), Ms. Wang Ximei (54) and Ms. Zhou Bin (50). There is an eyewitness account of Pastor Guo Xianyao that was beaten by the police. They are currently detained at Ma Na Si County Detention Center. All of the arrested were required to pay fines and be fingerprinted.
CAA also learned on Christmas Eve, at 1 pm one house church Christmas meeting at Korla City of Xinjiang was disrupted by 6 police officers. One hundred believers were gathered there at the time of the raid. They were forced to stop the meeting and directed to go to the government sanctioned TSPM church meeting. The church leader told our CAA contact that they will continue their worship weekly but somewhere else.
Meanwhile, on December 13, House church pastors Ms. Miao Fengming and Mr. Liu Haibo were detained for 24 hours by the PSB of Zhaqi County, Inner Mongolia Autonomous Region. They were accused as "leading illegal religious gatherings." In Gushi County, Henan province and Suqian City of Jiangsu province, the houses of pastor Yang Li (38) and Shi Enhao, respectively, were raided. They were not at home at the time of the raid. The police demanded from their relatives to hand over these two pastors for their alleged activities with "Falun Gong" and "illegal religious activities."
CAA also learned that the persecution against the beaten Christian businessman Mr. Tong Qimiao has been stepped up. In order to drive Mr. Tong out of business from Xinjiang, on December 15, the Kashi Municipal Bureau for Industrial and Commercial Administration issued an official notice to Mr. Tong demanding him to pay a fine of 15000 RMB ($2000) for "illegal" business practice. According to a government source, this action was taken purely at the request of Kashi State Security Bureau in order to punish him for his "legal" challenge against the official who physically assaulted and threatened Mr. Tong for his church activities. Mr. Tong's civil rights claim was denied by the local court. Mr. Tong was severely beaten and suffered a broken rib by an agent from Xinjiang State Security Bureau on September 28, 2005. He was interrogated for his relationship with a house church in that area. Because Mr. Tong took legal action against his persecutors, his furniture factory and store in a local mall was ordered closed and many pieces of furniture were confiscated on October 13.
In response to the notice, CAA learned that Mr. Tong's attorney Mr. Zhang Xingshui, the director of Beijing Jingding Law Firm, has sent a legal letter to Kashi Municipal Bureau for Industrial and Commercial Administration asking for a hearing.
Christmas Eve, Catholic Priests Beaten in Tianjin City
According to RFA reports, on December 19, 48 Catholic priests from Shanxi province were beaten by 30 unidentified gangsters in Tianjin city where they were sent by their parish to negotiate to return Catholic church property with the deputy mayor of Tianjin city. Seven priests were wounded and one Catholic believer is still hospitalized. The gangsters were already gone by the time the police arrived.
CAA condemns the arrest of these innocent church leaders and urges the Chinese authorities to release them immediately. "How can people have any faith in the Chinese government's claim of religious freedom when peaceful Christmas celebrations were stopped and innocent citizens of faith were arbitrarily arrested?" said Rev. Bob Fu, president of CAA.