As the Chinese regime celebrated 71 years of one-party rule on Oct. 1, overseas dissidents drew attention to Beijing's ongoing suppression of freedoms and human rights.
Meanwhile, authorities across the country, including Hong Kong, put police on the streets to stamp out petitioners and protestors, as is usual practice ahead of important events.
As a Thursday evening reception in Beijing, China's Premier Li Keqiang praised the regime's performance over the past year under the leadership of the Chinese Communist Party (CCP), and "urged efforts to fully and faithfully implement the principles of 'One country, two systems'" in Hong Kong, according to state broadcaster China Central Television (CCTV).
"One country, two systems," is the framework under which the CCP pledged to govern Hong Kong when the city reverted from British to Chinese rule in 1997. The regime had promised to permit freedoms and autonomy to the city not found in the mainland. But since last year, Beijing has imposed a series of measures, including a draconian national security law and electoral reforms limiting democratic participation in the city, that has caused observers to say that Hong Kong is being transformed into just another Chinese city.
Li also claimed that Beijing would also continue to promote "peaceful development of cross-strait relations," but firmly oppose any efforts supporting the de facto Taiwan's "independence". The Chinese regime has long described the self-ruled democratic island as its own territory.
On Friday, Beijing sent 25 aircraft to Taiwan's air defense zone, according to the defense ministry in Taipei.
Xi Jinping, who heads the Party and also serves as the country leader, made no remarks at the reception.

Hong Kong
Hong Kong's Chief Executive Carrie Lam "vowed to take a firm stance in safeguarding national security and implementing the principle of 'patriots administering Hong Kong'" at a Friday reception in the city, said CCTV.
Meanwhile, the city was on high alert for protest activities. Hongkongers saw counterterrorism police and plain cloth officers on streets and metro stations, and surrounding pro-democracy protesters.
In the morning, four members of Hong Kong's local pro-democracy party League of Social Democrats marched in the city while chanting slogans such as "release all political prisoners" and "human rights stand above any regime." They also demanded universal suffrage to choose the city's chief executive, a position currently filled by pro-Beijing leader Carrie Lam.
The city's once-bustling pro-democracy camp has been decimated since the national security law took effect last July, with waves of politicians, activists, and media figures arrested and charged under the law or similar offenses. To many, those arrests have confirmed fears that the law would be used to clamp down on dissent in Hong Kong.
The protestors had originally planned to march to a public square where the Hong Kong government was holding a flag-raising ceremony to commemorate the CCP anniversary, but were stopped by police before arriving at their destination.
Chan Po-ying, a league's chairperson and the wife of imprisoned activist Leung Kwok-hung, read out a declaration, calling on Xi to improve people's political rights. She condemned Beijing for responding to people's dissatisfaction with oppression and surveillance.
Leung, also a former Hong Kong lawmaker, is currently in prison in Hong Kong after being sentenced over his roles in pro-democracy activities in the city.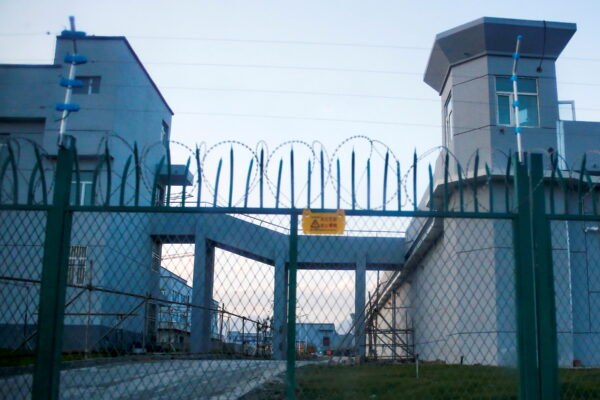 Persecution
Meanwhile, victims of the regime's oppression in other regions used the day to shine a spotlight on Beijing's abuses.
"Every year, the 1st of October is not a celebratory day for Uyghurs, but rather an occasion to reflect on all that we have lost at the hands of PRC [People's Republic of China] governments–from our rights and freedoms to the lives of our loved ones," stated Dolkun Isa, president of The World Uyghur Congress, a Munich-based advocacy group, according to a statement.
Isa added, "At the same time, this day has become symbolic for oppressed communities from China to join in solidarity and once more call for an end to the Uyghur genocide and China's other human rights crimes."
More than one million Uyghurs and other Muslim minorities have been incarcerated in internments camps located in China's far-western Xinjiang region, in a campaign described by the United States and other Western countries as a genocide. Uyghurs have been subjected to forced sterilization, torture, forced labor, and political indoctrination. Children have also been removed from their families.
The Tibetan government-in-exile, formally known as the Tibetan Central Administration, released a document titled "Tibet: 70 Years of Occupation and Oppression" on Sept. 30. Since the CCP forcibly took control of Tibet in 1950, the regime has been systematically attempting to eradicate the regime's unique culture and religions.
"The CCP celebrated with much fanfare the so-called 70 years of 'liberation' of Tibet, which in fact is 70 years of CCP's occupation and egregious atrocities China perpetrated in Tibet," the document stated. "For the Tibetans, there was nothing to celebrate the occasion, which was a painful reminder of the years leading to the CCP's gruesome invasion of Tibet."
The Hong Kong edition of The Epoch Times contributed to this report.