Hong Kong—Across mainland China, Oct. 1 marks the day the Chinese Communist Party (CCP) took over the country and established the People's Republic of China. The regime mandates a week-long holiday meant for celebration.
But in Hong Kong, 40,000 city residents took to the streets to protest the CCP's rule, calling the occasion "a day of mourning."
Hong Kong, which inherited from its time as a British colony constitutional freedoms and relative independence, has witnessed continued encroachment on local affairs by the mainland Chinese authorities since sovereignty was handed back to China in 1997.
The parade is an annual affair. This time, protesters held up signs saying, "against authoritarianism," and called on the city's Secretary of Justice Rimsky Yuen to resign. Earlier this year, Yuen overturned previous rulings on activists who participated in the 2014 Umbrella Movement protests calling for fair elections. The most prominent of them, Joshua Wong, Alex Chow, and Nathan Law, were sentenced to prison.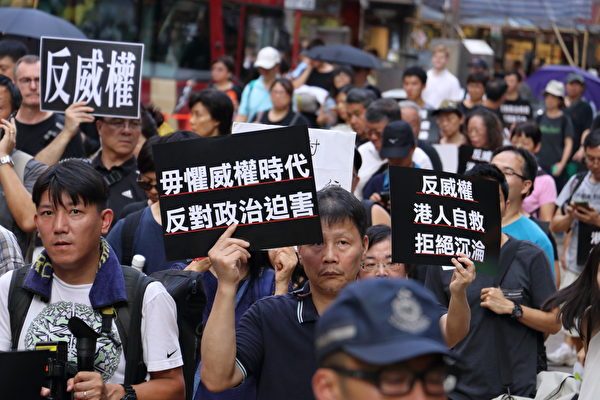 At a rally held before the march, local activists lamented the regression in freedom, human rights, and the rule of law since the Chinese regime took over Hong Kong 20 years ago.
"The Hong Kong people will not surrender to authoritarian rule. We will not give up resisting," said Benny Tai, law professor and initiator of a civil disobedience movement to occupy Hong Kong's central business district and call for universal suffrage. This later ballooned into the Umbrella Movement.
Mr. Ding, a participant in the parade, remarked that local residents have been dissatisfied with China's rule. "We don't accept or acknowledge this regime," he said. "We did not vote for it. A group of people who have obtained power through violence is now governing over 1.3 billion people, and Hong Kong is included."
The same day, adherents of the Falun Gong spiritual practice in Hong Kong also organized a rally and parade. Adherents in mainland China number in the tens of millions, in spite of the practice having been severely persecuted since 1999. Hundreds of thousands have been detained at any one time, enduring torture and abuse. Since 2006, independent investigations have also revealed that prisoners of conscience in China have been the victims of forced organ harvesting to supply organs for transplant surgery, with Falun Gong practitioners being the most often used source.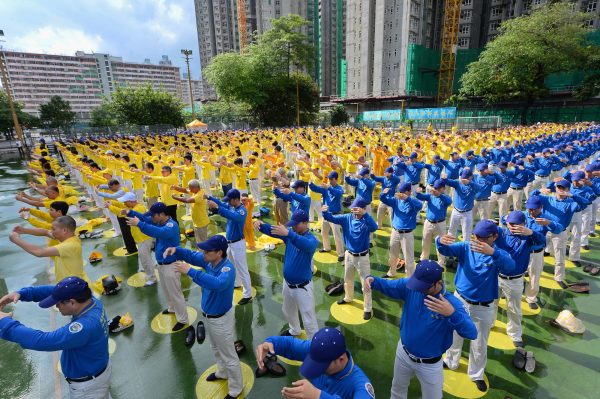 On Oct. 1, Falun Gong practitioners in Hong Kong called for former Chinese leader, Jiang Zemin, who initiated the persecution, to be brought to justice.
Spokesperson for the Taiwan-based Falun Gong Human Rights Lawyers Group, Theresa Chu, who spoke via an audio recording, said that across 31 different countries, more than 2.5 million people have lent their signatures to a petition condemning Jiang.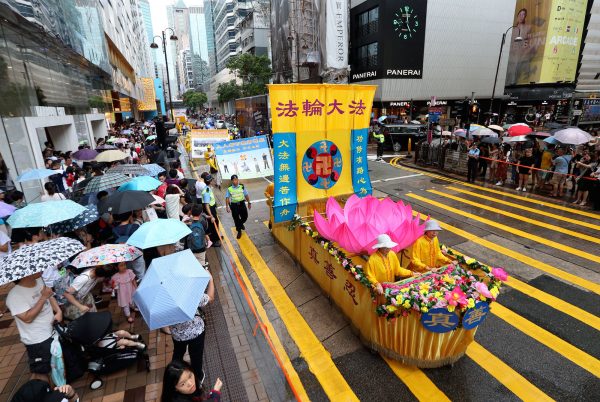 In recent years, mainland Chinese citizens have renounced their membership in the Chinese Community Party and its affiliated organizations, a sign of the people's disillusionment with the Party's rule. Since 2004, more than 285 million Chinese have renounced the Party via the Chinese Epoch Times' website.
Translation by Annie Wu