A new lineage of the Omicron variant called "Omicron Like" has been discovered in Australia, local health officials in the state of Queensland announced on Dec. 8.
Queensland Health Minister Yvette D'Ath said Omicron Like was discovered in a recent arrival from South Africa who is in hospital in the state's capital, Brisbane.
Australian forensic scientists helped international experts identify the new variant, which led to Omicron being reclassified into two lineages.
"And we have both of them here in Queensland," D'Ath told reporters on Dec. 8.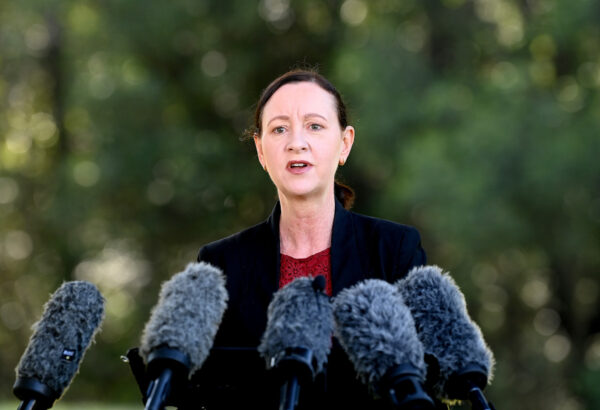 The state's acting chief health officer, Peter Aitken, said that Omicron Like does not have the S gene dropout, which is a marker in identifying the normal Omicron strain.
He said this is "going to lead to improvements in people recognising the potential spread of Omicron in all communities."
Omicron Like has "about half" of the gene changes of Omicron, giving it enough to classify as Omicron, Aitken said.
While authorities know the new lineage is "more infectious" and "more transmissible" they don't yet know what that means for clinical severity or vaccine effectiveness.
"It looks to be a less severe illness—Omicron—but remember also that severity of illness lags about seven to 10 days behind case diagnosis, so we need to wait for that to happen," he said.
Aitken thanked Queensland's scientists for their "amazing work" in identifying the differences in the genetic markers between the two lineages.
"They've picked up the differences here, worked through it in a methodical and scientific approach, recognised that there are differences between the full and normal Omicron classification, passed that on to the International Committee in a really quick term timeframe and this now led to a reclassification of Omicron," he said.
Omicron has a large number of mutations with preliminary evidence suggesting an increased risk of reinfection, but a less severe illness.
Queensland has reported two cases of Omicron, one is in hotel quarantine in Cairns but that case might be moved to Townsville Hospital. The other case, with Omicron Like, is in hospital in Brisbane, in the state's south.
This comes five days before Queensland reopens its domestic border on Dec. 17 to vaccinated interstate travellers and returning residents.
Aitken warned Queenslanders that the CCP virus's "journey" was not finished and that there would be further disruptions to people's lives once the border's reopened next week.
"We will have cases, it means that we will have to look at mask-wearing, we will have to contact trace," he said.
The health minister also said she had been "hearing chatter" online that some business owners thought they could opt out of screening customers for their vaccination status.
"That is incorrect. Can I make it very clear?" D'Ath said. "If you are defined as a business that requires your staff and your patrons to be fully vaccinated, then you are bound by that directive. You cannot choose to follow that directive. It is a lawful direction to do that."