Rep. Ilhan Omar (D-Minn.) traveled to Africa this week as part of a delegation headed by House Majority Leader Nancy Pelosi (D-Calif.), visiting Ghana.
Omar, who came to the United States as a refugee from Somalia, said on Twitter August 1: "They said 'send her back' but Speaker Pelosi didn't just make arrangements to send me back, she went back with me."
Omar shared two pictures of her and Pelosi holding hands and smiling at the "Door of No Return," which they visited along with other sites related to the start of the slave trade.
They said "send her back" but Speaker @SpeakerPelosi didn't just make arrangements to send me back, she went back with me ✊????

So grateful for the honor to return to Mother Africa with the @TheBlackCaucus and commemorate The Year of Return! #Doorofreturn #Ghana pic.twitter.com/0yVBLcAEs5

— Ilhan Omar (@IlhanMN) August 1, 2019
Omar was referring to "send her back" chants that erupted at a President Donald Trump rally on July 17. The chants started after Trump detailed some of the more controversial remarks Omar has made, including referring to the 9/11 terror attacks as "some people did something."
Trump began criticized Omar and other far-left members of the Democratic party—Reps. Ocasio-Cortez, Ilhan Omar (D-Minn.), Rashida Tlaib (D-Mich.), and Ayanna Pressley (D-Mass.)—on July 14, accusing the four freshman congresswomen of being anti-semitic and anti-American in a series of posts where he most notably called on "'progressive' Democrat Congresswomen" to "go back" to their countries to help fix the "totally broken and crime-infested places" before returning to the United States to "show us how it is done."
Apart from Omar, who was born in Somalia, the other three far-left congresswomen were born in the United States.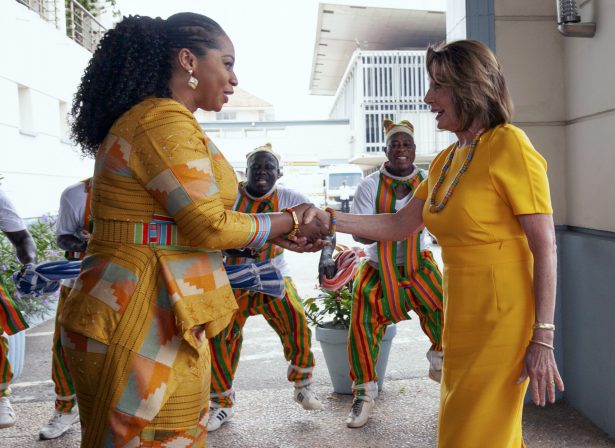 Trip to Ghana
Omar and Pelosi were joined on the trip by House Majority Whip James Clyburn and Reps. John Lewis (D-Ga.), Bobby Rush (D-Ill.), Sheila Jackson Lee (D-Texas.), Barbara Lee (D-Calif.), Yvette Clarke (D-N.Y.), Hank Johnson (D-Ga.), Marcia Fudge (D-Ohio), Karen Bass (D-Calif.), Terri Sewell (D-Ala.), Frederica Wilson (D-Fla.), and Joyce Beatty (D-Ohio).
According to a press release from Omar's office, the delegation was going to hold "high-level discussions" with Ghanaian President Nana Akufo-Addo, Speaker Mike Oquaye, and other senior government officials, and to visit the U.S. Army Africa headquarters in Italy.
Pelosi addressed Ghanian lawmakers on Tuesday, July 30 and visited Ghana's Cape Coast and Elmina Castles to observe the 400th anniversary of the first enslaved Africans shipped to America.
The visit by Pelosi's delegation marks Ghana's Year of the Return, which reaches out to the millions of Africans in the diaspora. "It is important that this symbolic year, 400 years later, we commemorate their existence and their sacrifices," Ghana's President Nana Akufo-Addo said.
Today was deeply transformative. We saw the horrors of slavery & humbly walked through the "Door of Return" w/a renewed sense of purpose to fight injustice & inequality everywhere. We honored the rich traditions of Ghana & thanked the Paramount Chiefs for our enduring friendship. pic.twitter.com/gImmwXy61v

— Nancy Pelosi (@SpeakerPelosi) July 30, 2019
Pelosi called the Year of the Return a "beautiful gesture" that also recognizes a "terrible atrocity" in slavery.
"At Elmina Castle we saw the dungeons where thousands were grotesquely tortured," she said. "At Cape Coast Castle we stood before The Door of No Return, where countless millions caught their last glimpse of Africa before they were shipped to a life of enslavement."
The House speaker also said Ghana had played a pivotal role in the civil rights movement in the United States and became a "symbol of great hope in the fight against racial discrimination and segregation."
Epoch Times reporter Janita Kan and The Associated Press contributed to this report.
From NTD News