Rep. Ilhan Omar (D-Minn.) and Rep. Rashida Tlaib (D-Mich.) publicly criticized Israel's decision to bar them from entering the country at a press conference in St. Paul, Minnesota, on Aug. 19.
Omar at the press conference hinted that the United States should cut or reduce its aid to Israel, while Tlaib answered a question from a reporter explaining why she ultimately decided not to accept the Netanyahu government's humanitarian visa to visit her grandmother in Israel's West Bank.
Tlaib had been granted a visa after she wrote a letter requesting an exemption and agreed to not to promote the boycotting of Israel during the visit.
Referencing a recent conversation with her grandmother, Tlaib said: "She said I'm her dream manifested. I'm her free bird so why would I come back and be caged and bow down when my election rose her head up high?"
"We all decided as a family that I could not go until I was a free, American, United States congresswoman," she said. She had earlier said that the "humiliating" terms of the visa made her change her mind.
Omar claimed on Aug. 19 that Israeli Prime Minister Benjamin Netanyahu's denial of her and Tlaib's entry to the country is "the policy of his government when it comes to Palestinians," and that the Trump administration had "edged on and supported" his decision.
"The decision to ban me and my colleague, the first two Muslim American women elected to Congress, is nothing less than an attempt by an ally of the United States to suppress our ability to do our jobs as elected officials," she said.
2017 Israeli Law
The Congresswomen were barred from entry on Aug. 15 under an Israeli law passed in 2017 that prevents supporters of the international Boycott, Divestment, and Sanctions (BDS) movement from entering the country.
BDS seeks to marginalize Israel by boycotting products from the country as a means to end what many see as "Israeli occupation." Video footage of the founders of the BDS effort shows them saying they want a one-state solution—Palestine.
The two congresswomen had planned to arrive in Jerusalem and the West Bank on Aug. 18 for a tour organized by Mitfah—an anti-Israel group that supports BDS and has praised terrorists. Mitfah insists that Israel is occupying Palestinian lands and carries out "summary executions of our youth," referring to those killed during clashes arising from Palestinians attacks on Israel.
"We cannot let Trump and Netanyahu succeed in hiding the cruel reality of the occupation from us," said Omar at the press conference. "The occupation is real. Barring members of Congress from seeing it does not make it go away. We must end it together."
Omar appeared to hint that the United States should cut or reduce aid to Israel.
"Fortunately, we in the United States have a constructive role to play," she said. "We give Israel more than $3 billion in aid every year. This is predicated on their being an important ally in the region and the only democracy in the Middle East, but denying visit to duly elected members of congress is not consistent with being an ally and denying millions of people freedom of movement or expression or self-determination is not consistent with being a democracy.
"We must be asking, as Israel's ally, the Netanyahu government stop the expansion of settlements on Palestinian land, and ensure full rights for Palestinians if we are going to give them aid," she said.
Tlaib took the opportunity at the conference to talk about how Israel had earlier this month granted entry to 71 members of congress "seemingly without incident," while saying how it is "not common" to see the barring of herself and Omar.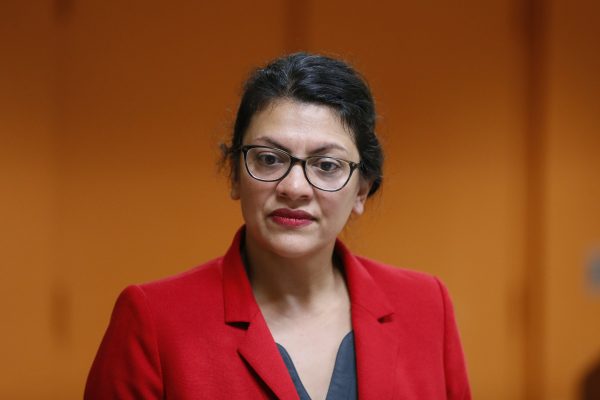 Netanyahu said on Aug. 15 that Israel had "warmly welcomed some 70 Democratic and Republican members of Congress, who expressed broad bipartisan support for Israel, which was also demonstrated a month ago in a resounding bipartisan vote against BDS in Congress."
"However, the itinerary of the two Congresswomen reveals that the sole purpose of their visit is to harm Israel and increase incitement against it," he said.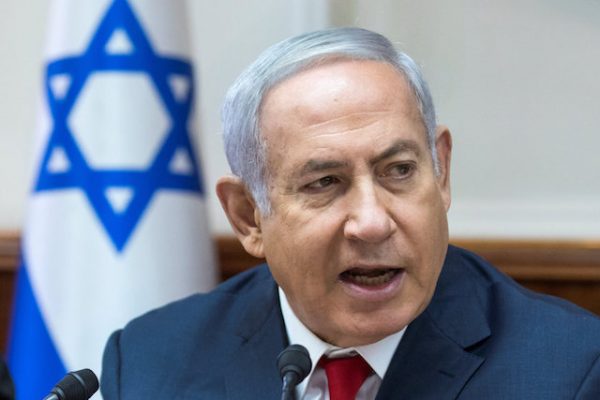 White House spokesman Hogan Gidley said in a statement Aug. 19 that Israel has the right to bar those "who want to destroy it" from entering its borders.
"Congresswomen Rashida Tlaib and Ilhan Omar have a well-documented history of anti-Semitic comments, anti-Semitic social media posts, and anti-Semitic relationships," he said. "Israel has the right to prevent people who want to destroy it from entering the country—and Democrats' pointless Congressional inquiries here in America cannot change the laws Israel has passed to protect itself."
But Centrists and many prominent Democratic members of Congress, as well as the pro-Israel AIPAC lobby group remained critical of the ban.
Tlaib had earlier indicated that she is in favor of a "one-state solution" to the Israel-Palestinian conflict, which would essentially end the existence of Israel as a Jewish state.
Diplomatic respect
While the 2017 Israeli law has prohibited the entry of any foreigner who "knowingly issues a public call for boycotting Israel," Israeli authorities had initially held back from invoking the law out of diplomatic respect.
The Israeli Ambassador to the United States Ron Dermer had announced in July that a waiver would be issued for Omar and Tlaib.
"Out of respect for the U.S. Congress and the great alliance between Israel and America, we would not deny entry to any member of Congress into Israel," Dermer told the Times of Israel.
However on Aug. 15, the country's Minister of Interior had decided to bar entry to the two congresswomen, Netanyahu said.
He pointed out that Israeli law prohibits entry into the country of "those who call for and work to impose boycotts on Israel," and noted that "Tlaib and Omar are leading activists in promoting the legislation of boycotts against Israel in the American Congress."
The itinerary for Tlaib and Omar's visit to Israel "revealed that they planned a visit whose sole objective is to strengthen the boycott against us and deny Israel's legitimacy," he added. "For instance: they listed the destination of their trip as Palestine and not Israel."
At the press conference on Aug. 19, Omar told the press that she had planned to travel to Israel and Palestine "to hear from individuals on the ground about the conflict so that I could be more informed," and denied claims from media reports and Netanyahu that she had not planned to meet any Israeli officials during her trip.
"I'd planned to directly meet with members of the Knesset and the Israeli security along with Palestinian civil society groups; former IDF soldiers; Israel, Palestine and international organizations, and United Nations officials," she said.
But the travel itinerary obtained by a contributor to American conservative news and opinion website The Daily Wire revealed no such meetings scheduled as per Omar's claims.
According to their own itinerary, Ilhan Omar and Rashida Tlaib chose to refer to Israel as "Palestine".
Their trip there was little more than a self-indulgent ploy to delegitimize and malign the Jewish State from within its borders. pic.twitter.com/yjDEUeMayo

— Harry Khachatrian (@Harry1T6) August 15, 2019
According to Israeli press, this was the itinerary of Congresswomen Omar and Tlaib's planned trip: pic.twitter.com/amctKxOoOl

— Siamak Kordestani (@SiaKordestani) August 15, 2019
Prior to Israel's decision to bar the two congresswomen, Trump posted on Twitter expressing support for Israel, saying that the country "would show great weakness" if it allowed the two congresswomen to visit.
"They hate Israel & all Jewish people, & there is nothing that can be said or done to change their minds," Trump wrote on Twitter on Aug. 15. "Minnesota and Michigan will have a hard time putting them back in office. They are a disgrace!"
Rep. Tlaib wrote a letter to Israeli officials desperately wanting to visit her grandmother. Permission was quickly granted, whereupon Tlaib obnoxiously turned the approval down, a complete setup. The only real winner here is Tlaib's grandmother. She doesn't have to see her now!

— Donald J. Trump (@realDonaldTrump) August 16, 2019
In a later post, the president called Tlaib's turning down of the humanitarian visa obnoxious, saying, "[She] wrote a letter to Israeli officials desperately wanting to visit her grandmother. Permission was quickly granted, whereupon Tlaib obnoxiously turned the approval down, a complete setup."
Zachary Stieber, Simon Veazey, and Janita Kan contributed to this report.
From NTD.com