Beijing Residents Say Olympics 'troublesome and annoying'
August 8, 2008 8:25 am Last Updated: October 1, 2015 10:57 pm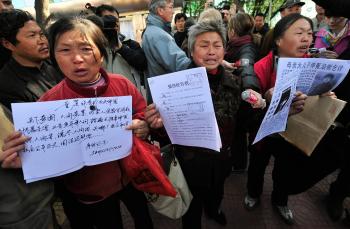 BEIJING—According to a Beijing resident, many people living at the heart of the action are already looking forward to the end of the Olympics, calling the whole thing "troublesome and annoying."
While Olympic fans the world over may be eagerly anticipating the start of the Games, it seems not everyone shares their enthusiasm. This is what a Sound of Hope (SOH) reporter discovered when they hit the streets of Beijing to ask local residents how they felt on the eve of the country's major international sporting debut.
One resident, who did not wish to be named, told SOH that the mood was very tense. Residents living along the torch relay route were told to stay indoors and keep their curtains closed. According to the resident, the area is teeming with special police forces on patrol.
"If you go to the hot spots where petitioners gathered for appeals, you won't see anything but walls," said the interviewee.
"Each and every commuter, on all bus routes, is subject to handbag inspections and are in a state of high alert and seized with fear," the resident continued describing all of these measures as "extreme."
Another resident who also did not want to be identified, said young people were being treated as suspected criminals and are subject to spot inspections. According to this account, young people have been replaced by the elderly in services such as the fire brigade.
"The most elderly fire brigade member in Beijing is a 103-year-old lady."
"Previously there were a myriad of young people patrolling as guards, but now young people are all placed under surveillance, leaving the tasks to much older generations. It sounds like a joke, speaking of this!" the respondent said.
In Beijing's attempt to keep its high pollution levels down during the Olympic Games, many private cars and buses are banned from the city's roads.
This has led many to take public transportation where they have to endure long waiting periods, extremely cramped conditions and stiflingly hot rides. "Once you are on the bus, it feels like being in a sauna and you will be drenched in sweat when you get off the bus," the second interviewee complained.
"The Olympics should be managed as it was in America; very harmonious and jubilant. All people should feel peaceful and joyful, right? But now we all complain, including commoners and even police. All circles of society feel troubled."