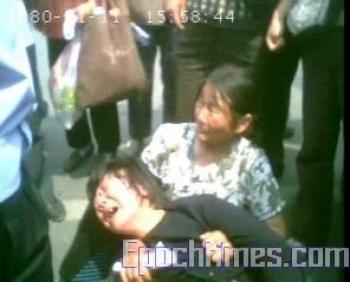 The head of security for the duration of the Olympic Games, Liu Shaowu, stated last Wednesday that officials have designated "special zones" for demonstrators during the August games. Three public parks could be used for protests: Fengtai, Haidian and Chaoyang.
But protests must be sanctioned and demonstrators must apply for a permit. Liu said this was similar to other countries, and claimed it was consistent with "Chinese law", where unapproved demonstrations are strictly prohibited. He also stated the designated parks are close to the center of the city and to sports venues.
Detractors say, however, that such venues are only of minor interest; the parks are actually between 25 km and 50 km from the Birds Nest Stadium, and a bus trip takes from 50 minutes to two hours.
The notorious Public Security Bureau (PSB) is responsible for regulating and administering the special protest zones in Beijing. PSB spokespeople say protest applications and guidelines will soon be made public.
Progress or Political Trap?
China's state media have hailed these decisions—arrived at during a month-long internal debate—as a sign of progress, and of the Chinese Communist Party's (CCP) apparent adherence to the rule of law. They have claimed the new permissions signify the Party's willingness to conform to international civil rights standards.
"When demonstrations and protests have been pre-registered and designated to specific areas, no one can accuse us of denying an influx of humanity, or consider us a blood-thirsty beast," so one comment went in the state-run China's Youth Newspaper.
According to the same paper, protest zones may foster the feeling of democracy among the masses, and encourage them to speak their minds.
Petitioners, however, do not share in the optimism. The decree does not amount to much for them, they say, and on the contrary they now fear delayed retaliation.
Gansu Province resident Hong Xiaoping told Radio Free Asia: "Establishing special protest zones serves only one purpose – that the regime might control the petitioners even better." He has attempted to petition in Beijing for the past six months without success. "I for one will absolutely avoid going to those places. That is merely a political trap. When one goes there, one is later arrested. It serves no purpose and is merely a 'black destination.'"
Petitioners from around the country come in their thousands to Beijing year-round, attempting to bring their concerns before central authorities.
Months ago officials published a series of guidelines to curtail the number of petitioners and their activities around the Olympic Games. Many petitioners are monitored around the clock. Those who arrive from other provinces are liable to be intercepted along the way and sent back home.
Now that special zones have been designated, petitioners complain that no systems are in place to actually receive their petitions. "That is why this latest decree is meaningless," Sun Lifei from Beijing said.
"I am a petitioner just like him, but who listens to our appeal?" he asked rhetorically. "As soon as you get there, unknown persons tail you and then you're seized."