One wouldn't be wrong to say Kanoa Igarashi was born to surf.
In fact, Igarashi's parents Tsutomu (Tom) and Misa moved from Japan to Southern California when they learned Misa was pregnant with Kanoa, wanting to give their first-born son such a chance.
Both Tom and Misa surfed in Japan, but Southern California offered more opportunity for a budding professional surfer, so they moved to Santa Monica initially. When Igarashi was 6, they moved to Huntington Beach, also known as Surf City.
Made sense.
There are hundreds of kids in California who compete year-round in surfing contests sanctioned by a variety of organizations, the most notable being the National Scholastic Surfing Association (NSSA).
The competition is fierce, young surfers—"groms"—as young as 7 and 8, with parents in tow, making their way onto beaches up and down the California coast and competing for trophies and local, regional, and even national titles. And if they catch the eye of the right person, there are sponsorships and brand ambassadorships out there offered by companies looking to take advantage of the sport's ever-growing popularity.
Igarashi took to the water soon after he could walk.
"Both my parents surf but I always used to see my dad surfing with all his friends and I would just sit on the beach," said Igarashi, now 24. "So I got bored of playing in the sand and wanted to go with my dad."
He says he was 3 when he began to surf and was competing just a few years later starting at age 8. And he wasn't just competing—he was winning.
While Igarashi was winning contest after contest in the youth divisions, what made him stand out was more than what he had in his trophy case. It was an attitude and a level of confidence that seemed unbreakable.
"Kanoa's incredible rise to surf stardom showed itself early," said Janice Aragon, a championship surfer herself and the executive director of the NSSA. "It was apparent that the natural-born ability was there. But what struck me was his incredible work ethic and skills at such a tender age. I knew we had someone unique on our hands. His relentless drive is something I will always remember and admire.
"He hated to lose and when he did he would just put his head down and come back stronger at the next event. It was obvious he wanted to be one of the greatest surfers ever."
Igarashi was just 16 years old when he competed in the Juniors division of the U.S. Open of Surfing in Huntington Beach in 2014, and upon finishing a heat in the water, he was asked by a reporter about his goals in surfing.
Igarashi didn't mince words. He didn't say he hoped to win that particular contest, or that he was looking to eventually qualify for the Championship Tour (CT), which includes only the top 32 surfers in the world. Without hesitation, Igarashi said simply: "World champion."
In order to become a world champion, a surfer does have to qualify for the CT first, and he did so in 2015, setting himself up for the 2016 CT season. He was just 18, the youngest on the tour that included 11-time world champion Kelly Slater.
Igarashi established himself on the CT almost immediately, and it was more than just earning respect from his fellow CT surfers. Surfers on the CT must finish each season ranked among the top 22, or they lose their spot for the following year.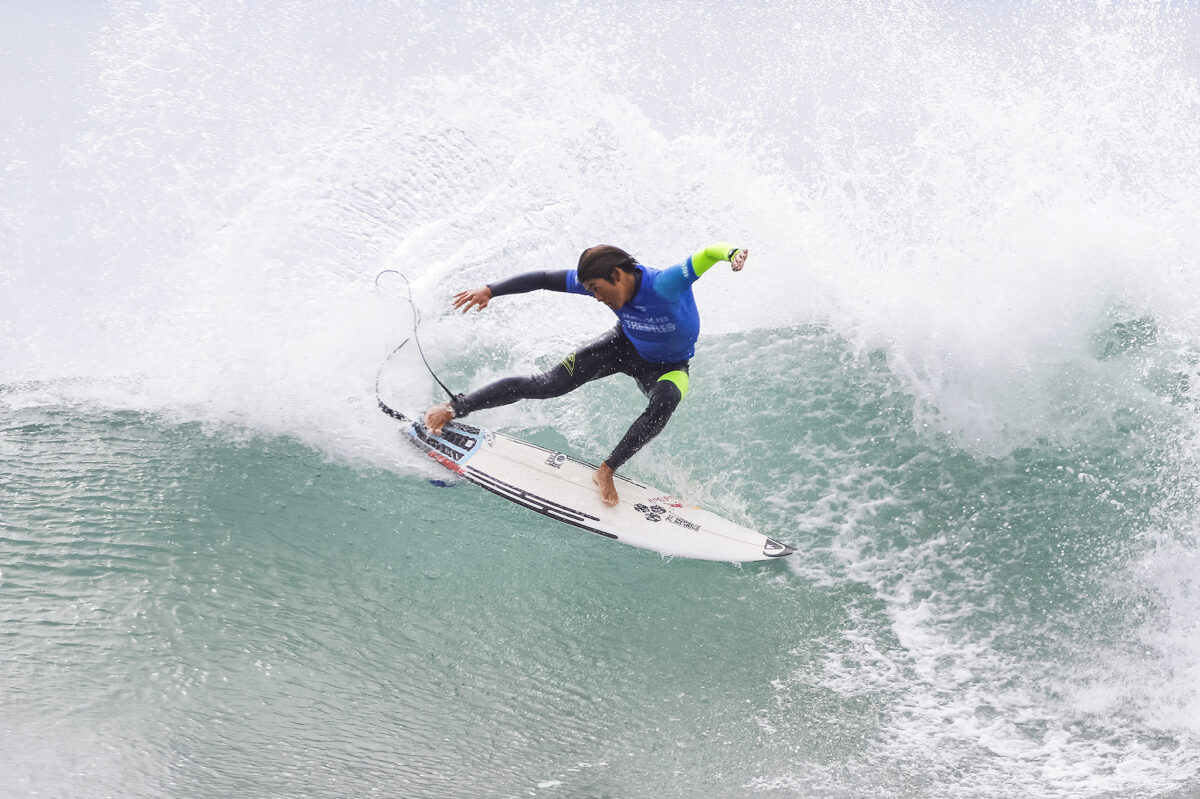 Igarashi has re-qualified every year since, slowly but surely raising his world ranking nearly every season. He finished 20th in 2016, 17th in 2017, 10th in 2018, sixth in 2019, and after the 2020 season was skipped due to the pandemic, he was eighth in 2021.
He's also made his mark at the U.S. Open of Surfing, one of the biggest contests in the world every year, and held at Igarashi's "home break"—the south side of the Huntington Beach Pier, where he's spent most of his life surfing.
Igarashi accomplished something previously achieved by only one other male surfer—he won the contest and the $100,000 first-place prize in back-to-back years (2017 and 2018).
"Two times in a row is crazy," Igarashi said. "No matter what you do, doing it twice is really hard. It's the extra pressure and the extra sets of eyes on you, but I lapped it up and loved it. That extra pressure is what fired me up and motivated me."
As if his quest for a world title wasn't enough, news came out in 2016 that surfing would be an Olympic sport for the first time at the 2020 Tokyo Olympics, ultimately taking place in the summer of 2021. Qualifying, though, would not be easy, as each country could name only two to its team, per gender.
Igarashi had options, though, because his parents were from Japan, and he had dual citizenship. He ultimately qualified for the Olympics as a representative of Japan, explaining that it was a gesture of thanks to his parents and much of his family who still live in Japan.
"The Olympics is the greatest competition in sports," Igarashi said. "It's not just surfing, it's all sports and it's something you dream of doing as a kid. I never thought it would be possible as a surfer."
And of course, Igarashi's goal for the Olympics: gold.
Sure enough, Igarashi maneuvered his way through the competition, beating, among others, American surfer Kolohe Andino and Brazilian Gabriel Medina, the No. 1-ranked surfer in the world.
In the gold medal heat, however, Igarashi lost to Brazilian Italo Ferreira, taking home a silver medal.
"There is a lot of, 'I wish this could have happened or that could have happened,' and I get caught up in always wanting more," Igarashi said. "But if I take a step back and look at what I did and what I was able to accomplish, I'm really proud of myself and happy with my achievement.
"The Olympic experience, obviously it's a lot different without fans, but it was already so strong and powerful I probably would have exploded if there was any more emotion. I got to experience the Olympic village, and I experienced the fans through social media and how much energy they can transmit."
Igarashi still considers Huntington Beach home, but he also spends time in Japan, as well as what might be considered his second home—Portugal, where world-class surf breaks lure many world-class surfers like Igarashi.