A couple was never able to conceive naturally during their 46-year-marriage before undertaking fertility treatment in their 70s. In 2019, she admitted that it was hard on her body to give birth at such an advanced age, but she doesn't regret it.
Daljinder Kaur, who does not have a birth certificate, is believed to be in her 70s, AFP reported. She gave birth to a boy after two years of IVF treatment. Her husband was believed to be 79 at the time.
"I feel blessed to be able to hold my own baby. I had lost hope of becoming a mother ever," said Kaur, CBS reported. "Everyone asked me to adopt a baby, but I never wanted to. I had faith in Almighty, and knew I will bear my child one day," she also said.
When the child, Armaan, was born, he was described as healthy, CBS noted.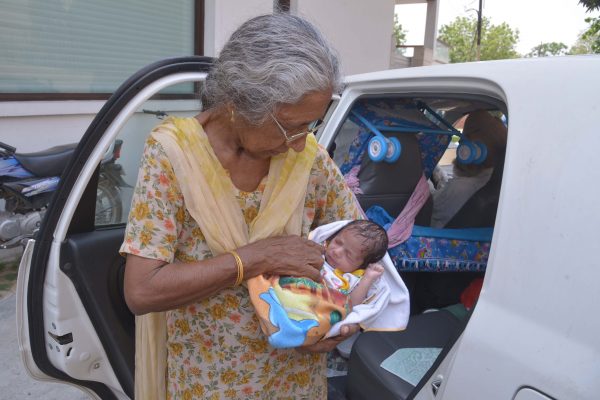 Hard on Body
Speaking to Practical Parenting earlier this year, she said that she has experienced high blood pressure and weakening joints since giving birth
"My blood pressure has suffered and I get tired very easily now. I've seen several doctors but they just give me medicines and a diet plan," she explained.
"My body can't take it," she said. "It's been harder than I thought. I'm worried for Armaan. I have to take care of my health but I have to care of Armaan too."
Despite the difficulties, she said she has no regrets about giving birth so late in life.
"I love him. He is a friendly child and smiles at everyone. This makes things very easy for me because I can be at ease when someone is around," she added. "I spend all day with him. We decided not to get any help. He loves his father a lot. He's always in his arms if I'm busy cooking or doing housework."
At age 3, the boy is still very small for his age, Daljinder said.

"We've asked doctors if there's any medicine we can give him to increase his weight but they said let him gain weight naturally," she told the website.
In 2006, another Indian woman, Rajo Devi, gave birth to a daughter at age 70.
Criticism
Some have urged India's government to take action to prevent more older women from getting pregnant.
"The whole world is looking at India and saying we can't regulate ourselves," said Dr. Narendra Malhotra, head of the Indian Society for Assisted Reproduction, AFP reported. "We put forward guidelines for ART (Assisted Reproductive Technology) clinics seven years ago. No government has taken them seriously, and a bill has been pending for seven years."
Armaan, Malhotra said, "is going to be an orphan in a few years. And there are serious risks for the mother – she can die during pregnancy. Just because we can do something doesn't mean we should do it, just to make world records."

Embryologist Anurag Bishnoi, who performed the procedure for Kaur, said he was reluctant. But he saw that the tests showed she was healthy so he gave Kaur the IVF treatment.
"For them [the parents] it is a time of great happiness," he told The Guardian. "Especially because her brother, also, didn't have any children. They were two families, and both didn't have children."
"The woman came to me alone first in 2013, after reading about us in a paper," CBS quoted  Bishnoi as saying. "We started work within two months in 2013 but the first attempt failed, which is normal. After six months, another attempt was made and that also didn't succeed. Finally, the third attempt was successful," he said.