At King George School Lofts & Town Homes, The Rose Corporation's latest residential project in Newmarket, it's literally a case of old school meeting new.
The King George development—set against a backdrop of old-growth trees and heritage buildings near Highway 404 and Davis Drive—will include 14 town homes and 11 condominium lofts situated within a converted century-old school building. Built in 1912, the King George School is a landmark in historic downtown Newmarket and was at one point Canada's oldest operating school.
Downtown Newmarket is experiencing an urban rebirth but has retained its small-town feel. And the King George project will blend nicely with its environs. "You're not moving into some just-built area that they're trying to add character to," Rose vice-president Andrew Webster tells the Epoch Times. "There's an existing neighbourhood here."
So great is Rose's regard for the area's history, in fact, that it's even designed one of the King George town homes to wrap around a 100-year-old tree on the development site. "We're calling it the Treehouse," Webster says.
This is not the first foray into Newmarket for Rose. The North York-based boutique development and asset management firm recently completed work on 212 Davis Apartments, York Region's first privately funded purpose-built rental project since the 80s. Located a block from Yonge Street, the building will be key in creating an animated transit-oriented city centre along the Yonge-Davis Drive corridor.
Newmarket's Main Street has undergone a significant transformation in the past decade, and the district now boasts a mix of established businesses and funky new boutiques, eateries, cafes, and microbreweries. "There's been significant redevelopment downtown," says Rose president Daniel Berholz. The area is buzzing, and people want to be downtown, close to all the amenities; there's just nowhere for them to live. "There's no new product, it's all old," Berholz points out. "We see this as an opportunity to bring Yorkville to Newmarket."
He's not just saying that. The King George project is designed by the Yorkville-based firm Audax, and as such, has a distinctively Yorkville flavour. The two-storey town homes will come right to the sidewalk, their front doors opening to the street, giving the project an urban edge similar to what one would find in Yorkville. (A rear laneway will provide access to the two-car garages.)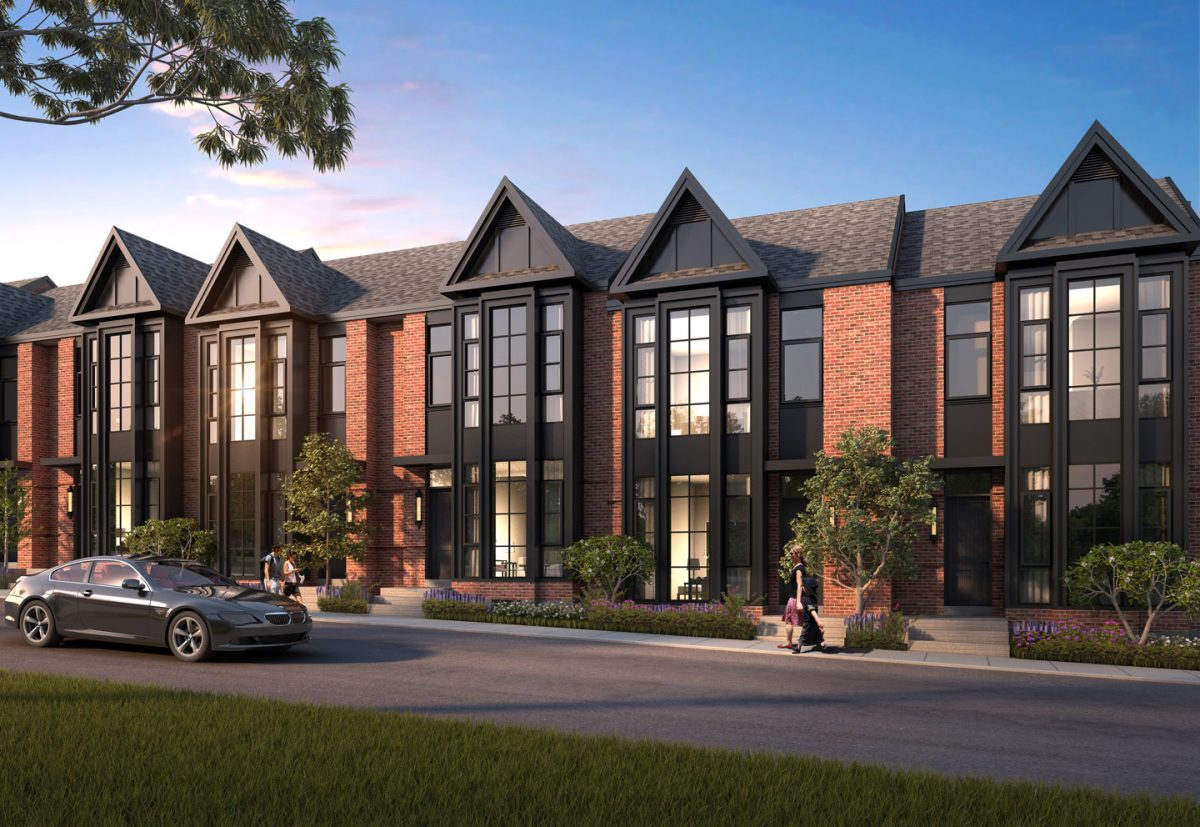 King George will have two types of town homes on offer: The Botsford Collection, six Edwardian-style homes located along Botsford Street; and The Church Collection, eight Victorian-style homes facing Church Street. "These streets were built during different eras, so we thought it would be interesting to make one block Edwardian and one Victorian," Berholz says, noting both styles of townhouse are the same size and layout inside.
The two-storey open-concept town homes—with interior design also by Audax—will be as large as 2,100 square feet, and there is the option of a finished basement. Oversized floor-to-ceiling windows framed in dark metal will stand out against a red-clay brick facade, highlighted by modern exterior lighting. Inside, the town homes will have 10' main-floor ceiling heights, kitchens with quartz countertops and gas ranges, heated floors (optional), two-sided fireplaces, and walk-in closets in the master bedroom.
The King George School building, which will house the 11 condo lofts, was what originally attracted Rose to the site, Berholz notes. And the developer plans to give the historic structure its due.
In addition to the building's facade, the school's lobby will be retained, as will the existing stairway and doors. The older windows will be swapped out for higher-efficiency replications.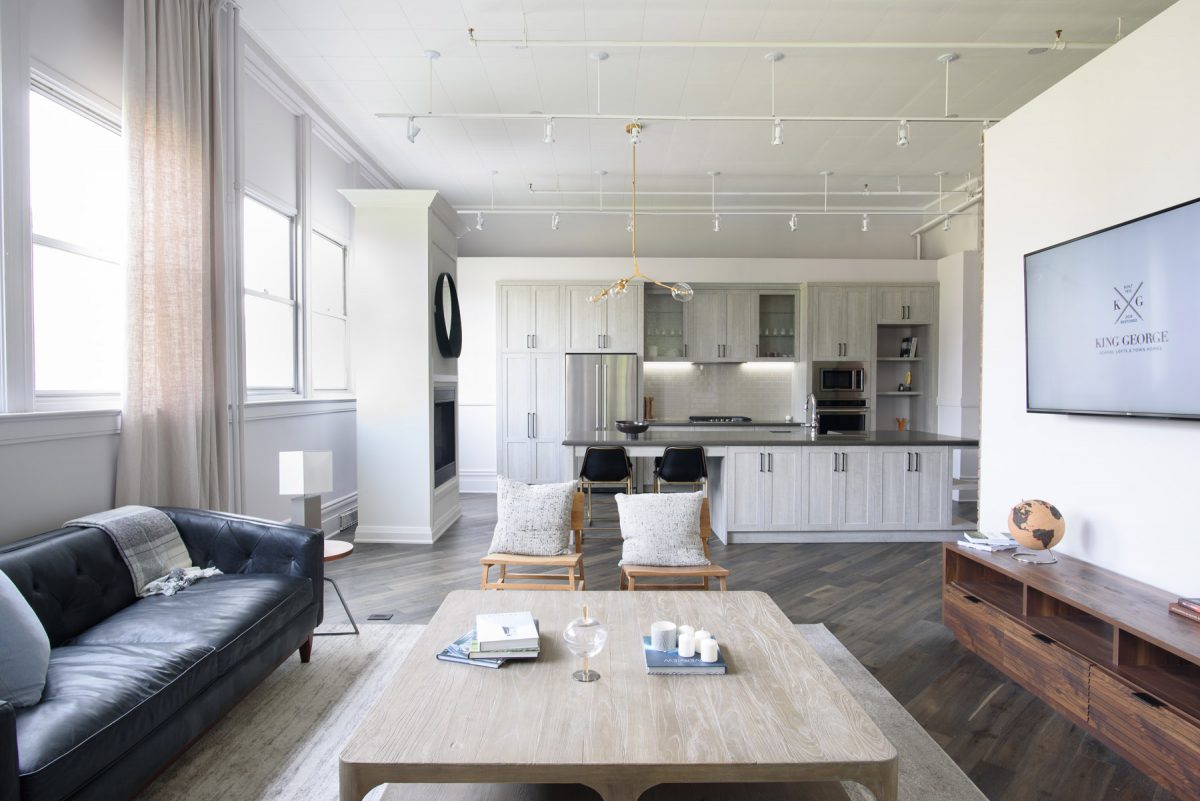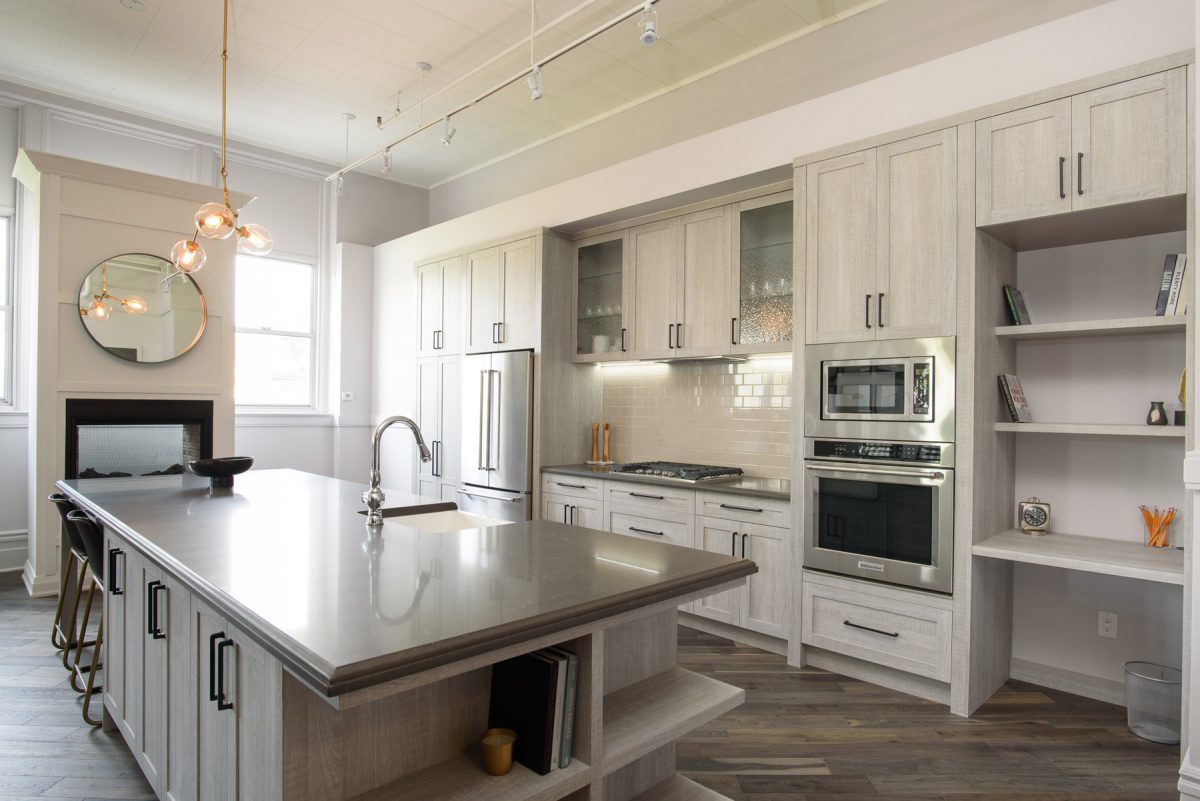 The condo lofts range from 640 square feet to 1,250 square feet, and Berholz says there's the possibility for buyers to combine units to create larger multi-storey suites. The lofts, with up to 13' ceiling heights, will have hardwood floors, stainless steel appliances, and stone and marble countertops.
The King George town homes have proven popular with empty nesters moving from larger homes in the vicinity. But don't call it moving down, says Webster. "They're upgrading to a new level of luxury. I can't imagine downsizing buyers moving from something that's half as nice as these homes are going to be."
The King George condo lofts are aimed at young professionals, such as those working at Newmarket's Southlake Regional Health Centre or at the nearby offices of Magna International, State Farm Insurance and Celestica, which will be moving from its current Don Mills headquarters. Upper Canada Mall (with a Whole Foods emporium coming soon) is just down the road at Yonge and Highway 404.
The Rose Corporation, run by Sam Reisman—who started in real estate in the 1970s as a co-founder of Great Gulf Homes— has an established track record in the development business. The firm recently redeveloped The Tannery District in Kitchener, which served as Google's Canadian HQ. And on the Toronto waterfront it built Filmport, Canada's largest film studio, sold to Pinewood Studios Group in 2008.
The company continues to be bullish on Newmarket, and Berholz says it has plans for a 450-unit condo/rental development adjacent to the aforementioned 212 Davis Apartments complex near Yonge and Davis. There's no shortage of momentum in the town these days, with long-running businesses seeing new arrivals move in right beside them, he points out. And residential developers are close behind, looking to make big moves in Newmarket. "For investment," Berholz says, "we think there's no better place to be than here."
Visit: LiveAtKingGeorge.com 
Ryan Starr is a Toronto-based freelance journalist.