Old Guard Fife and Drum Revives Revolutionary Spirit on July Fourth
July 4, 2013 8:38 pm Last Updated: July 4, 2013 8:38 pm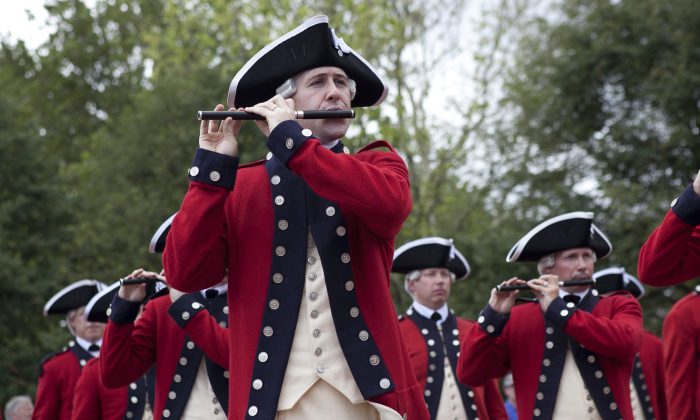 NEW YORK—Their coats may be red, but they are not Red Coats. Their red and blue wool coat and cream colored vests are adorned with large silver buttons, branded with "USA." Just as was customary in the Revolutionary era, the American musicians wear the reverse colors of their infantry counterparts.
They are the Old Guard Fife and Drum Corps and they play patriotic 18th and 19th Century American tunes such as "Yankee Doodle" and "Downfall of Paris" at patriotic holiday festivities, such as July Fourth and Memorial Day. They have performed at every Inaugural Parade since the Inauguration of President John F. Kennedy in 1961.
"A lot of us like to joke, what is more American than Fife and Drum?" said William Parks, 27, who is a fife player in the group and has been playing the instrument since he was 10 years old.
A tradition since 1960, the Fife and Drum Corps is a 69-member unit of the Unites States Army, stationed out of Fort Myer, Virginia. They travel across the world, reviving the traditional field music played during America's historic start.
Parks said during the war the fife was not just for playing music, but used in military strategy. Commanders would use the 10-hole wooden instrument to signal when to attack or when to stop firing.
Thursday marked the second trip to the Statue of Liberty for Parks, who also played for the reopening of the crown at the Statue on October 28, 2012—just one day before Superstorm Sandy arrived.
He said the experience, his first time to the Statue, was emotional. "I remember feeling grateful to even be able to take part in it, to get that chance," Parks said.
This year's performance, which marked the reopening of the Statue after being closed for eight months after Superstorm Sandy flooded the grounds, was three times as sweet.
"It is amazing to be able to come on Independence Day, our nation's birthday," Parks said. "Fife and Drum, July Fourth, Independence Day, New York—what could be better?"
"You get to live through a lot of dreams in this organization and playing in New York, on Independence Day at the Statue of Liberty is definitely one of them," Parks said.