Standing outside Hideaway Pizza in Oklahoma City's historic Automotive Alley district, Republican U.S. Senate candidate and 2nd Congressional District Rep. Markwayne Mullin moves from one TV news interview to another on primary day afternoon.
One videographer asks the entrepreneur and former professional Mixed Martial Arts Fighter to provide comments as if he had just won the race so the interview can air tonight. The affable Mullin smiles and politely declines, saying "I can't talk about something that hasn't happened yet."
According to polls, Mullin is the frontrunner in the race to replace 87-year-old Republican Sen. Jim Inhofe, who took office in 1994 and was elected to a fifth term in 2020. He announced in February 2022 that he would retire, effective January 3, 2023.
Thirteen candidates are on the GOP primary ballot. If no Republican candidate surpasses 50 percent of the vote, a runoff election between the top two vote-getters will take place on Aug. 23, 2022.
Inside Hideaway Pizza, Mullin and his campaign team hosted an election day kickoff party that stretched from late morning to early afternoon. Mullin thanked a crowded room of supporters and, in interviews with the media, encouraged Oklahomans to head to the polls.
"When there is a race with 13 people on the ballot, every vote literally counts. We are going to be out talking to people until the polls close (7 p.m. CST)," Mullin said. "I know people are busy. It's the middle of summer, and families have their commitments, but we have a duty to show up and vote. It's the only way we will take this country back from President Biden and his Socialist agenda."
Among the multiple businesses Mullin operates is Mullin Ranch, where he raises cattle, so he is accustomed to early mornings. On June 28, the lifelong eastern Oklahoma resident woke up, made the 90-mile drive to Tulsa, stopped a few times to visit with voters, and then embarked on the 106-mile trek to Oklahoma City for the gathering of supporters.
"I spent every minute on the phone on the way here, and I'll spend every minute on the phone on the way back—talking to mayors across the state, and to as many voters as I can," said Mullin, who was accompanied in Oklahoma City by his wife and three of their six children.
If the polls are accurate, Mullin and former Oklahoma Speaker of the House T.W. Shannon will advance to an August 23 runoff to determine the Republican nominee.
"If I was in second place, I would love the idea of a runoff," Mullin said with a grin when he was asked about the concept of runoffs. "It's a different story when you are leading in the polls, and if you finish in first.
"If a runoff happens, and we are there, it is like starting a new campaign," Mullin explained. "You only have one opponent instead of 12, and it is even more important to reach as many people as possible since, typically, runoffs have a lower voter turnout."
While Mullin was hosting a midday event in Oklahoma City before starting his drive back to Tulsa, where he will hold a watch party tonight, top challenger T.W. Shannon cast his vote around noon CST and encouraged Oklahomans to head to the polls before they close.
A former Oklahoma Speaker of the House who is one spot behind Mullin in the polls, Shannon will have his watch party in Oklahoma City and hopes, at the least, that he will advance to the runoff.
State Sen. Nathan Dahm, who placed third behind Mullin and Shannon in the most recent poll on June 23, is endorsed by Sen. Rand Paul (R–Ky.), who posted a Tweet with encouraging words for his candidate of choice.
It's #ElectionDay Oklahoma! Vote @NathanDahm for US Senate! We need more fighters dedicated to defending and restoring liberty! https://t.co/Rc6mBDXQeg

— Rand Paul (@RandPaul) June 28, 2022
Whether the GOP race is determined on June 28, or in a runoff on August 23, the winner will face Kendra Horn in November's general election. Horn, who represented Oklahoma's 5th Congressional District from 2019 to 2020, is unopposed in the Democratic primary.
Across Oklahoma, voters are also casting their ballots for the state's other Senate seat, which is occupied by Republican Sen. James Lankford.
He is opposed by Tulsa area pastor and businessman Jackson Lahmeyer in the Republican primary.
Interestingly, Joan Farr is running in the GOP primary, as well. She is simultaneously on the ballot in the Kansas U.S. Senate GOP primary, which federal law allows.
The Democratic primary includes six candidates.
Republican Gov. Kevin Stitt is expected to easily win the June 28 primary and the general election in November. There are two candidates—State Superintendent of Public Instruction Joy Hofmeister, and former Oklahoma State Sen. Connie Johnson—in the Democratic gubernatorial primary.
Fourteen candidates are on the ballot in Oklahoma's Republican 2nd Congressional District GOP primary. That seat opened when Mullin decided to run for Senate.
Oklahoma is a deep red state. Republicans are heavily favored to prevail in the general election, making the GOP primary especially significant since the winners are virtually assured a victory in November.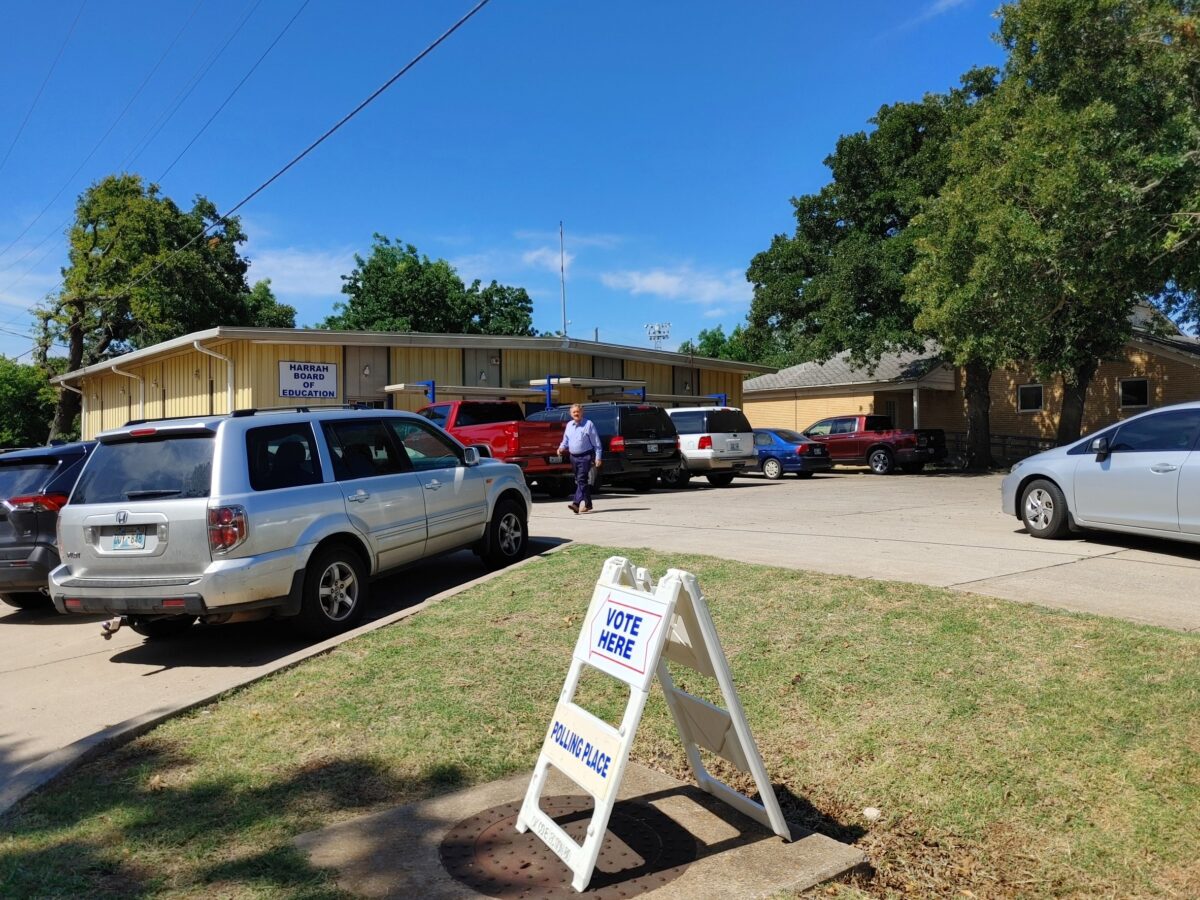 In Harrah, a town of 6,620 located 30 miles east of Oklahoma City, a steady stream of traffic poured into the voting precinct at the Harrah Board of Education. Outside, Mike and Bernice, a retired married couple, agreed that American values are on the line in this election.
"Values centered around God and family still matter here, and that is why it's important to get out here and vote," said Mike, a former teacher. "If only the rest of the country was like Oklahoma, then we would be fine."
On the edge of town, Harrah's Barber Shop is emblazoned with a large American flag mural. A "Trump 2024" flag waves on a pole. Donald Trump won Oklahoma with 65 percent of the vote in 2020.
In nearby downtown Harrah—which consists of a single street lined with the chamber of commerce, a few shops, an old theater, and a grain elevator—a railroad engineer named Kelly walks out of a fitness center and eagerly talks about his hometown.
"I'm not much into politics, but I know people here are true conservatives who just want America to be what it was when Trump was president," he said. "This is a small town where people know and support each other. We kinda like being left alone so we can mind our own business."