Tornadoes Batter Midwest for Second Straight Day
May 20, 2013 5:13 pm Last Updated: May 22, 2013 12:22 pm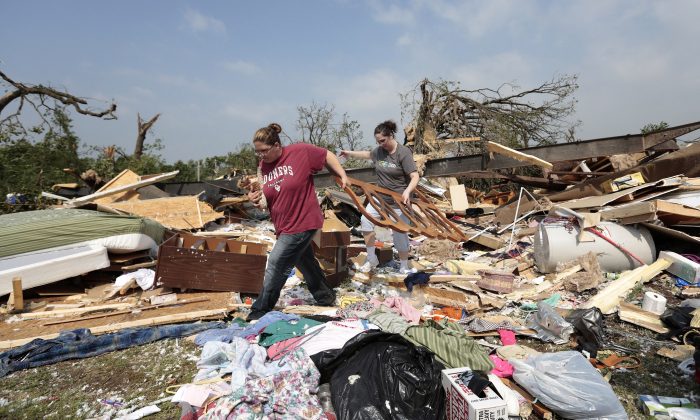 A tornado with winds of up to 200 miles per hour tore across Moore, Oklahoma, demolishing entire blocks and hitting an elementary school, trapping some students and staff.
Tornado warnings stay in effect across the Midwest as at least two other tornadoes formed on May 20 after massive tornado damage on May 19. 
Gary Knight with the Oklahoma City Police Department says there is no word of injuries from the elementary school. Knight says the school suffered "extensive damage" on Monday afternoon.
The tornado touched down in nearby Newcastle and wiped out entire neighborhoods, local broadcaster News 9 is reporting. Dozens have been injured.
KFOR-TV is showing aerial views of the destruction, including decimated blocks and buildings on fire. 
"This is the worst damage I've ever seen in my life," said one of the anchors. "There's nothing, it's just bare ground. It's ripped grass up, even." 
Search crews are staging at the Warren Theater in the city to begin looking for anyone who was in any of the flattened buildings, according to Fox's Oklahoma City station. Live power lines and open gas lines are in many places, and authorities are asking people to stay away from the affected area, between Western and Santa Fe from SW 134th Street to SW 164th Street. 
Severe thunderstorm warnings have been issued in multiple other areas of Oklahoma, as well as in Missouri and Ohio. 
The National Weather Center has listed an area from Oklahoma City to Wichita Falls to beyond Durant as likely locations for tornadoes and list main concerns as 70 mile per hour wind gusts, baseball sized hail, and tornadoes.
The service also around 3:30 p.m. said the tornado passing through Moore is so large that people may not recognize it as a twister.
Officials say southwest Oklahoma City is in danger and residents there should also take cover. After being on the ground for more than half an hour, the massive twister dissipated. 
The tornado warning for the area continued. At least one other tornado formed on Monday afternoon, with the National Weather Service calling this one, near Avant moving northeast at 45 miles per hour, a "life threatening situation" because "this could become a large tornado!"
Tomorrow's outlook includes a moderate possibility of tornadoes forming in northeast Texas and the middle and bottom of Arkansas. The probability of tornadoes in the area decreases in the third day outlook, for May 22, with a slight risk in Ohio and the immediately surrounding states.
The Associated Press contributed to this report.