Excitement has been mounting among Republicans in the small northeast Ohio Village of Wellington for former President Donald Trump's first rally since the 2020 presidential election.
In this rural picturesque town of slightly less than 5,000 people on the doorstep of a Democratic stronghold 41 miles southwest of Cleveland, Trump is expected to pack'em in at the Lorain County Fairgrounds where he'll be speaking on Saturday.
Trump is returning to the county he flipped from the 2016 election and won by a margin of nearly 4,000 votes against Joe Biden in the 2020 presidential election—the first time a Republican won Lorain County since Ronald Reagan.
People from all over the United States have been calling into the Lorain County Republican headquarters in nearby Lorain who want to attend the rally billed as a "Save America" event, according to Don Killinger, Lorain 4-A Voting Precinct Committee member.
Killinger has been tasked with answering the phone at the GOP headquarters leading up to the event.
"The phone hasn't stopped ringing for two weeks," said Killinger, a first-year precinct committee member. "People are calling here from New York, Chicago, and Detroit. I'm like what? It's crazy. This has been exciting because it puts Wellington and Lorain County on the map. It still blows my mind that Trump chose to come to Wellington."
Wellington is known for the Lorain County Fair, Bonnie Brae Elk Farm, Fort's Old Town Tavern, and once the home of artist Archibald M. Willard, who rendered the famous "Spirit of '76" painting of three patriots in 1875.
The painting, which symbolizes the spirit of the American Revolution, was inspired by three men Willard saw marching in a parade on the town square. Two men in the painting are beating a drum, and the other is playing a flute. When the painting was displayed at the 1876 Centennial Exposition in Philadelphia, it "stirred the heart of the nation."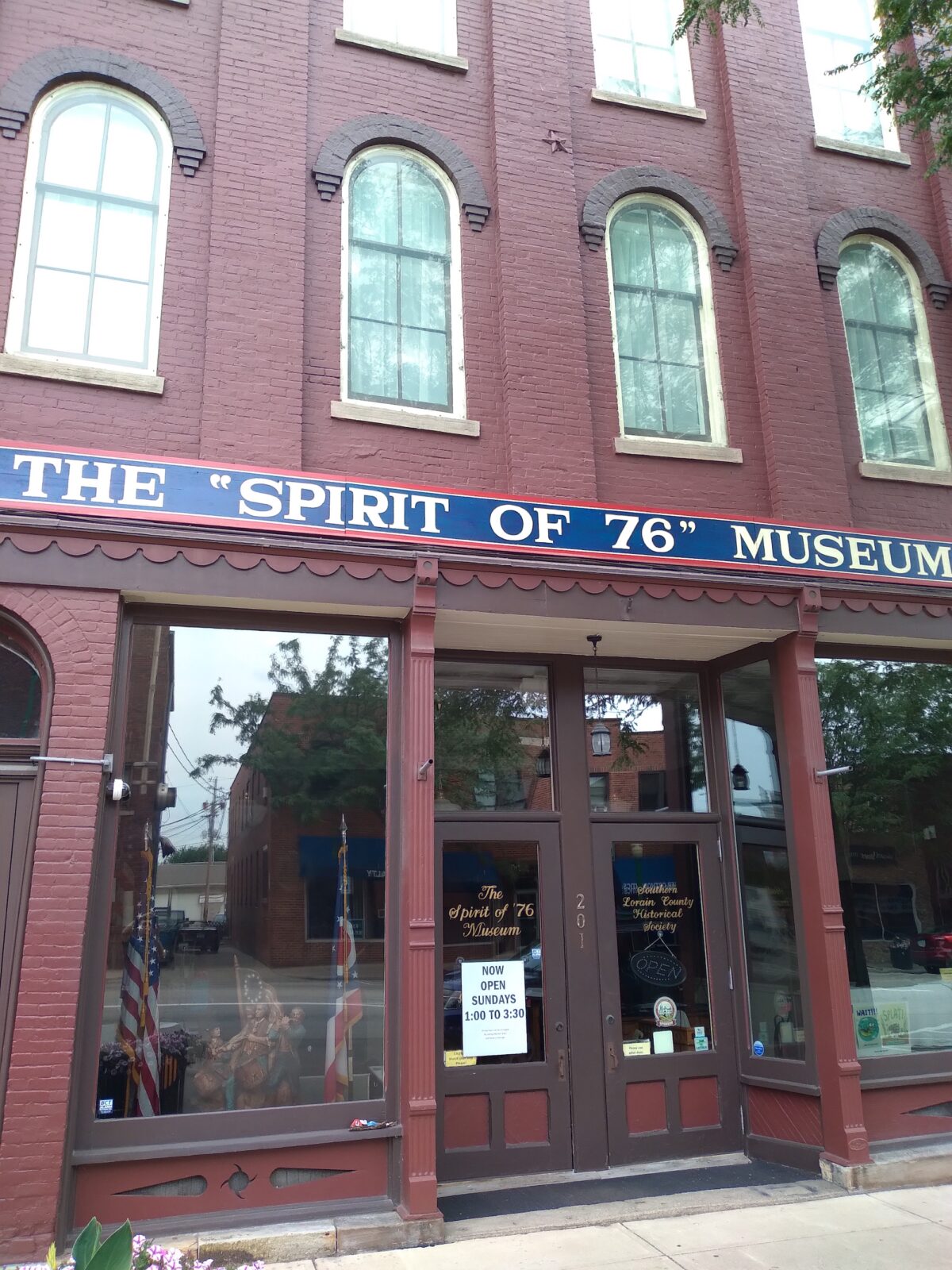 Willard is buried in Wellington's Greenwood Cemetery. Because of him, the Spirit of '76 Museum is housed in Wellington.
Gates to Trump's rally open at 2 p.m. Saturday with Trump scheduled to take the stage at 7 p.m. for what he promises to be "A Big Announcement." Trump has been hinting at announcing another run for president in the 2024 election.
The National Weather Service says there's a 40 percent chance of rain for Saturday, but that's not enough to dampen the spirits of those who plan on attending the rally.
In Wellington, Trump will be promoting former White House aide Max Miller, who is running against fellow Republican and sitting Congressman Anthony Gonzalez of Ohio's 16th District.
Gonzalez was one of 10 GOP congressmen who voted to impeach Trump following the U.S. Capitol riot on Jan. 6.
Gonzalez's district serves part of neighboring Cuyahoga County as well as Wayne, and parts of Medina, Summit, Portage, and Stark counties. When Ohio loses one of its 16 congressional districts after the boundaries are redrawn later this year due to the state's population loss, the district could come into the Wellington area. Congressman Jim Jordan, who is expected to attend the rally, currently serves Wellington which is in District 4.
Although Trump lost to Democrat Joe Biden, the rallies are a sign that his desire to be president again has not been derailed. His next rally is planned to be in Florida.
On Thursday evening, Cheri Diederich of Elyria was buying two new Trump T-shirts at Special Effects Custom Printing, owned by Chris Goran, another Trump supporter in the middle of downtown Wellington.
Both women are excited that Trump will be in town and both said they will be at the rally.
"I am so excited," Diederich said. "I was shocked. When it was announced that Trump would be in Wellington, I was like, 'what?' I'm all for him and against the other people."
"I hope Donald Trump comes back—and soon before more damage is done to our country," Diederich added.
Goran chimed in about the rally, "I think it's a great thing. It's a popular thing. This is a historic town and I would say about 70 percent of us here are conservative. I like Donald Trump, and I'm not worried about losing any business over it. Any business I lose from the left, I gain from the right."
Earlier in the week, Goran started promoting the Trump gear on her personal Facebook page, but her page was shut down for 24 hours. She was given a warning that she could not sell items on Facebook.
When her friend, Bob Frantz, a conservative talk-show host for Cleveland's WHK (1420-AM) got wind of what happened to Goran, he made it a point to mention it on his program. Sales at Goran's shop swiftly picked up.
"This is a free country, still," Goran said. "We have the right to free speech, and the right to assemble. But, we do need to come back together and work together. We all have our differences, but there's no reason we all can't get along."
Across the street is Fort's Old Town Tavern that has been a watering hole since 1895 minus the years of Prohibition. Its current owner Robert Fortney, a registered independent, said he's not going to the rally.
A lifelong Wellington resident whose life has come full circle, Fortney spent the first 20 years of his life on his family's 350-acre dairy farm, then worked as a welder at the Ford Motor Co,'s Avon Lake plant for 30 years. He has owned his restaurant for 27 years.
Fortney said he just wishes that both political parties would stop working for themselves and start working for the American people.
"The saying, 'ask not what your country can do for you, but ask what you can do for your country,' has gotten twisted around the last few years," Fortney said. "Our politicians, state reps and congressmen, have forgotten they get elected to help the country."
Admitting that he liked Trump's old policies more instead of President Joe Biden's new ones, Fortney added, "Saturday's rally is going to be an interesting show. I don't know what to expect."
Trump's victory in Lorain County during the 2020 election signaled that the times are changing in a region that has been a Democratic stronghold for more than half a century in the heart of Ohio's rustbelt.
When Michelle Hung and David Moore were elected to serve as Lorain County Commissioners in the November 2020 election, it marked the first time in 60 years that two of the three commissioners were Republicans.
Of the 217,492 registered voters in Lorain County, 168,224 are independents. There are 31,610 registered Democrats and 17,570 registered Republicans in the county, according to information from the Lorain County Board of Elections.
Philosophizing, Killinger points to a reason why he thinks the political pendulum is finally starting to swing from the left to the right in the county neighboring Cleveland's Cuyahoga County to the west.
"Lorain County has been a Democratic stronghold forever and that was because of the unions," Killinger said. "There used to be 12,000 to 14,000 people who worked at the steel mill in Lorain in the 1960s, but U.S. Steel stopped a big part of its operations, and now, that's a ghost town. Lorain also had a large Ford Motor Co. assembly plant, but that's gone. Between Lorain and Elyria, we don't have any manufacturing.
The city of Lorain saw the closing of Thew Shovel and the loss of 2,500 jobs in 1983. The American Ship Building Co. owned by then-New York Yankees Owner George Steinbrenner, once employing 4,500 people, closed the next year.
In the 1970s, the Ford's Lorain Assembly Plant once boasted the largest United Autoworkers Local in the United States with a membership of 7,500 and proudly produced 61 vehicles an hour on the assembly line.
In the 1980s and 90s, U.S. Steel and Ford continued bleeding manufacturing jobs, something Trump had promised to bring back from foreign countries during his four years as president.
It appeared as though Trump had won Lorain County in the 2016 election by 300 votes on election night. Then, after all the Provisional ballots were counted, Trump lost to Hillary Clinton by 131 votes, said David Arredondo, executive chairman of the Lorain County Republican Party for the last year.
Arredondo served as vice-chair of the Lorain County GOP for the last 13 years, and he too has noticed a change moving to the right in the region. His brother, Joel Arredondo, is a Democrat and has served on the Lorain City Council for 13 years.
Overall, Arredondo believes a change in Lorain County's political makeup is coming.
"Outside of Lorain and Elyria, you're seeing a different middle class," Arredondo said. "It's changing from a blue-collar manufacturing and farming region to one of skilled trades, an educated workforce, and good-paying jobs."
"The housing market is going crazy, and things are improving with the socio-economic status of the county," Arredondo added. "There's been a lot of new houses built in Avon, Avon Lake, and North Ridgeville, and that's been causing a big change, too. Lorain County has become a desirable place to live."
Like many, David Arredondo is excited that Trump is coming to Wellington, and he'll be there, too. He notes that the impetus for Trump coming to Wellington was doing some kind of fundraiser for Max Miller's campaign.
"It's been crazy," Arredondo added about all the buzz about the upcoming rally. People are coming in from all over the country for this. This is exciting for us."