Ohio Trooper Jacob Daymon Hits Couple on Motorcycle (+Video)
September 11, 2013 7:06 pm Last Updated: July 18, 2015 5:19 pm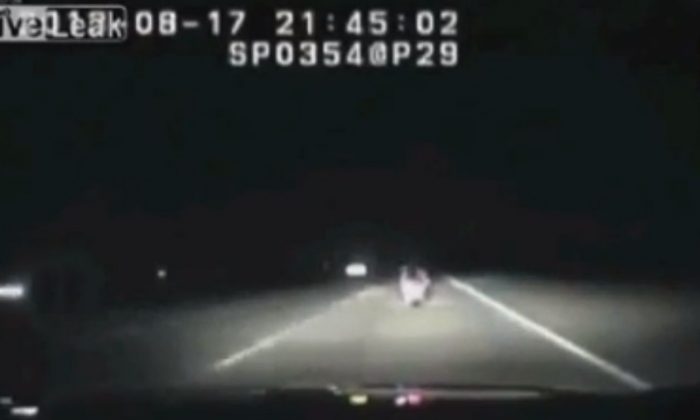 A dash cam captured the moment went Ohio State Trooper Jacob Daymon crashed his police cruiser into a couple, Amy and Corey Waldman, who were riding on their motorcycle.
Daymon was traveling on U.S. 35 east of Dayton on Aug. 17 when the incident took place, reported WPTV.
His car showed no signs of braking before he hit the couple. They were tossed over his cruiser.
Neither Corey or Amy Waldman were injured seriously in the crash. "I think I went off to the left side. I couldn't see her at all and we just slid, and slid, and slid. The only time it wouldn't hurt for two seconds is when my helmet would hit the ground," Corey said, adding that helmets saved both of their lives.
After he hit the couple, the video shows Daymon backing up to block a lane of traffic. He then got out and asked the couple if they were injured.
It is unclear why Daymon hit the two, but Greene County prosecutor Steve Haller described the video footage as "dramatic," reported ABC.
According to 2 News, the couple said they are still suffering from their respective injuries, but they forgave the officer. Amy Waldman is still reportedly suffering from a concussion.
The video of the collision is below (Warning: somewhat graphic):