Eighteen-year-olds can vote and join the military.
They soon will be able to serve alcohol.
Ohio Gov. Mike DeWine signed Senate Bill 102 last week, a bill that lowers the alcohol serving age from 19 to 18.
The law, which also includes other alcohol-related regulations, will go into effect on March 22, 2022, or 90 days after DeWine signed it. The bill is aimed at helping bolster the number of servers in restaurants and bars as the CCP (Chinese Communist Party) virus persists—as does the workforce shortage in the service industry across the United States.
Sen. Kristina Roegner (R) sponsored the bill.
Since the pandemic began in March 2020, Ohio has lost more than 3,100 restaurants and bars. The Ohio Restaurant Association has continued to see a decrease in workers as this year comes to a close.
At Milano's Pizza and Subs, a popular establishment near the University of Dayton that has servers ranging from 19 to 30 years old, its manager told The Epoch Times that the new law really shouldn't be a big deal.
"I don't see much difference between an 18-year-old and a 19-year-old," said Larry Adkisson, general manager of Milano's. "It's not going to hurt, it's going to help keep our numbers up. We had some work shortages early last winter, but we're getting back to being a little better staffed now."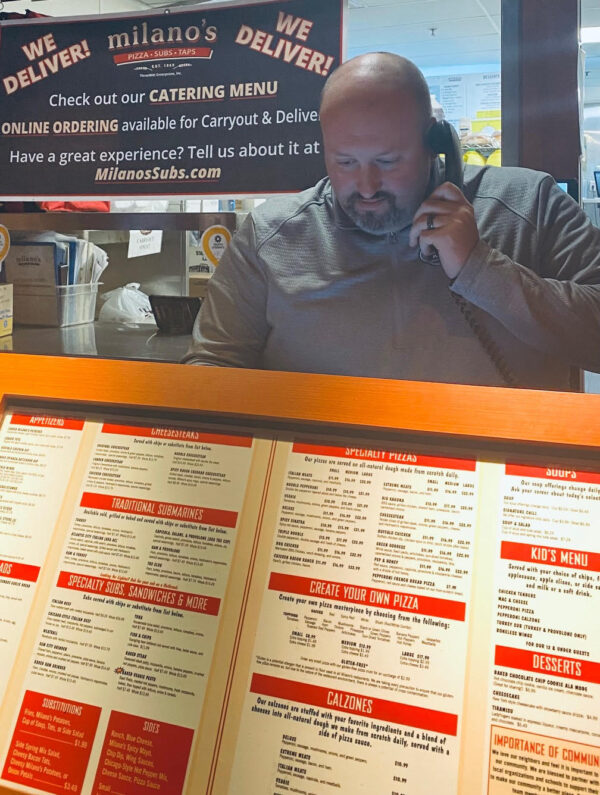 Adkisson said that it's a good, common sense law because the 18-year-olds would be serving and not tending bar.
To tend bar, one has to be 21 years old.
"Whenever we hire new people, we put everyone through training," Adkisson said. The training involves working with and serving alcohol."
In 1984, the Federal Government passed the National Minimum Drinking Age Act and established 21 as the national minimum legal drinking age. Today, all 50 states require one to be 21 or older to purchase alcohol.
To be considered an alcoholic beverage, the federal government has established that a "drink" has 0.6 ounces of pure alcohol in it. Therefore, one "drink" is: 12 ounces of beer, eight ounces of malt liquor, 5 ounces of wine, or 1.5 ounces of 80-proof distilled spirits or liquor (40 percent alcohol), according to www.worldpopulationreview.com.
The 21st Amendment to the Constitution clarifies that the states determine the laws regarding the sale and distribution of alcohol, and the states can delegate responsibilities to local jurisdictions. The states have the power to set the age as they see fit within their own borders.
Liz Zajovits of Dayton has been a waitress for 40 years, mostly at two of Dayton's top-tier restaurants. She waitressed at the Pine Club for 12 years and now, at the iconic Jay's Seafood restaurant in the city's historic Oregon District for the last four years.
Zajovits said she supports the new law. She told The Epoch Times that if the state or United States is faced with a lockdown or states have to endure another 14-day shutdown, Jay's likely would close, because it is more difficult or nearly impossible to provide carry-out for fresh seafood.
The restaurant is known for its ornate bar that once was inside Jake Ritty's Saloon in downtown Dayton. Ritty invented the cash register, and later sold the rights to John Patterson, a leading industrialist in the city who founded the National Cash Register (NCR) Company.
"If a 19-year-old can serve alcohol, why can't an 18-year-old?," Zajovits said. "It makes sense to allow 18-year-olds to be allow to serve. We didn't have a problem with servers because fine-dining restaurants usually need people with more experience. What we had problems with were finding dishwashers and bussers. Everybody wants to make 15–20 bucks an hour, but nobody wants to be a dishwasher or busser."
SB 102 also comes with other caveats.
The bill also permits cities to expand Designated Outdoor Drinking Areas (DORAs) depending on whether the size of a city or township is larger or smaller than a population of 50,000. More DORAs were established outside of establishments that served alcohol during the pandemic when indoor seating was limited.
Municipalities with more than 50,000 people will be able to designate 640 acres for DORAs (twice the amount currently allowed), they can spread that acreage across six different locations instead of four. Municipalities with less than 50,000 people will be able to designate 320 acres for DORAs.
Also under the forthcoming law, if municipalities would like to seek Sunday liquor sales, they would only need to collect 50 signatures of registered voters who voted in the last governor's election instead of 35 percent of the voters as previously required.