The mayor of Akron, Ohio, declared a state of emergency as protests became violent after police released body camera footage related to the fatal police shooting of Jayland Walker.
"As night fell and others began to join, the protests became no longer peaceful," Akron Mayor Dan Horrigan said in a July 4 statement. "There was significant property damage done to downtown Akron. Small businesses up and down Main St. have had their windows broken. We cannot and will not tolerate the destruction of property or violence. In light of the damage that has occurred and in order to preserve peace in our community, I have declared a state of emergency, implemented a curfew, and canceled the fireworks which were scheduled for tonight."
The curfew will remain effective without further notice for downtown Akron between 9 p.m. and 6 a.m. The city also shut the Patterson Park Community Center and the Akron Fulton Airport.
The mayor called on protesters to stay peaceful.
"As I stated yesterday, I fully support our residents' right to peacefully assemble. What we have been calling for since the beginning, and what the Walker family and many community leaders and faith leaders have also urged, is peace," he said.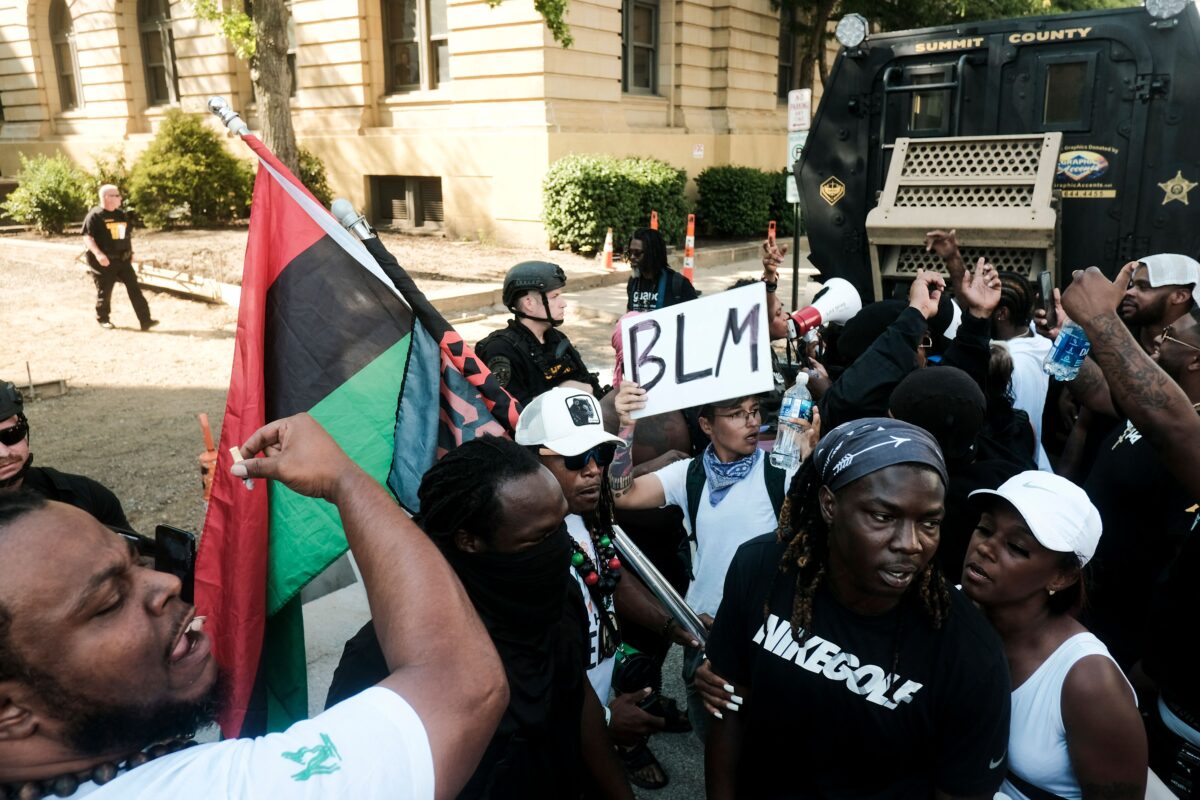 Walker, a 25-year-old black male, died on June 27 after police officers shot him multiple times.
Local residents and activists protested after the death of Walker. The protests escalated after the police released the body camera footage of the police shooting.
The protests turned violent late on July 3. Protesters threw water bottles and other objects at the Harold K. Stubbs Justice Center, broke windows of snowplows parked by the city to block off the street, launched smoke bombs into the streets, and set fire to two dumpsters, Akron Beacon Journal reported.
Police deployed tear gas and stun grenades in response.
Traffic Stop Turns Into Police Shooting
Walker was stopped by police for a traffic and equipment violation at 12:30 a.m. local time on June 27. However, he refused to stop, instead fleeing in his vehicle, continuing the chase on foot, and ultimately being shot by police.
Police fired 21 shots at Walker's vehicle when he was fleeing the scene. He reportedly fired one shot back at the police from his vehicle. He later left his car from the passenger side with a ski mask and police started to chase him on foot.
The police failed to stop him with stun guns during the foot chase. When the chase reached a parking lot, officers reacted by discharging their firearms at Walker when he stopped and quickly turned toward the pursuing officers.
More than 60 wounds were found on Walker's body, but further investigation is needed to determine exactly how many rounds the officers fired and how many times Walker was hit.
Police said a handgun and a loaded magazine were found on the driver's seat after the shooting. Walker wasn't armed at the time of the shooting, police confirmed.
Officers Worried About Being Shot
Officers were concerned that Walker was going to fire at them right before the shooting, Akron Chief of Police Stephen Mylett said on July 3 during a press conference.
"When you see it in real-time, it's very hard to distinguish what Mr. Walker is doing," he said. "In these still photos, there's a picture that appears to all of us that Mr. Walker is going down to his waist area. There is a photograph that appears Mr. Walker was turning towards the officer, and there was a picture that captures a forward motion of his arm."