California is banking on $5 billion in federal infrastructure loans to help supply chain overloads at the ports of Los Angeles and Long Beach.
California Gov. Gavin Newsom and U.S. Secretary of Transportation Pete Buttigieg announced on Oct. 28 the "Emerging Projects Agreement" that they expect will improve the capability of the ports to move goods and improve the environment at the same time.
The money won't help clear the record number of containers still waiting on ships this week. The funds are expected to modernize the ports in the future, creating better systems for trucks, railways, and the environment in an effort to ward off future disasters.
"Our supply chains are being put to the test, with unprecedented consumer demand and pandemic-driven disruptions combining with the results of decades-long underinvestment in our infrastructure. That's why this administration is working around the clock to address both near-term and long-term challenges to our supply chains, including investments such as those in the bipartisan infrastructure deal," Buttigieg said in a statement.
The growing number of cargo ships anchored offshore hold an estimated 250,000 containers waiting to be offloaded with goods from overseas.
The ports of Los Angeles and Long Beach are responsible for about 40 percent of all imports into the United States, with 71 ships at anchor in the bay on Oct. 27 waiting to enter the port complex. The average wait time is about 13 days.
"Having our federal and state transportation agencies working in unison to help fund infrastructure is exactly what we need," said Port of Los Angeles Executive Director Gene Seroka. "We have projects in need of funding that will reduce cargo delays, improve efficiency, reduce emissions, and improve safety for waterfront workers and motorists throughout the region."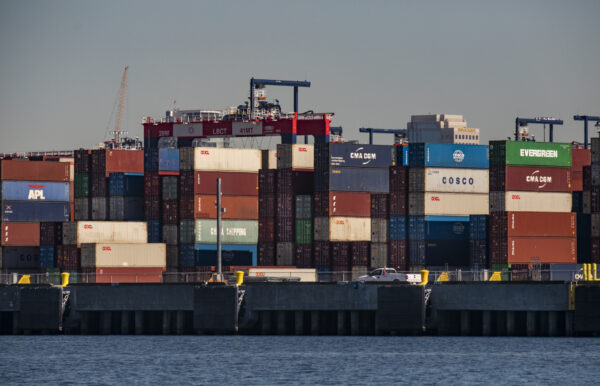 The agreement will allocate the federal government's infrastructure program's two main loan programs—Transportation Infrastructure Finance and Innovation Act and Railroad Rehabilitation and Improvement Financing "on a blanket basis to the state of California to develop a comprehensive program of projects" that will benefit both the state and the United States through supply chain improvements, according to the Biden Administration's Port Envoy John D. Porcari.
Newsom said: "California's ports and infrastructure system is key to the country's supply chain. Thanks to our collaboration with the Biden-Harris Administration, this innovative federal-state partnership will help us fast-track those projects that will make our ports and infrastructure even more efficient.
"This partnership will help us jumpstart and support multiple infrastructure projects to improve our supply chain, making sure goods get to where they need to go faster, cheaper, and in a more environmentally friendly manner."
California's recently enacted budget includes $250 million for ports, $280 million for infrastructure projects at and around the Port of Oakland, and $1.3 billion over three years for zero-emission trucks, transit buses, and school buses, including the deployment of more than 1,000 zero-emission port drayage trucks.