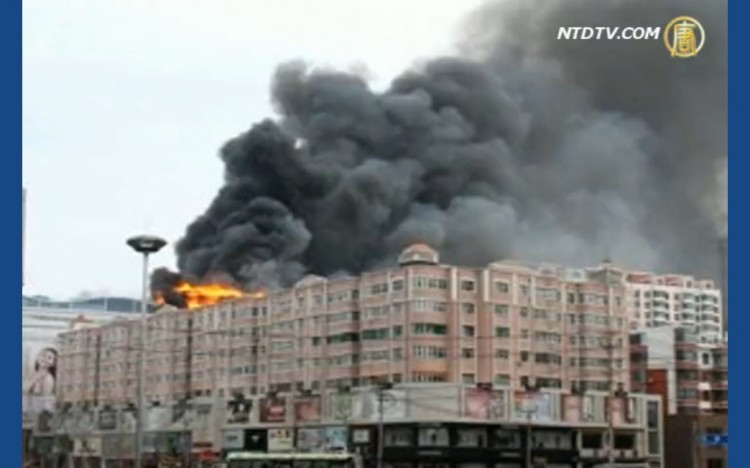 As Internet users in China raise suspicions over the officially reported death toll of a Tianjin shopping mall fire that took place in late June, Chinese state media aired surveillance video footage of what happened when the building went out of power. 
The 20-second surveillance footage of people walking in and out of the door very calmly aired on July 10 as part of a very short news report. In less than 60 seconds, the report said the fire resulted from a short circuit in the air-conditioning power cords, which ignited nearby combustible materials, resulting in the blaze. 
However, many suspect that the video footage is a fake, and it was aired to dispel reports that security guards locked the doors to prevent customers from looting. A local resident believed that as the fire spread, the electricity in the building went out, causing customers to be trapped behind the automatic doors.
A Tianjin government worker, Mr. Liu, noticed that the footage was missing a time print, and it did not show the first to fifth floors as the news report claimed. "The government is intent on deceiving us and concealing [the truth] until the end. It's too easy for them to make a fake video," he said.
The fire broke out at the Ryder Commercial Building in Jixian County, Tianjin City, on June 30, but access to the area and information about the incident has since been tightly controlled.
According to information posted on microblogs, public security officers were deployed to monitor the area from the building all the way to the crematorium. Plainclothes police strictly monitored and drove out family members of the victims and other visitors throughout the city.
Read original Chinese article.
The Epoch Times publishes in 35 countries and in 19 languages. Subscribe to our e-newsletter. 
Click www.ept.ms/ccp-crisis to read about the most recent developments in the ongoing crisis within the Chinese communist regime. In this special topic, we provide readers with the necessary context to understand the situation. Get the RSS feed. Get the new interactive Timeline of Events. Who are the Major Players?