Official Claims on Arrests Brings Chinese Lawyer's Retort
April 2, 2014 11:52 pm Last Updated: April 2, 2014 11:52 pm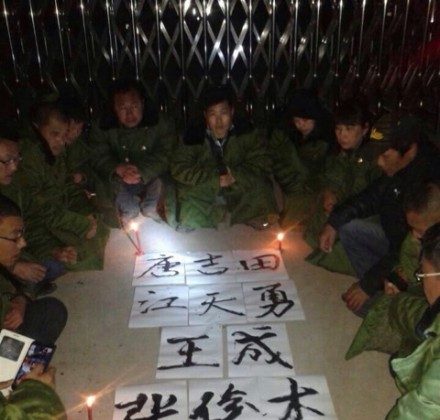 Chinese authorities made their first official statement on the detention of four lawyers in the northern province of Heilongjiang recently. It quickly met with the strenuous rejection of one of the lawyers, Zhang Junjie, who called it an attempt to "confuse people." 
The notice, issued by the Jiansanjiang Land Cultivation Public Security Bureau, which detained the lawyers, said that the four had "incited and gathered" 38 Falun Gong practitioners and their family members outside the department's General Office Legal Education Base "to make trouble." 
The circular was republished by Xinhua and many other Chinese news portals. Xinhua, the mouthpiece of central authorities, later deleted it from its website, however, suggesting that there may be a lack of certainty on how the Communist Party should respond to the protests. 
The notice accused lawyers of yelling slogans in support of Falun Gong, which it called a "cult," the official propaganda label used by the Chinese Communist Party to attack the spiritual practice. 
Zhang retorted on Sina Weibo, "No one yelled any 'cult' slogan, and no one supported any kind of organization. They solely requested the release of illegally detained people. Don't try to use a notice to confuse people."  
Zhang was released from detention on March 27 and went straight to hospital: he had three fractures on his spine from the beating and torture he suffered in custody, he said.
He was one of four well-known human rights lawyers who called for the release of Falun Gong practitioners detained in a "black jail" in Jiansanjiang, a northeastern city in China. 
The treatment of the lawyers has provoked outrage in Chinese legal circles and society, with more lawyers, citizens, and activists, getting involved in the movement to expose and shut down black jails and illegal places of torture. 
Falun Gong is a traditional Chinese spiritual discipline that is persecuted in China. It attracted 70 million practitioners during the 1990s; that number was deemed too great by Jiang Zemin, the former communist leader, who ordered it eradicated. Adherents have maintained nonviolent resistance to the campaign for the last 15 years, and in the last several years have gained a wide constituency of supporters who now dare to publicly defy Chinese authorities on the campaign. 
Several years ago it was unheard of in China for human rights lawyers to stand outside a brainwashing facility and yell, "The detention is illegal!" and "You are abusing power and trampling on the law. You'll end up like Li Dongsheng and Zhou Yongkang!" a reference to two security officials being purged by the new leadership.
Zhang said that he was questioned every day while in detention, and was threatened with having his license to practice law revoked. They attempted to force him to admit that he had yelled slogans in support of Falun Gong. "I told them: I can't make things up. I won't be like you, who've lost the basic conscience of human beings and defame others."
 
"Jiansanjiang" has become one of the most discussed topics on Sina Weibo, largest social media website in China, with large numbers of lawyers and netizens condemning the roguish treatment dished out by the authorities.  
"No matter how violent and horrible Jiansanjiang is, China has us lawyers," wrote Zhang Lei, another supporter and an attorney. "We're not afraid."