'Officer, Just Give Me a Death Permit!'
June 15, 2006 12:00 am Last Updated: June 15, 2006 12:00 am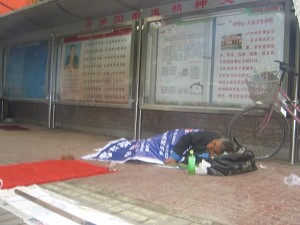 More and more conflicts between police and appellants are emerging in Beijing as authorities begin implementing new regulations. Under the new law, "threatening an official by committing suicide or inflicting injuries to oneself" is a crime. Many appellants commented, "Currently in China, we don't even have a right to die!"
According to information disclosed during the Xishan Conference, a high level close door debate over China's reform is presently happening. Thirty million appeals occurred in China last year, and in Beijing, the conflicts between police and appellants are an everyday occurrence.
On May 26, a Chinese media reported that authorities explained about the new amendment to "Beijing Municipal Petitions Ordinance" on the 27th Conference of the Beijing Standing Committee of the Municipal People's Congress held on May 25. It was stated that: Petitioners could not submit petition requests at locations that are not designated to receive petitions; not to exceed five persons when petitioning as a group; not to gather illegally; not to cause disturbance; not to seize or attack government organizations; not to block official vehicles; not to block or obstruct traffic; and not to threaten authorities by committing suicide, or inflicting injuries to oneself. Otherwise, the petitioners will be responsible for all corresponding legal implications.
An Epoch Times journalist interviewed several appellants regarding the new amendment.
Ms. Zhao from Beijing appealed for her property problems for years and was beaten by police officer, Wang Huaqian from Er-long Street Police Station. Due to the beatings she received, her ears were severely injured, her cranial nerve and facial nerves were damaged and her face muscles became paralyzed and distorted. She was unable to look after herself. During the Chinese congress sessions, the police detained her for 15 days to stop her from appealing. As a result, her health deteriorated and now she can hardly walk downstairs.
Zhao said, "the new ordinance for appellants have added over ten new stipulations, suicide is one of them. The regime does not give us means to survive, now it does not even allow us to die; the regime has taken total control of our lives. Not allowing us to kill ourselves, does that mean they want us to kill others? Authorities say suicide is an act that threatens the government, yet they have compelled us to the end of the rope. Nobody wants to appeal and nobody wants to suffer these hardships. I am going to hold up a big sign that says, 'Officer, just give me a death permit!' when I appeal next time."

Appellant Wang Zhong from Shandong province said, "Now in Beijing, the number of officials present for blocking people from appealing is more than the number of appellants! These officials are beating people viciously outside the Supreme People's Court where we wait to get application forms. Last week, an elderly person did not manage to get away fast enough and he was beaten to the ground. His face ended up covered in blood. These officials are acting just like bandits. They are not concerned whether you are a man or woman, old or young, they beat and scold you as they wish. And if we are beaten to death, the authorities could claim that we threatened the government with suicide and self injury."
Yuan Chunmei from Jiangxi province relayed her story to the reporter. Four years ago, the head and party secretary of her village sold several real estate properties belonging to her family to a real estate agent without her family's consent. Grains that were grown on the field, trees and poultry were all lost. Before she went to Beijing, she had appealed her case to all levels in the government, but ended with no result. Earlier this year she went to Beijing to petition. Being unfamiliar in Beijing, she wandered around with other petitioners. Even now, whether she is able to submit her appeal still remains questionable. When commenting about the new regulation, Yuan said, "I would not have known before coming here that Beijing is such a dark place. This is a society where the strong prey on the weak, decent people are bullied and bad people are praised."
Living quarters are now getting harder for appellants to find. There used to be shelters for appellants to keep out of the wind and rain. All the structures of an appellants village near Beijing's south train station were torn down earlier this year during a large scale clean-up by the regime. Subsequently, some appellants built temporary shacks for shelter, but the city police took them down several times as soon as they were erected.
According to the New York Times , at the Xishan Conference, Li Shuguang, Dean of China University of Politics and Law, said the rise in social instability indicated that the dominant issue for common people was no longer "poverty of material resources" but "poverty of rights and power."