ARIVACA, Arizona—The guys stand around a camp stove in the driveway, frying a carton of egg whites in an inch of bubbling bacon fat. It's a chilly Arizona morning, and they're preparing to head into the mountains along the U.S.–Mexico border to track drug trafficking and human smuggling.
They're civilians who volunteer for Arizona Border Recon (AZBR), a nonprofit founded by veteran Tim Foley with a mission to gather intelligence about illicit activity on and around a remote area of the border.
It's rare they encounter people, but footage from AZBR's hidden trail cameras is eye-opening—groups of 8 to 10 people crossing the border—a simple barbed-wire fence—in camo gear, humping backpacks, and trekking purposefully northwards, deeper into the United States, in carpet shoes to hide their tracks.
In an average two-week period, Foley said, one camera on one of the hundreds of branching trails picked up 400 illegal aliens and 100 drug mules—all led by "coyotes," or smugglers. Cartel scouts sit on the mountaintops on both the Mexican and U.S. sides, as if they are air-traffic controllers, ensuring safe passage through.
"There's no women and children coming through here," Foley said. The harsh terrain doesn't attract asylum-seekers, who prefer to hand themselves in to Border Patrol after crossing.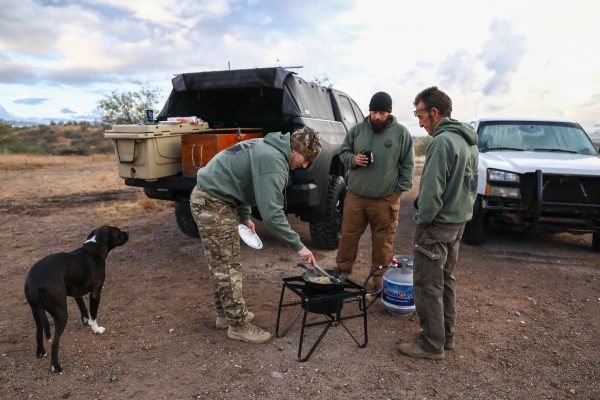 AZBR operates in an area dominated by dust, mesquite trees, and towering Saguaro cacti—on a mix of national forest and leased ranch land south of Arivaca, population 700. To the west is Sasabe, an even tinier town that boasts a handful of residents and an international border crossing. Southeast along the border line is Nogales, a hub of commercial and pedestrian interchange between the United States and Mexico.
For around 26 miles between Sasabe and Nogales, the international border is essentially an unpatrolled, four-strand barbed-wire fence.
Joining AZBR
Ryan, who drives 18 hours from Idaho to join weeklong recon trips with AZBR, said his motivation to keep coming back over the last two years has evolved, but Foley is the driving force behind everything. "Tim's mindset, Tim's agenda," Ryan says, as he stirs the blackening eggs and Foley's dog Rocko tries to look inconspicuous.
"There's a lot of groups that are down here and they kind of have the wrong mindset. Some are racially motivated [and] Tim's nothing like that. That's where my attraction is. Tim has goals. Tim has a future. Tim has things that he wants to accomplish and I think that's what keeps me [involved]."
Randon, 32, is ex-military with almost five years on the frontlines in Iraq. He credits Foley and AZBR for giving him mental stability at a dark time when he felt purposeless.
"For the longest time, I had to call my buddy to come over so we can go grocery shopping, because I couldn't leave my house by myself," Randon said.
"I was NCO [non-commissioned officer] in the military, in charge of stuff, and my first job when I moved to Arizona was chipping mortar off of a cinder block wall that fell down, for $10 an hour," he said. "It's defeating mentally."
He met Foley on a tracking course and things clicked. "At that point in time, he was living in Sasabe and had a group of guys living with him. And you know, it felt like living on a fire base in the Middle East—everyone was a real tight-knit group and it was great," Randon said. "[Tim] is honest and loyal, and he'll have your back."
Eventually, he moved down and lived with Foley for a year in Arivaca, until responsibilities in Phoenix pulled him back. He often heads out with Foley on weekends, or just for a day trip—sometimes the length of their trip is dependent on how many cigarettes they have left.
"I love the tracking," he said. "It's really mentally stimulating, especially if you start with a good set of prints. You can tell a lot about the person—their height, their weight, what they're carrying, even down to whether they have a pistol on their hip, or they have a long gun, it changes the way the prints are."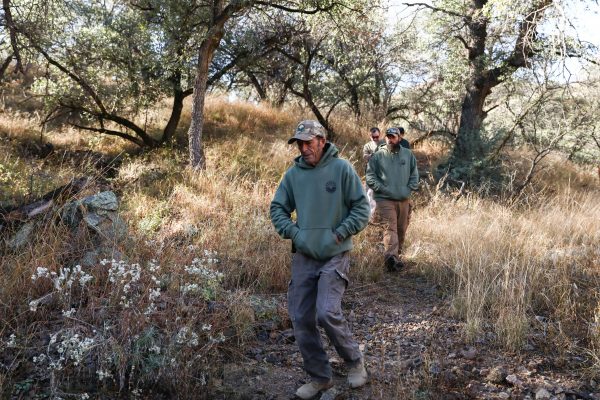 'Safe and Secure'
Foley acts as a mentor and gives the men a shared purpose. He half-jokes that Randon only spoke two words a day when they met.
"Now we sit and we have conversations and he goes, 'This is what I was looking for. I have purpose again,'" Foley said.
Foley isn't one to mince words, and he's passionate about what he does. He spends hours both out on the trails and in his office keenly scrutinizing the footage his trail cams have captured.
He says he does it "because I love my country." But the initial motivation came from continually hearing two things: that illegal aliens are coming to do the jobs Americans won't do, and that the border was secure.
"And I found that was a load of BS, because I was in construction and it's flooded with illegals who will do the work cheaper, so it was driving down the wages," he said. "So I came down to see if the second thing they were telling us was [correct]: that it was safe and secure."
He was met with a border line consisting of barbed wire fence, or no fence at all up in the mountains. So he turned half his attention to the media, to "let them know what the hell it actually looks like, what is actually going on," and half to tracking and recording what was happening.
"And once I started doing it, I thought, 'Wow, I'm pretty damn good at this.' So I decided to stick it out—regardless of what people call you—I mean, we've been called everything in the book: assassins, Nazis, racists, vigilantes. But none of that is anywhere near the truth."
Foley and his team operate in an area fraught with ghosts of the past. A local minuteman militia group disbanded after founder Shawna Forde and two members were jailed for the 2009 home invasion and murder of two Arivaca residents, 9-year-old Brisenia Flores and her father, Raul Flores.
The scars run deep and a group of local residents are critical of what AZBR does. Foley remains undeterred, but is rigorous about operating above-board. He carefully vets all volunteers, and AZBR's operating procedures and rules of engagement are published on its website. The group is not involved in interdiction or enforcement, but the members will help people who need water or medical attention.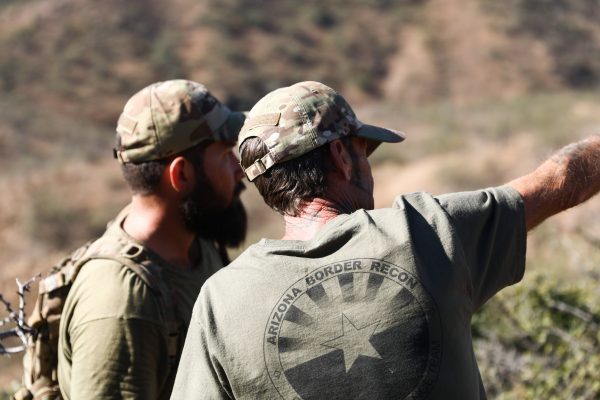 Out in the field, Foley carries a sidearm for self-defense and wears a body camera in case of any dispute.
He has perfected his tracking skills and uses them to help determine where the most illegal activity is occurring, then places his eight motion-sensored cameras accordingly.
"And so we'll look at everything we get off the cameras and we try to … see if there's any type of algorithm with it—day of week, time of day, moon phase—things like that," he said. He passes the information to the Border Patrol line agents he sees when he's out, "because they're most receptive."
Border Patrol agents have followed up on information from Foley and made apprehensions and drug seizures.
He also tracks the local humanitarian group People Helping People in the Border Zone, which leaves gallons of water and food out near the trails.
"We'll watch that—to see how much water they're putting out, how often they're putting it out. Because that also indicates they know where people are coming through and they pretty much know how heavily the trail is being traveled," Foley said.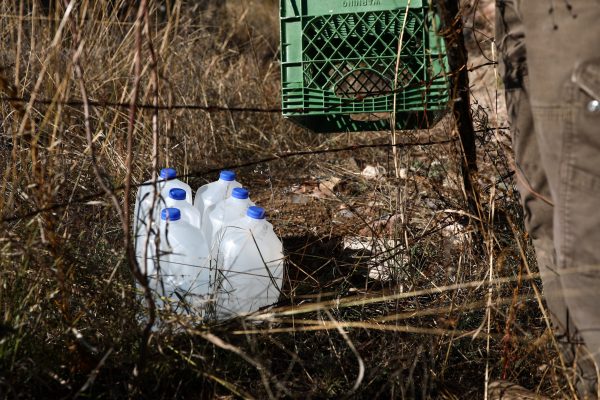 He has strong opinions about People Helping People, saying they are encouraging cartel activity in the area by providing convenient refueling stops. Foley's trail cameras often pick up scouts refueling at the water drops, or groups of aliens carrying the water bottles left by the group.
People Helping People declined to be interviewed for this article, saying in an email, "Unfortunately we are unable to participate in this story."
The group calls for the disbandment of all inland Border Patrol checkpoints, one of which is located on the road between Arivaca and Tucson.
"By placing checkpoints on all roads between 25 and 100 miles into the U.S. interior, migrants and refugees are forced into long journeys on foot through the Sonoran Desert," the group says on its website.
But Foley says his trail cameras aren't picking up any refugees coming through.
Armed Cartel
One of his recordings from April shows a group of four heavily armed, suspected cartel members arriving at a gate along the border with horses. All four are in full camouflage, wearing bulletproof vests, and are armed with what look like AK-47s or M4s and several spare magazines.
The four look to be escorting who Foley calls a "high-value target."
"Somebody who can afford to pay for that security, plus the four sets of scouts [caught on camera three days earlier]. So they're paying a lot of money to get in for some unknown reason," he said.
The man, wearing civilian clothing, arrives with the armed men, but likely crosses into the United States after a possible scout meets them on the U.S. side and looks to be instructing the man where to go.
"In the end, you'll see all the cartel leave except for the guy in the green track jacket and Nike shoes," Foley said.
Other video footage shows groups of illegal aliens being escorted by scouts who carry radios. Still others show lines of men with large burlap sacks of suspected marijuana.
But the cargo is changing, and it coincides with the legalization of marijuana in several U.S. states.
"About a year ago, our cameras quit picking up the burlap sacks with the 20 kilos of marijuana, but now we're seeing that they're running a bigger camouflage pack than the regular illegals," he said. "It's better made. More space in it. They're running meth, heroine, cocaine, fentanyl."
Most drug seizures occur at ports of entry, where traffickers hide large amounts in vehicles. However, they also risk a big loss if caught.
It's cheaper for the cartels to travel by foot and the losses are smaller, Foley said. He suspects the cartels also make illegal aliens carry drugs across the border as part of their payment to cross.
Border Patrol Chief Carla Provost confirmed during a Senate hearing on Dec. 12 that cartels run the southwest border.
"The cartels own the plazas [ports of entry] and run the area right along the border," she said. "The alien smuggling organizations have to pay a fee to move people through the area."
In Arizona, the border is controlled by the Sinaloa cartel, whose former leader Joaquín "El Chapo" Guzmán is currently on trial in New York City.
Ranching on the Border
Local Arivaca rancher Jim Chilton has run cattle on 50,000 acres of land by the border for 31 years. He owns a few small parcels, but the vast majority of the land is leased for grazing rights through the Forest Service—so the public is free to travel through, hunt, fish, camp, and so on.
"Just don't shoot any of my cows," Chilton said.
He supports Foley and says he is making a difference.
"I really admire Tim for what he's doing. He gets guys to come out—I've talked with a lot of them—they're just ordinary guys. Most of them have [fought in] Iraq or [had] experience in Afghanistan," Chilton said on Dec. 7.
"A guy who works in Oklahoma City, he's a mechanic, and he takes his two-weeks vacation and he comes out and joins Tim in an effort to secure the border—and they do. For that little part of the border. But we need 24/7, 365-days-a-year security."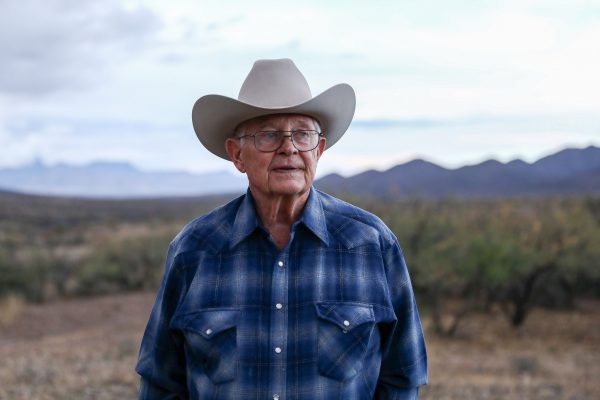 Five and a half miles of Chilton's land abuts the Mexico border and the rest is a thoroughfare.
"The cartel has seized control of all the trails coming out of Mexico and through my ranch; and I estimate there are about 200 trails," he said.
"And the bottom line is that it's impossible for the Border Patrol to control it. No; the cartel controls our land with cartel scouts on our mountains.
"So, anywhere you look around here, there's highly likely to be a cartel scout on the top of the mountain with the highest-grade military-type phones—satellite encryption, radio function—night vision, the best binoculars you can buy, roll-down solar packs, so that they can keep everything charged up. And we had a big meeting here with the head of the Border Patrol and they just caught a scout that day. He said that the scout was out on the mountains for a month. He's from central Mexico, and he made $2,000 a month."
Chilton said he never patrols his ranch without carrying a firearm for protection and has a rifle sitting near his front door at home.
Several years ago, about 17 people knocked on his front door. "They were drug packers. I took my gun and kind of opened the door, stepped out, and I said, 'Agua? Agua?' and a universal, 'Si.' So I slithered over and turned on the hose, everybody got a drink of water, and I yelled 'Adios! Adios!' and they all left."
Most of the suspected drug runners he encounters are out in the mountains and heading back to Mexico.
Once, when Chilton was driving out on his ranch with his wife, they encountered a large group of about 20.
"All in exactly the same camouflage clothing, carpet shoes—even the backpacks were all camouflage, their hats were all camouflage. And one out in front appeared to be carrying an AK-47," he said.
When the group spotted Chilton's truck, they took off.
"They ran! It was really something. They looked like a snake going through the country," he said. "Sadly, I believe most of the people coming through here are drug cartel people, bringing drugs into the United States, poisoning our great country."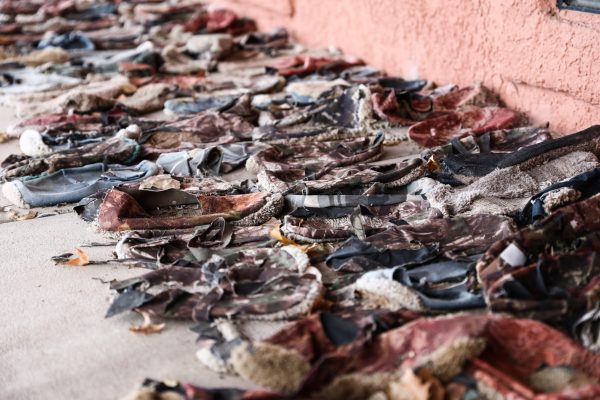 Changing Populations
Chilton has seen changes in illegal immigration patterns and drug trafficking in his little corner of the border for three decades.
"When we bought the ranch [in 1987] there was no problem. Yeah, there were smugglers every once in a while, but it was not an issue," he said.
"And then in the mid '90s to about 2007, there was just a human wave coming out of Mexico. I estimate 30, 40 thousand people were walking through my ranch each year. People wanting to get into the United States and work.
"With the recession of 2007, 2008, that just kind of stopped; and that was about the same time the cartel gained control of all the trails. They heard there weren't jobs in the United States and so quite different traffic, [and] it's when we started seeing and noticing the cartel scouts on the mountains."
Chilton said he fully supports immigration. "It's really important. We really need people coming into the country," he said. "However, I maintain they should be legal immigrants. I also maintain that the U.S. Congress and President [Lyndon] Johnson made a horrible public policy mistake when they did away with the Bracero Program."
The program was initiated in 1942 as a farm labor program using Mexican workers. It was terminated in 1964.
The Wall
Chilton backs President Donald Trump's call for a border wall, adding that he has advocated the need for one for 10 years.
"That's exactly what's needed—in my opinion. [Trump] articulates the idea that you need to secure the border, and I agree with him totally. Secure the border at the border—not let people walk into the United States 15, 20, 30, 100 miles, then try to apprehend them."
He said AZBR does what they can to keep the area secure, but "only the government can secure the border."
"And they can't secure the border unless they have the infrastructure. That includes the wall, roads, and all kinds of technology—it's just common sense."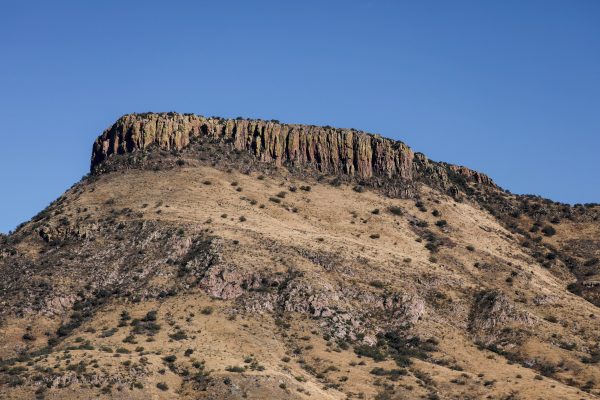 On Dec. 6, Trump wrote on Twitter: "Arizona, together with our Military and Border Patrol, is bracing for a massive surge at a NON-WALLED area. WE WILL NOT LET THEM THROUGH. Big danger."
No further details were available, and neither Foley nor Chilton had heard about anything happening locally.
Customs and Border Protection Commissioner Kevin McAleenan said in a recent Senate hearing that the agency has a plan for a total of 1,100 miles of fencing along the 2,000-mile southwest border.
He said the cost ranges from $5 million to $25 million per mile, depending on the type of terrain.
The cost includes the physical barrier, property acquisition, access roads, and sensors and cameras, McAleenan said, adding that walls have worked "everywhere we've put barrier in."
AZBR's Future
After spending almost five years fighting in Iraq, Randon views the porous southwest border as a bigger threat to America right now.
"Definitely here. If people want to make bombs and blow each other up in Iraq and stuff—have at it—they've been fighting since the beginning of time, they'll probably never stop," he said. "But stuff coming across this border sometimes can be scary."
His goal is to move to Arivaca as soon as possible and help more with AZBR.
Although the group has a good relationship with Border Patrol agents, Randon said he wishes the agency would use them more. "We're very capable of being used. Because we don't have a union, we can sit dudes on the mountaintop for days if we needed to or wanted to."
Foley's plans for AZBR are extensive. He has seen how it has helped Randon and other veterans.
"They enjoy the brutal lifestyle," Foley said. "Because it's not easy when … you spend seven days out here and you've got a pack on your back and you hump to the top of the mountain whether it be 120 degrees out or 20 degrees out—and the rain. Yesterday, it hailed down in here.
"We now have more guys coming to us saying that we've helped them … with their PTSD," Foley said. "We realized we can help them and we can help secure the border."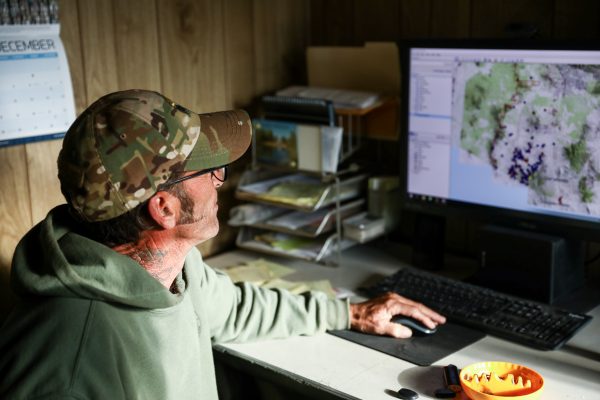 The group just received approval for its 501(c) nonprofit status, and he's looking to purchase property, both closer to the border and in Arivaca.
"You're winning half the battle by occupying territory," he said.
Foley hopes to add to the trail cameras he places. "I've got eight cameras right now, but that's about all I can handle because it's a whack-a-mole."
And he tries to keep up with his mapping and recording so it can be utilized by law enforcement. "I've got over 75 cartel scout locations in the area that we try to watch—and that's in the United States. Not to mention the ones that are in Mexico."
Foley is undaunted by what looks like a losing battle, and he remains determined to contribute to border security, even if only along a few miles.
"Cartels are basically the Hispanic version of ISIS," he said. "We've got enough of our own bad guys. We don't need to import more."