The Orange County Transportation Authority (OCTA) has voted unanimously to pursue an interest rate reset on a loan they took from the federal government in 2017 to help finance the Interstate 405 Improvement Project.
The estimated financial savings could be worth up to $190 million, according to officials. The highway construction project is the largest in California and aims to alleviate growing pressure on the nation's busiest stretch of highway.
The loan that OCTA originally took from the federal government as part of the Transportation Infrastructure Financing Innovation Act (TIFIA) allowed the county to borrow 33 percent of the project's $1.9 billion price tag—around $629 million—at a 2.91 percent loan rate.
At the time, OCTA was very happy with the rate, according to Chief Financial Officer Andrew Oftelie, but he suggested during a presentation on Oct. 26 that there would be large savings if the rate could be renegotiated.
"The reason it makes so much sense to [reset the loan rate] now is because there's significant savings to be had," Oftelie said.
"We're paying 2.91 percent now. Thirty-year [Treasury bonds] are about half of that now. … We did an estimate at 1.41 percent, which is where Treasurys were at the time we wrote this report. If we were to achieve a TIFIA [loan] at 1.41 percent, estimated savings would be $190 million," Oftelie said.
The CFO noted that while interest rates for 30-year Treasurys were 1.41 percent at the time of the report, they had risen slightly since then to 1.59 percent. But even then, the savings would be in excess of $160 million.
Oftelie said this new $160 million saving would augment another $300 million that OCTA saved by choosing to finance the I-405 project with a loan from the government instead of issuing traditional toll road revenue bonds.
OCTA Director Michael Hennessy, along with other directors present at the meeting, was pleased by the potential savings, calling Oftelie's efforts "really helpful" and "a huge win for the taxpayer."
"When you consider the fact that when you've completed this we will save the taxpayers $460 million, which means we get to pay these bonds off earlier, faster, than we otherwise would, it gives us more cash flow," Hennessy said.
To begin the process of resetting the loan rate, Oftelie said OCTA will need to negotiate with the Build America Bureau, a federal agency based at the Department of Transportation that administers loans for infrastructure projects. The bureau acts as an intermediary for local governments, public and private developers, and investors.
While the bureau has no official process for resetting interest rates, Oftelie noted that OCTA sent a letter of interest to the bureau for review, and can now move forward with submitting a formal application.
OCTA directors also approved the ancillary costs associated with resetting the interest rate. Included in these fees are an estimated $120,000 for the Build America Bureau to administer the changes, and approximately $750,000 in fees for TIFIA to renegotiate the lower rate.
The process cannot be finalized until the Build America Bureau issues the new loan, which will then be brought back to the OCTA board for final approval. Oftelie said this process could take an unknown amount of time.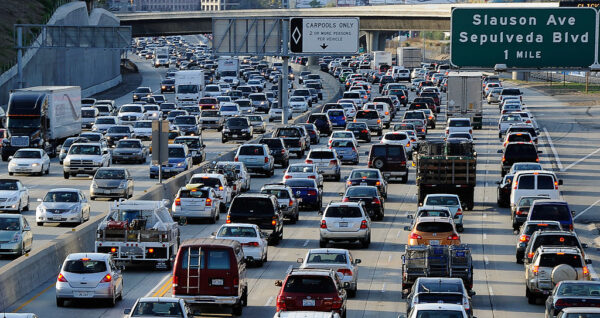 Paying Back the Loan
When the I-405 project began a little over five years ago, the OCTA board of directors approved use of Measure M2 funds to pay for general purpose lanes, but not for the express lanes portion of the project, according to Oftelie.
Measure M2 is Orange County's half-cent sales tax designed to help fund transportation projects. In 2006, voters approved a 30-year extension of the original measure that is estimated to generate $11.6 billion through 2041.
The express lanes portion was designed to be paid for with money the county would borrow and pay back using revenue generated from tolls. Due to COVID-19, however, toll road revenue in the county has gone down severely in the past seven months.
Kirk Avila, general manager of the OCTA Express Lanes Programs, discussed the effects of COVID-19 on the 91 Freeway Express Lanes at the Oct. 26 meeting.
Avila said that "Express Lanes traffics were down almost 80 percent" in April 2020 compared to the same time last year in Orange County, adding it was "truly unprecedented to see such a drop like that in such a short period of time."
"Related to that huge drop in traffic was a drop in total revenues. Again, the drop was unprecedented in magnitude and actually occurred in just a handful of weeks," Avila said.
"Not surprisingly, opening a new 91 Express Lanes account was not at the top of the list of priorities for many individuals, and we witnessed that, with new account openings dropping by 74 percent."
Traffic on the 91 Express Lanes has picked up in recent months. A chart presented at the meeting showed that in August 2020, traffic was down 22 percent from August 2019.
Another graph of potential toll income showed that revenue from the same freeway was down 77 percent in April compared to the same period a year earlier, but only 15 percent in August compared to the same month in 2019.
The customer walk-in center for Orange County Toll Roads in Corona will remain closed, Avila said. But other key activities were scheduled to resume by the end of October, including monthly maintenance fees, outbound collection calls and notices, and the passing of violation files to collection agencies.
OCTA reported in September that the $1.9 billion I-405 Improvement Project is almost 40 percent complete.
The 16-mile-long project runs from Costa Mesa to Seal Beach. It began in 2018 and is expected to be completed by 2023.