An obituary from the family of alleged Dayton, Ohio mass shooter Connor Betts, who was shot dead by responding police officers on Aug. 4, said that he had a good sense of humor and was intelligent.
"A funny, articulate and intelligent man with striking blue eyes and a kind smile, Connor Stephen Betts, age 24, of Bellbrook, passed away Sunday, August 4th, 2019," the obituary read.
Betts's family said he worked as a cook at Chipotle, readily consumed books, liked to swim, was a Boy Scout, was a member of his high school's marching band, enjoyed playing Xbox, and loved the animated show, "Bob's Burgers."
They also said he followed politics, an endeavor made evident by his Twitter page. Betts was a registered Democrat who indicated support for Sens. Elizabeth Warren (D-Mass.) and Bernie Sanders (I-Vt.), also adopting the "concentration camp" description popularized by Rep. Alexandria Ocasio-Cortez (D-N.Y.) to describe immigration facilities.
"Connor will be missed immensely by his friends, family, and especially his good dog Teddy," the obituary added.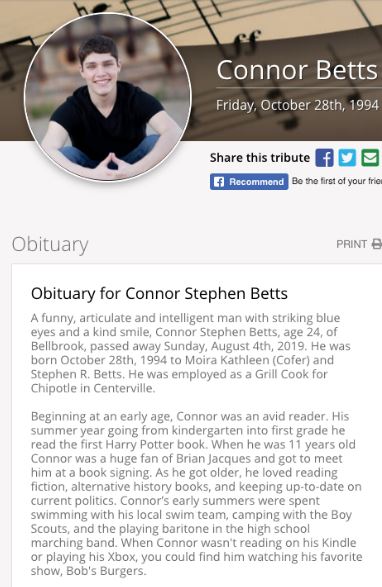 Before being removed, the obituary was posted on the website of Conner & Koch, a funeral home in Bellbrook.
The same website still hosts the obituary for Megan Betts, Betts' sister, who police said he shot outside a bar in downtown Dayton along with eight others.
The Betts family wrote: "A loving, intelligent, and bright young woman, Megan Kathleen Betts, age 22, of Bellbrook, passed away Sunday, August 4th, 2019."
"Megan was fascinated with rocks, starting in primary school when she would bring home rock specimens of asphalt and concrete from the playground. This blossomed into her love of geology, the earth, and space. She hoped to work for NASA to be a part of exploring the viability of life on other planets," the family added.
"She loved to write, and was marvelous in all forms including poetry, short stories, and her famous to-do lists. Megan twice received a scholarship to the Antioch Young Writer's Workshop where she met many incredible young writers like herself. She was enormously creative; she sewed, made spectacular cards, painted and loved doing anything crafty. Megan would see something she liked and could always figure out a way to make it herself. She was so happy making personalized gifts for her family, especially her mom, and friends. She began planning and making gifts for Christmas in August while she and her mom listened to Christmas music."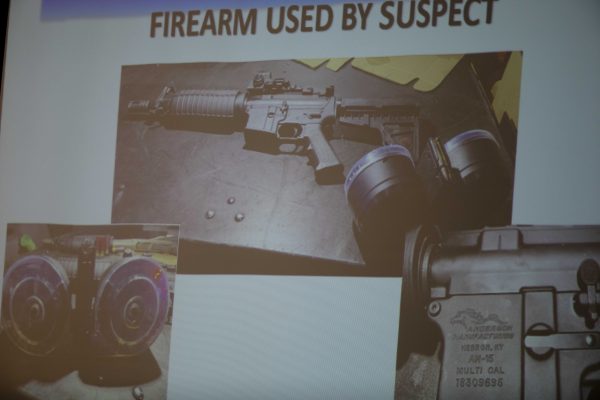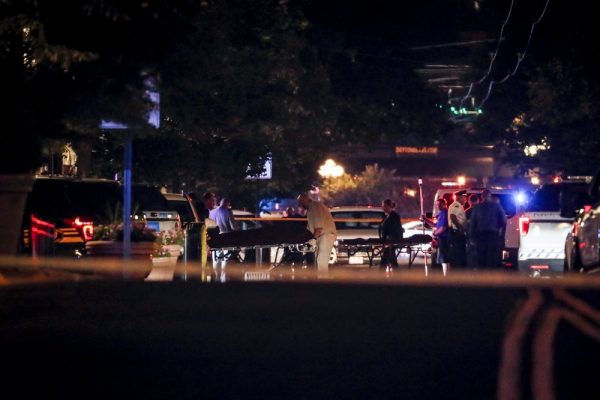 They said her favorite places were the Glen Helen Nature Preserve in Yellow Springs, the Wrightsville Beach in North Carolina, and the mountains of Missoula, Montana, where she interned as a tour guide this summer at the Smokejumper Visitor Center with the U.S. Forest Service.
They also said that Megan Betts liked to cook and was a friend to many, calling the world "a darker place without her."
Both siblings' causes of death were not listed on the obituaries before Connor's was removed.
Police have not said what motivated Connor Betts to carry out the shooting. Former girlfriends described him as a disturbed individual who heard "dark, evil" things in his head and liked to watch and discuss mass shootings.
The family said they'd be holding private services for the brother and sister.
The obituaries for both Betts children said people who wanted to contribute could make memorial contributions to the Glen Helen Nature Preserve, or by mail, Glen Helen Ecology Institute, 405 Corry St. Yellow Springs, OH 45387.