Obama Visits Asia, Skips China
April 22, 2014 4:32 pm Last Updated: April 22, 2014 5:06 pm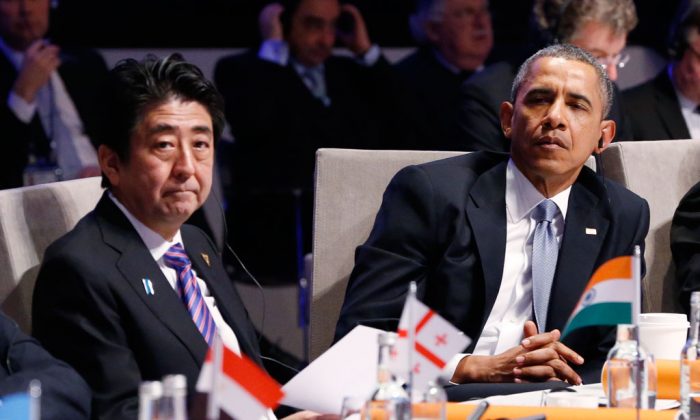 President Obama left to Japan on Tuesday for the beginning of his weeklong trip through Asia. He will enjoy a state visit in Japan, make an address to U.S. service members in South Korea, answer questions at a town-hall event in Malaysia, and look at electronic vehicles in the Philippines. 
The trip will include one-on-one meetings with leaders in all those countries. But the President will not be visiting China—the giant that looms increasingly on the minds of all the other countries, most significantly of late due to intense maritime territorial disputes. 
The Chinese Communist Party has said that most of the South China Sea, directly abutting Malaysia and the Philippines, effectively belongs to it. Chinese authorities are also in severe dispute with Japan over who should be in charge of a group of islets and outcroppings in the East China Sea.
"I think the president wants to show that the U.S. is an enduring part of the Asia-Pacific community, and that it's here on all levels: political, security, economic," said Matthew P. Goodman, a policy analyst at the Center for Strategic and Independent Studies in Washington, D.C. 
Making progress on the Trans-Pacific Partnership, a significant free trade agreement between 12 countries, encompassing 40 percent of the world economy, is also high on President Obama's agenda. In the context of China's increasing assertiveness in the region, analysts say it is the soft power that comes with deals of that nature that will buttress American influence in the Asia-Pacific in the years to come.