Obama Umbrella Marines: President Shielded From Rain by Marines (+Photos)
May 16, 2013 5:22 pm Last Updated: May 16, 2013 5:25 pm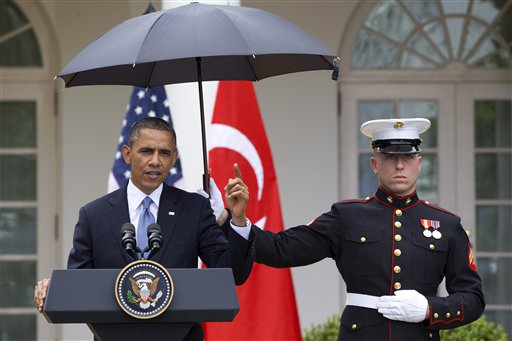 Obama umbrella Marines: During a press conference with the Turkish Prime Minister on May 16, President Barack Obama was shielded from the rain by marines holding umbrellas.
Obama appeared distracted as rain started to fall on him and Prime Minister Recep Tayyip Erdogan and asked for a pair of Marines to come hold umbrellas for him and his guest.
Obama joked that he had a change of suits but wasn't so sure about the prime minister.
Obama and Erdogan covered a range of topics, including the civil war in Syria and the ongoing IRS scandal.
The Associated Press contributed to this report.