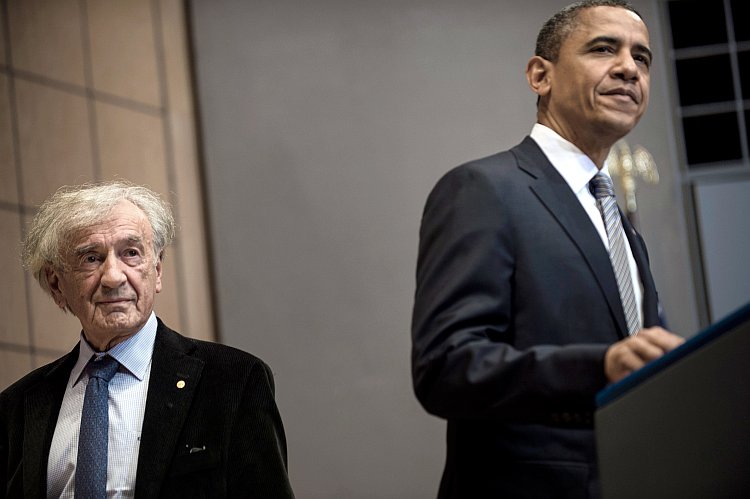 President Barack Obama announced new sanctions against Iran and Syria, after lighting a candle to remember those who died in the Holocaust. He signed an executive order April 23 "blocking the property and suspending the entry into the United States of certain persons with respect to grave human rights abuses by the governments of Iran and Syria via information technology."
Speaking at the Holocaust Memorial Museum in Washington, the president said the new sanctions are "against the Syrian government and Iran and those that abet them for using technologies to monitor and track and target citizens for violence."
The sanctions allow for freezing the assets of individuals and entities that use technology in a way that furthers the surveillance of and persecution of dissidents. "These technologies should be in place to empower citizens, not to repress them," said Obama, speaking of cell phones, social media, and Internet networks. While social media played a part in the Arab spring, repressive governments have also used them to identify opponents.
According to the executive order, the president has determined that "serious human rights abuses against the people of Iran and Syria by their governments, facilitated by computer and network disruption, monitoring, and tracking by those governments, and abetted by entities in Iran and Syria that are complicit in their governments' malign use of technology for those purposes, threaten the national security and foreign policy of the United States."
Nazi hunter, author, Nobel Peace Prize winner, and Holocaust survivor Elie Wiesel stood with the president at the museum. Obama described their visit to Buchenwald, the concentration camp in Germany where Wiesel's father died. "I grew up hearing stories about my great uncle—a soldier in the 89th Infantry Division who was stunned and shaken by what he saw when he helped to liberate Ohrdruf, part of Buchenwald. And I'll never forget what I saw at Buchenwald."
Wiesel introduced Obama before his speech, and said, "If so, how is it that Assad is still in power? How is it that the Holocaust's Number 1 denier, [Iranian President Mahmoud] Ahmadinejad, is still a president, he who threatens to use nuclear weapons—to use nuclear weapons—to destroy the Jewish state? Have we not learned? We must. We must know that when evil has power, it is almost too late."
Obama said in his speech that it is not possible or desirable to intervene militarily in every situation in which innocent lives are threatened, but "preventing mass atrocities and genocide is a core national security interest and a core moral responsibility of the United States of America." He considers the executive order against Iran and Syria to be part of the way of fulfilling that responsibility.
He said the United States has many tools to prevent atrocities, "diplomatic and political, and economic and financial, and intelligence and law enforcement, and our moral suasion—and using these tools over the past 3 years, I believe—I know—that we have saved countless lives."
Obama said he started an "Atrocities Prevention Board, to bring together senior officials from across our government to focus on this critical mission." It met for the first time in the White House on April 23. Preventing genocide will be a core American mission, according to his speech.
Speaking of the Holocaust, Obama said people must do more than remember. "Awareness without action changes nothing. In this sense, 'never again' is a challenge to us all—to pause and to look within."